« Using Crafts to Promote Recycling and Employment | Home | Toward a Green Building Rating System for Mexico »
By Keith R | October 1, 2007
Topics: Climate Change, Energy & the Environment, Energy Efficiency, Environmental Protection | No Comments »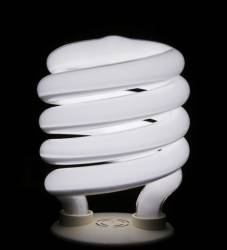 Synopsis in English: Chile is providing energy-efficient lightbulbs to the 40% of its households with low income, and is paying for the program with about US$1.4 million in carbon credits. The carbon bonds for the Allowance Program for Lightbulb Change (PSRA) will be placed with the help of the Inter-American Development Bank (IDB), which plans on using the Chilean program as a model for other LAC nations. According to Chilean and IDB officials, this is the first clean development mechanism project in LAC to involve energy efficiency for residential housing.
Under the PSRA, every household of the low-income group will be given two energy-efficient bulbs (usually compact fluorescents) in exchange for two incandescents. Chilean officials estimate that the simple exchange will save every household included in the program about 14,000 pesos (about US$24 at current exchange rates) a year on their electric bill, and over the four-year life expectancy of the efficient bulbs, save all the PSRA households together around US$76.4 million. They say that it'll also save the country about 388 GWh in electricity consumption.
Households not included in the PSRA can also obtain up to four efficient bulbs per house at discount rates, with the purchase cost added to their electric bills.
______________________________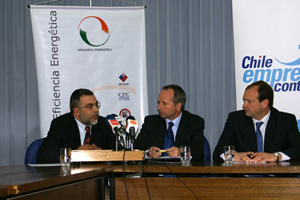 Desde la Comision Nacional del Medio Ambiente (CONAMA):
Gobierno fortalece Plan de Acceso a ampolletas eficientes

Venta de Bonos de Carbono financiará parte del Programa de Subsidios de Recambio de Ampolletas destinado a entregar dos lámparas eficientes al 40 % de la población de menores recursos. El resto de las familias del país podrá obtener 4 ampolletas eficientes, cuyo costo podrá ser pagado en cuotas a través de las cuentas de electricidad.

Un claro fortalecimiento al reciente anuncio de entregar de ampolletas eficientes al 40% de la población de menores recursos del país realizado por la Presidenta Michelle Bachelet, anunciaron hoy los ministros de Economía Alejandro Ferreiro, de Energía Marcelo Tokman, junto a la directora ejecutiva del Programa País de Eficiencia Energética, Nicola Borregaard, el director ejecutivo de CONAMA, Alvaro Sapag, acompañados del director ejecutivo de la Asociación de Empresas Eléctricas A.G. Rodrigo Castillo.

El plan consiste en la venta de bonos de carbono para ayudar a financiar parte del Programa de Subsidio de Recambio de Ampolletas (PSRA), contribuyendo de esta manera, al desarrollo sostenible y a la mitigación de los efectos del cambio climático. El proyecto contará con la colaboración del Banco Interamericano de Desarrollo, lo que permitirá que el modelo sea replicado a otras economías emergentes como nuestro país.

Se trata del primer proyecto de Mecanismo de Desarrollo Limpio (MDL) en eficiencia energética para iluminación del sector residencial que se realiza en América Latina y el Caribe.

Cabe recordar que el PSRA favorecerá a los hogares pertenecientes al 40 por ciento de la población de menores ingresos del país, a través de la entrega de dos ampolletas eficientes por hogar que reemplazarán a dos incandescentes (ineficientes). Esta acción se traducirá en ahorros efectivos cercanos a los 14 mil pesos anuales en las cuentas de electricidad de los hogares beneficiados.

En los cuatro años de duración promedio de estas ampolletas se pree un ahorro total cercano a los US$ 76,4 millones para los beneficiarios y de 388 GWh para el consumo energético del país.

"En la factibilidad económica del Programa se han considerado los ingresos provenientes de la venta de las reducciones de emisiones de manera que, conforme a los diversos escenarios de reducciones de emisiones y precios de venta, dichos ingresos podrían llegar a situarse en torno a US$ 1,4 millones, descartando el costo de implementación. Asimismo, cabe destacar que este Programa sería el primer proyecto MDL en eficiencia energética en iluminación en el sector residencial que se desarrolle en América Latina y el Caribe", indicó el ministro Ferreiro.

Este Mecanismo de Desarrollo Limpio o MDL asegurará un monitoreo de los ahorros de energía y las reducciones de emisiones asociadas, contribuyendo así a la evaluación del impacto efectivo del PSRA.

Para ello se realizará una medición aleatoria simple de los beneficiarios del programa para constatar el uso que se les da a las dos ampolletas entregadas y la cantidad de horas que han sido utilizadas. A las familias seleccionadas se les instalarán medidores especiales en sus hogares para captar el ahorro generado por la medida. Con esto se asegura el monitoreo de la efectividad del subsidio.

Nicola Borregaard señaló que para el diseño y ejecución del MDL –cuyo promotor será el Programa País de Eficiencia Energética- se cuenta con la asistencia técnica del Banco Interamericano de Desarrollo. "Este es un proyecto innovador que apoya y hace accesible el cambio tecnológico en iluminación residencial para familias de todo el país".

Por su parte, el director de CONAMA expresó que esta iniciativa "demuestra que el Mecanismo de Desarrollo Limpio puede contribuir a la reducción de emisiones de gases de efecto invernadero y tener impactos sociales y ambientales muy positivos".

Distribución del subsidio de ampolletas

Según explicó el ministro Tokman, el Estado llamará a licitación pública para los efectos de la compra de ampolletas eficientes de acuerdo a los estándares que se determinen en la licitación. "La empresa que se adjudique la licitación, conforme a las bases, tendrá que hacerse responsable, entre otras cosas, de la logística de distribución y reposición de las ampolletas en los puntos de entrega. La coordinación deberán hacerla en conjunto con las empresas distribuidoras", explicó el Tokman.

Para asegurar que las familias reciban las LFC, el ministro comentó que se realizará una campaña de difusión con el propósito de informar a los beneficiados la manera en que pueden acceder a este subsidio.

Pero Tokman realizó otro anuncio: "No sólo las familias de escasos recursos podrán acceder a los beneficios que implica la utilización de ampolletas eficientes en sus hogares, sino que el resto de la población también podrá hacerlo a través de un acuerdo conseguido por el ministro de Energía con las empresas distribuidoras de electricidad.

Por su parte, el director ejecutivo de la Asociación de Empresas Eléctricas A.G, Rodrigo Castillo, subrayó que este tipo de proyectos de beneficio social, económico y ambiental, que incluyen un trabajo mancomunado entre el sector público y privado, relevan la imagen país "porque demuestran el interés y la capacidad innovadora de Chile".

En ese sentido, dijo que espera colaboración y comprensión de la ciudadanía ya que "esto, además de generar un beneficio económico directo al bolsillo de las personas, es una contribución al desarrollo sustentable de Chile al mundo, y un aporte a la lucha contra el calentamiento global".

Actualmente el mercado de las ampolletas y lámparas residenciales está dominado por las incandescentes, que son ineficientes en el uso que hacen de la energía, a diferencia de las Lámparas Fluorescentes Compactas (LFC), también conocidas como ampolletas eficientes. Al año 2004 las importaciones de lámparas eran un 78 por ciento incandescentes, 19 por ciento fluorescentes y tan sólo un 3% LFC.

A esto se agrega que la cantidad de familias que tienen al menos una ampolleta de ahorro de energía en sus hogares llega sólo el 20,5%, mientras que el 92% utiliza ampolletas incandescentes
Tags: ampolletas, BID, bonos de carbono, calentamiento global, cambio climático, carbon bonds, carbon credits, Chile, clean development mechanism, Climate Change, compact fluorescents, CONAMA, eficiencia energética, Energy Efficiency, IADB, IBD, incandescentes, lâmpadas, lámparas fluorescentes compactas, light bulbs, mecanismo de desarrollo limpio, mecanismo de desenvolvimento limpo, Michelle Bachelet, PSRA
Subscribe to My Comments Feed
Leave a Reply