« ECLAC/FAO: Bioenergy Poses Both Risks and Opportunities / CEPAL/FAO: Bioenergía Ofrece Oportunidades y Riesgos | Home | Global Bioenergy Partnership Launches Its Website »
By Keith R | May 9, 2007
Topics: Corporate Social Responsibility, Electronic/Electrical Equipment, Environmental Protection, Hazardous Substances, Waste & Recycling | No Comments »
Synopsis in English: Last Friday the agreement (convenio) between the Colombian Government and the cell phone industry concluded a few weeks back was formally signed in Bogotá.
In the process, a few of the questions I posed in my prior post were answered –well, partially at least. But it also raised a few new ones. Example: yes, the primary target of this agreement are the estimated 19 million nickel-cadmium (Ni-Cd) batteries used in cell phones in Colombia. But does the agreement apply to all cell phone battery chemistries, such as lithium-ion? The Environment Ministry (MAVDT) has yet to clarify. In fact, the MAVDT release copied below muddies the water still further, by declaring that the agreement requires companies to take back their used cell phones and component parts such as batteries, but then goes on to talk only about the batteries.
The responsibility of the industry — represented at the signing by Nokia, Movistar, Avantel, Comcel, Tigo, the Colombian Chamber of Informatics and Telecommunications (Cámara Colombiana de Informática y Telecomunicaciones – CCIT), and the Association of the Cellular Industry in Colombia (Asociación de la Industria Celular en Colombia – ASOCEL) — for post-consumer recovery and disposal of cell phone batteries begins immediately.
This week all industry participants are supposed to announce to the Colombian public where they can take their end-of-life (EOL) cell phone batteries and any particulars of such take-back [Temas Observation: this probably means that some will reserve the right to only accept EOL batteries under certain conditions, such as the returned batteries are the same brand, type and chemistry as the ones that they sell.]
The companies are charged with exporting the EOL batteries in a legal and responsible manner, while MAVDT and Customs (DIAN) will ensure that such exports comply with all the requisites of the Basel Convention on Transfrontier Waste Movements. The entire sector (presumably CCIT and ASOCEL) will launch a campaign to educate the Colombian consumer on what to do with their EOL cell batteries and the importance of ensuring proper disposal of such batteries.
I still have questions and possible reservations about this agreement that may only be answered by reading the text. Unfortunately, none of the parties involved has yet to publish the text of the agreement. MAVDT used to publish all their "clean production" convenios on their website, even though that sometimes led to criticism because some of the agreements in question were so vague and loosely constructed as to be almost meaningless as anything more than gestures and statements of good intentions. As much as the Uribe Government speaks of transparency, I think MAVDT should publish a copy of the cell phone agreement (and all subsequent post-consumer producer responsibility for waste agreements) on their website for all to peruse, so we can judge objectively just who commits to what and how tight and enforceable the commitments really are.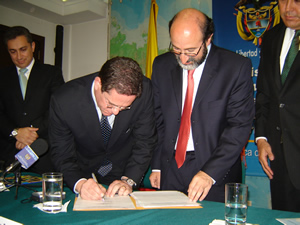 Desde el Ministerio de Ambiente, Vivienda y Desarrollo Territorial (MAVDT):
COMPAÑÍAS DE CELULARES TENDRÁN QUE RECOGER PILAS VIEJAS

19 millones de pilas de niquel-cadmio, la prioridad

Desde hoy los operadores y productores de la telefonía celular tendrán que recoger celulares y sus componentes en desuso -como las pilas viejas- con el fin de darles una disposición final adecuada.

Al protocolizar el acuerdo con los presidentes de Comcel, Movistar, Tigo, Avantel, Nokia, la Cámara Colombiana de Informática y Telecomunicaciones (CCIT) y la Asociación de la Industria Celular en Colombia ASOCEL, el ministro de Ambiente, Vivienda y Desarrollo Territorial, Juan Lozano Ramírez, insistió en la responsabilidad ambiental que debe tener el sector y recalcó la obligación de asumir responsabilidades post-consumo.

El Ministro aseguró que las empresas de telefonía celular se comprometieron a gestionar la disposición final de las baterías con empresas autorizadas dentro o fuera del país para darles un manejo ambientalmente seguro.

"Con este acuerdo se desarrollará una estrategia conjunta con la participación de todos los actores (importadores, fabricantes, operadores del servicio, distribuidores, comercializadores, usuarios y el Gobierno Nacional), para promover una gestión ambientalmente adecuada de los residuos post-consumo", explicó el jefe de la Cartera Ambiental.

También -agregó- es necesario que en el país, se consoliden sistemas que permitan manejar de forma separada los residuos electrónicos de los de origen doméstico para lograr un mayor aprovechamiento y reciclaje.

Además, la idea es crear conciencia en los consumidores con respecto al peligro que conlleva un manejo inadecuado de los residuos que generan riesgo para salud y el ambiente.

COMPROMISOS

A partir de hoy, cada empresa informará al público en los siguientes ocho días acerca de los lugares de recepción de dichos productos y de los elementos distintivos de la campaña.
Adicionalmente, las empresas deberán re-exportar las baterías usadas que actualmente están almacenadas en sus instalaciones y el Ministerio conjuntamente con las autoridades aduaneras impulsará tales re-exportaciones dentro del marco del Convenio de Basilea.
El sector adelantará un programa de capacitación que permita sensibilizar a los consumidores con respecto a la disposición correcta de las pilas.
Tags: Asocel, Avantel, Basel Convention, batteries, CCIT, cell phones, cellular telephones, celulares, Colombia, Comcel, Convenio de Basilea, DIAN, e-desechos, e-waste, MAVDT, Movistar, Ni-Cd, niquel-cadmio, Nokia, pilas, pilhas, residuos electrónicos, take-back, Tigo
Subscribe to My Comments Feed
Leave a Reply