« IDB Approves Preparation of Small & Medium Hydro Projects in Guatemala / BID aprobó preparación de proyectos hidroeléctricos pequeños y medianos en Guatemala | Home | New SG Tells CAN Climate Change Must be Top Andean Priority »
By Keith R | March 16, 2007
Topics: Environmental Governance, Environmental Protection | No Comments »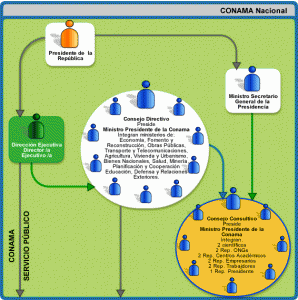 Synopsis in English: Chilean President Michelle Bachelet announced yesterday the promulgation of the recently passed law creating the post of President of the National Environment Commission (CONAMA), with effective rank of Minister. Previously the Commission's work was guided by an Executive Director reporting to a Board of Directors consisting of various Ministers (Health, Agriculture, Transport, etc.). Now there will be someone appointed to chair that board (see schematic, click to enlarge) who's focus is to be just the environment — but it does not necessarily mean he/she will get their way with the Board. For a good analysis of what it does and does not mean, consult the blog of our fellow Latin American Environment Blogroll member, the Center for Environment Law (here and here).
The change was one of Bachelet's principal policy promises made to the country upon becoming President. She characterized the new post as "an important advance for the future of Chile and its future generations" and the first step in addressing some of the environmental policy recommendations made to Chile in its 2005 assessment (see the Temas Reading List). The new CONAMA President "will have much to do" when he/she assumes their post, said Bachelet, including "improvement" of the "institutionality" and existing regulations. She refused to indicate who she is considering to appoint to the new post.

Desde el Gobierno de Chile:
Creación de Ministro del Medio Ambiente contribuirá al desarrollo y crecimiento de Chile

La Presidenta de la República, Michelle Bachelet, promulgó la Ley N° 20.173, que crea el cargo de presidente de la Comisión Nacional del Medio Ambiente y le confiere rango de Ministro, normativa que calificó como "un importante avance para el futuro de Chile y sus nuevas generaciones".

"Es un paso que contribuirá decisivamente al desarrollo, la productividad y el crecimiento de nuestro país, en este convencimiento de que la economía y el desarrollo no tienen por qué entrar en pugna con el cuidado del medio ambiente", enfatizó la Jefa de Estado.

Agregó que esta iniciativa no debe considerarse de manera aislada, ya que es parte de un proceso mucho más amplio y participativo de fortalecimiento y modernización de nuestra normativa medioambiental. "Esta promulgación es parte de un proceso, pero creemos que no siendo la solución a todos los temas es una buena noticia para el medioambiente, una buena noticia para todos los que trabajamos por un Chile desarrollado, pero a la vez sustentable y un buen legado para nuestros hijos y nuestros nietos", afirmó.

Asimismo, manifestó que "este Ministro va a tener muchas tareas, una de ellas perfeccionar toda la institucionalidad y las normativas que tenemos al respecto", para "dar respuestas a realidades que nos impone la preservación, el cuidado y el desarrollo de nuestros recursos naturales, tierras, ríos y mares".

La Presidenta de la República destacó que esta iniciativa legal se suma a una serie de importantes avances en la materia que se alcanzaron durante el año 2006, recalcando que la Comisión Nacional de Medio Ambiente mantendrá su calidad de servicio descentralizado, y será el brazo ejecutivo de quien tendrá la responsabilidad política sobre el tema, que "será el Ministro o Ministra que designaremos muy prontamente".

Subrayó que "una misión específica de la persona que asuma esta tarea será cumplir con nuestro compromiso programático, que ha sido ratificado con los parlamentarios, que consiste en formular y presentar al Consejo Directivo de la comisión, una propuesta de rediseño de la institucionalidad ambiental, dentro del año 2008".

Al respecto, destacó que "estamos hablando de un rediseño muy necesario. La actual institucionalidad fue creada a comienzos de los años 90, cuando el país era muy distinto en términos económicos y productivos", agregando que "en aquellos tiempos no existía la conciencia ambiental que existe hoy en nuestro país, ni una comunidad de expertos y organizaciones tan especializadas como la que vemos hoy".

En ese sentido, la Presidenta Bachelet planteó que es posible dar un salto en nuestra política ambiental, hacia una mucho más moderna y exigente. Como ejemplo, recordó el lanzamiento de plan para potenciar el crecimiento, Chile Invierte, donde se necesita "un sistema que garantizando altos estándares, permita una tramitación ágil de los proyectos, que sea consistente en los criterios y que asegure la mayor predictibilidad en las regulaciones".

Junto con lo anterior, indicó la necesidad de "modernizar los procesos en regiones. No sacamos nada con contar con un gran sistema en Santiago, en circunstancias que la mayoría de los proyectos y de las áreas que requieren nuestra atención están fuera de la región Metropolitana". Asimismo, sostuvo que es indispensable dotar a los entes locales a cargo del medio ambiente de las atribuciones y facultades para ser efectivas contrapartes y tramitar con eficiencia los proyectos y megaproyectos en cada región, además de mejorar los mecanismos de fiscalización.

Recordó además que durante la campaña electoral se conoció un informe de la OCDE acerca de la política medioambiental de Chile, que sugería "la necesidad de eliminar vacíos del modelo actual institucional, apuntando hacia una autoridad única y de dedicación exclusiva, que presidiera el directorio de CONAMA junto al resto de los actuales organismos que la componen".

Al respecto, la Mandataria sostuvo que la Ley 20.193 responde a esta exigencia, destacando que y permitirá contar con una autoridad ambiental, Ministro o Ministra presidenta de la CONAMA, cuya responsabilidad técnica y política será concreta y específica.

En la oportunidad, la Jefa de Estado estuvo acompañada por los Ministros de Hacienda, Andrés Velasco, y Secretaria General de la Presidencia, Paulina Veloso, además de los Secretarios de Estado miembros del Consejo de Ministros de la CONAMA.
Tags: Chile, CONAMA, environment, medio ambiente, Michelle Bachelet, OCDE
Subscribe to My Comments Feed
Leave a Reply