« Eco-Authorities Need Teeth, Says Environment Minister | Home | Loan for Environmental Management for Argentine SMEs / Préstamo para la gestión ambiental de las PyMEs Argentinas »
By Keith R | May 18, 2007
Topics: Biofuels, Economics & the Environment, Energy & the Environment, Environmental Protection | No Comments »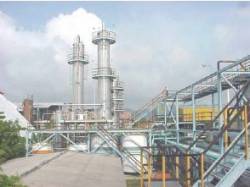 Synopsis in English: Over three months after receiving cautions and recommendations from a special commission, President Bachelet and her cabinet have decided to forge ahead with the heavy promotion of biofuels production in Chile, particularly ethanol and biodiesel. As an initial step in implementing the new biofuels policy, the Economics Ministry has published for 60-day public comment period a proposed technical norm on the quality in the production, importation, transport, storage, distribution and sale of biofuels (evidently modeled after Germany's), and the national tax service (SII) has published a circular immediately exempting bioethanol and biodiesel mixtures from Chile's fuel taxes.
Desde la Comision Nacional de Energia (CNE):
MINISTERIOS DEL ÁREA ECONÓMICA ANUNCIAN BENEFICIOS TRIBUTARIOS PARA LOS BIOCOMBUSTIBLES

Luego del trabajo conjunto entre los Ministerios de Hacienda, Economía, Agricultura y la Comisión Nacional de Energía (CNE), el Servicio de Impuestos Internos emitió una circular que exime al biodiesel y al bioetanol de los impuestos específicos que gravan a los combustibles.

A partir de hoy, el Ministerio de Economía y la Comisión Nacional de Energía publicaron en sus respectivas páginas web las propuestas de normas técnicas que permiten y regulan el uso de los biocombustibles bioetanol y biodiesel, tal como lo establece la Organización Mundial de Comercio. Estas propuestas permiten la mezcla voluntaria de petróleo diesel con biodiesel y la de gasolina con bioetanol, autorizándose hasta un 5% como porcentaje máximo del biocombustible a mezclar.

Adicionalmente, el Servicio de Impuestos Internos, con fecha 16 de mayo de 2007, emitió una circular en que establece expresamente que tanto el bioetanol como el biodiesel, usados en forma pura, están exentos del impuesto específico que se aplica a los combustibles.

Esta circular –que se encuentra disponible en la página web de dicho servicio (www.sii.cl)– precisa además que, de mezclarse los biocombustibles con petróleo diesel o gasolina, esta mezcla estará afecta a los referidos impuestos sólo en la proporción que representen los combustibles fósiles anteriormente mencionados.

Por su parte, el Ministerio de Hacienda informó que, si bien la medida implica un costo fiscal por menor recaudación de hasta US $67 millones anuales, éste se verá compensado ya que la recaudación anual por concepto de los impuestos específicos a los combustibles ha aumentado en los últimos años en una cantidad similar al costo fiscal de la medida.

Este anuncio se enmarca en el contexto de la Política de Seguridad Energética que impulsa el gobierno para diversificar nuestra matriz a través del desarrollo de alternativas que le permitan al país reducir su dependencia de combustibles fósiles. Por su parte, la cartera de Energía recalcó que además de los beneficios ambientales, la introducción de los biocombustibles permitirá disminuir la exposición de nuestra economía a las fluctuaciones de los precios internacionales.

El Ministerio de Agricultura señaló que esta circular es un avance en la materia, en la que ha venido trabajando desde hace un año. La cartera estima que la producción de biocombustibles le dará un nuevo impulso a la agricultura del centro sur del país, promoverá la mano de obra y aumentará la rentabilidad de cultivos requeridos como materia prima.
Tags: beneficios tributarios, biocombustibles, biocombustiveis, biodiesel, bioetanol, bioethanol, Biofuels, Chile, CNE, combustibles fósiles, fuel taxes, gasolina, OMC
Subscribe to My Comments Feed
Leave a Reply