« Gold Mining in Guyana (Re)visited | Home | "Climate Change Fact Sheets" for LAC Nations »
By Keith R | August 8, 2007
Topics: Environmental Governance, Environmental Protection, Government Accountability, Hazardous Substances, Renewable Sources | No Comments »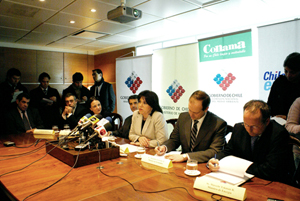 Synopsis in English: Last week in a joint press conference featuring the Chilean Ministers of Environment, Treasury, Economy, Energy and Mining presented a package of measures intended to make the national Environment Impact Assessment System (Sistema de Evaluación de Impacto Ambiental – SEIA) more "efficient" and "agile." The measures were mostly drafted by the National Environment Commission (CONAMA) with input from the other ministries after launching a complete review of the System last year, the tenth anniversary of SEIA's creation.
A major feature of the reform involves increased transparency and accountability. The System's online site (www.seia.cl) will now offer realtime indication of the current status of each investment proposal's trip through the EIA review and approval process, and how the government is doing in meeting the deadlines for the process set out in regulations.
The various ministries, agencies and commissions involved in evaluating projects under the SEIA have also undertaken to introduce their own management indicators to improve evaluations while cutting processing time and making it "more efficient and effective." [Temas Observation: Perhaps I am becoming more skeptical (cynical?) in my old age, but I have to wonder how they propose to make their reviews of EIAs "better" but much quicker without a substantial investment in both manpower (reviewers) and support resources for making such evaluations.]
Also to improve the quality of the EIAs submitted and make the process quicker, the government has been working on a series of 14 "guides" outlining how EIAs for particular types of projects should be prepared. Some, such as the guide on wind power projects, are already completed and available for download. The other guides will cover geothermal power, thermal plants, emergency turbines, contaminated sites, the transport of hazardous substances, air modeling for both fixed and diffuse sources, soil as a natural resource, real estate projects, salmon cultivation, bird raising establishments, and projects in the Antarctic.
CONAMA has also issued to all the regional environmental commissions (COREMAS) on common criteria they should use in evaluating projects. [Chile has 12 numbered administrative regions (I, II, III etc.) plus the Metropolitan Region (RM) uniting the municipalities of greater Santiago, and each has its own environment commission to tackle issues and evaluate projects considered of local import only.]
_____________________________________
Desde la Comision Nacional del Medio Ambiente (CONAMA):
Gobierno anunció paquete de medidas para mejorar y agilizar evaluación ambiental de proyectos de inversión

En conferencia de prensa conjunta, los ministros de Medio Ambiente, Hacienda, Economía, Energía y Minería dieron a conocer un conjunto de iniciativas para hacer más eficiente y ágil la tramitación de los proyectos de inversión que ingresan al Sistema de Evaluación de Impacto Ambiental (SEIA).

Con la presencia de los ministros de Medio Ambiente, Ana Lya Uriarte; de Hacienda, Andrés Velasco; de Economía, Alejandro Ferreiro; de Energía, Marcelo Tokman y Minería, Karen Poniachik, el gobierno dio a conocer esta mañana un paquete de medidas tendientes a hacer más eficiente y ágil la tramitación de los proyectos de inversión que ingresan al Sistema de Evaluación de Impacto Ambiental (SEIA).

Estas medidas fueron elaboradas por la autoridad ambiental luego de una completa revisión del SEIA que se inició el año 2006.

Entre ellas destaca la creación de un Indicador de Cumplimiento de Plazos (ICP), el que estará disponible en la nueva versión del sitio en Internet del sistema (www.seia.cl). Esta innovadora herramienta utilizará los colores verde, amarillo y rojo para precisar en línea y en tiempo real el estado de tramitación de cada proyecto.

Así, se indicará con detalle la etapa en que se encuentra cada proyecto, los tiempos de pronunciamiento de cada uno de los servicios involucrados en el SEIA, lo que permitirá avanzar en forma decidida hacia una mayor transparencia.

Este sistema online permitirá además disponer de información actualizada sobre aquellos servicios con un mayor volumen de proyectos bajo su responsabilidad. Todo lo cual facilitará la implementación de mecanismos de apoyo para cada uno de ellos.

Por su parte, los distintos ministerios que participan en el SEIA a través de sus respectivos servicios con competencia ambiental introducirán indicadores de gestión para mejorar la evaluación ambiental, reducir los tiempos de calificación ambiental de los proyectos de inversión y aumentar la eficiencia y efectividad del sistema.

Para mejorar la calidad de los estudios y agilizar la tramitación de los proyectos al interior de los servicios públicos involucrados, una segunda medida considera la elaboración de 14 Guías Criterio que definan exactamente los contenidos de los documentos que deben ser sometidos a evaluación.

A la fecha ya se encuentran editadas las guías sobre proyectos de Biomasa, Eólicas e Impactos en el Medio Humano. Antes de fin de año, estarán disponibles las guías para actividades como la geotermia, el transporte de sustancias peligrosas, el cultivo de salmones, los planteles avícolas, centrales térmicas, turbinas de emergencia, cotos de caza, sitios contaminados, suelos como recurso natural, modelación del aire para fuentes fijas, modelación del aire para fuentes difusas, proyectos inmobiliarios y proyectos antárticos.

A esto se suma que en mayo pasado la Ministra de Medio Ambiente envió a las Comisiones Regionales del Medio Ambiente (Coremas) el "Instructivo para la Adecuada Fundamentación de los Informes Sectoriales, de los Acuerdos y de las Resoluciones de Calificación Ambiental adoptados en el contexto del Sistema de Evaluación de Impacto Ambiental". La idea es aunar criterios entre los diferentes servicios públicos con competencia ambiental al momento de evaluar proyectos.

Todas estas medidas contribuirán al objetivo central del gobierno de impulsar el crecimiento de la economía y así generar más empleo, dar mayores y mejores oportunidades y disminuir la desigualdad entre los chilenos.

El Sistema de Evaluación de Impacto Ambiental es un instrumento de gestión ambiental creado a través de la Ley de Bases del Medio Ambiente (19.300), cuyo objetivo, que se aplica tanto a proyectos como a actividades del sector público y privado, es asegurar que el desarrollo de las actividades sea sustentable desde el punto de vista del medio ambiente. De esta manera, este instrumento ha permitido incorporar la variable ambiental a los proyectos de inversión en nuestro país.
Tags: accountability, air modeling, Antarctic, avaliação do impacto ambiental, centrales térmicas, Chile, CONAMA, contaminated sites, EIA, emergency turbines, energía geotérmica, evaluación del impacto ambiental, fixed sources, fuentes fijas, geothermal power, Hazardous Substances, proyectos inmobiliarios, salmon cultivation, SEIA, sitios contaminados, substâncias perigosas, sustancias peligrosas, thermal plants, transparencia, transparency, turbinas de emergencia, wind energy, wind power
Subscribe to My Comments Feed
Leave a Reply