« GEF Funds Solar in Mexico / FMAM Hace Donación a México para Energía Solar | Home | Trash Photos V: Municipal Banners & Hard Realities »
By Keith R | October 10, 2006
Topics: Environmental Education, Environmental Protection, Marine/Coastal Issues, Waste & Recycling | No Comments »
ICC in St. Maarten / Photo: Rajesh Chintaman
In my prior series on protecting coral reefs, I underlined the importance of keeping coastlines and coastal waters clear of trash/debris.
In this first segment of a two parter on "clean shores," I will examine the efforts of nongovernmental organizations (NGOs) to sensitize the public around the world, including most of Latin America and the Caribbean (LAC), to the need to keep our coastlines — including reefs and beaches — clean and clear of debris. In Part II I will discuss the different ways to make keeping LAC's shorelines clean a way of life, a habit, an everyday expectation, rather than an occasional event.
Whose Event Is It, Anyway?
On or around September 16th, hundreds of thousands of volunteers of all ages gathered at beaches, lakes, and streams all over the world to remove trash and debris — both on-shore and underwater. The only question is whether the local NGOs involved were associated with Washington-based Ocean Conservancy's (OC) International Coastal Cleanup (ICC) or the event organized by Sydney, Australia-based "Clean Up the World" (CUW) and backed by the United Nations Environment Programme (UNEP). Both trumpet their own events but do not mention the other.
Announcement for 2006 ICC in Panama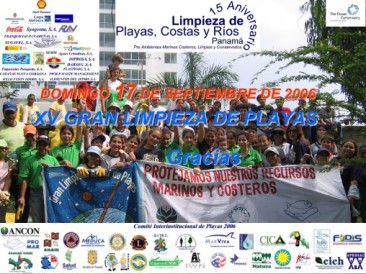 To hear OC tell it, they began it all when one of their staffers decided to organize a clean-up day on South Padre Island in Texas in 1986. The event had expanded to most coastal states and territories by 1988, and in 1989 went international by including Canada and Mexico. By 1992 people from 33 countries were participating; now it is around 100.
Clean Up the World will tell you that it all started with Ian Kiernan when he organized "Clean Up Sydney" in 1989. Kiernan went on to organize an annual "Clean Up Australia" event and in 1993 UNEP asked him to organize a similar campaign on a global scale. CUW now claims participants in around 125 countries.
The two have many similarities and overlap. Both tend to stress litter cleanup. Both sponsor most of their events at beaches, coastlines, rivers and other water bodies, although CUW also does events inland. Both leave much of the planning, coordination and staging of local events to local NGO allies. Both target the events for roughly the same period (this year, the third Saturday in September). Both try to tie the local events to education about the issues of litter and proper coastal management, although OC takes it a bit further to use the events to collect data about sources of marine litter, and use the published results (more on this below) in follow-up work throughout the year. Both seek and get corporate sponsorship of local events.
Tires Collected on Peruvian Beaches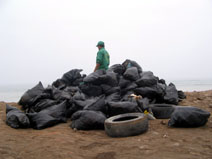 Why the two don't join forces is not clear. In the final analysis, it doesn't matter so much who started first, who has UNEP backing, who involves the most people or the most countries, or even how many tons of trash each collects. As long as they both get results and any competition between them does not adversely affect participation, area (countries, shorelines, etc.) coverage, media coverage of the event(s), or the linked essential educational messages, then a joint effort may not be necessary (still desirable, perhaps, but not necessary).
LAC Participation in the Cleanup Events
The LAC nations and territories (the Netherlands Antilles, Puerto Rico, Virgin Islands,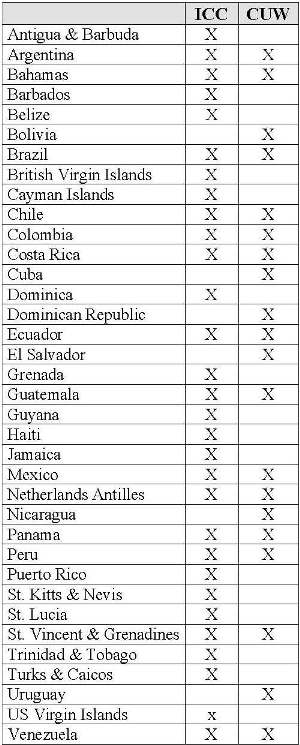 etc.) have been a big component of both events in recent years, providing anywhere from one fourth to one third of participating countries totals for each. In some countries, both events run in the same period, albeit usually in different locales. In a handful the chief participant for both events is the same — for instance, Panama Verde in Panama.
In some countries the coastline actually covered and the number of volunteers involved are small. For example, less than a kilometer were covered in 2005 in Guyana and Haiti, and each only involved a few dozen volunteers.
In others such as Brazil, however, event coverage and participation it is quite substantial: during the 2005 ICC in Brazil [2006 figures for the ICC not yet available], just over 12,000 volunteers covered 138 miles of Brazilian shoreline, picking up over 38 tons of debris. Preliminary figures for the 2006 CUW event in Brazil suggest thousands of volunteers in eight states (Amazonas, Bahia, Espirito Santo, Pernambuco, Rio de Janeiro, Rio Grande do Norte, Rio Grande do Sul, São Paulo) and the Federal District collected over 23 metric tons (about 25.5 tons) of debris. The beaches and lakeside (along Lagoa de Rodrigo de Freitas) of the municipality of Rio de Janeiro alone were combed by 485 volunteers collecting 8.54 metric tons! The 2005 CUW also got live television coverage in Rio, Salvador and Brasilia.
[An interesting side note about the Brazilian participants — many of the most active participants are scuba diving-related outfits (such as Rio's Aqualung Ecological Institute) and surfing clubs (such as Rio Grande do Sul's Escola Gaucha de Surf or São Paulo's Ecosurfi).]
There are curious holes in the LAC coverage of the two events. For example, the very popular Uruguayan resort of Punta del Este is not represented by either event. The popular Brazilian beaches of Ceará and Santa Catarina states seem to be absent, as is Bahia's Puerto Seguro resort area. None of the many beaches of the Dominican Republic were included this year (Samaná was included in years past, but the local coordinator did not pull together an event this year).
What the Events Show and What We Can Learn from Them
Broadly speaking, the spread and success of these events in LAC nations and territories show that the region's environmental awareness generally, and interest in the problem of marine and coastal litter in particular, is growing. However, the tonnage of waste pulled from the waters and shorelines by these events show that translating the interest and awareness into broader, ongoing action to keep coastlines and coastal waters litter-free has a ways to go.
The data collected during the events do provide some insight into the problem of marine and coastal litter which can be used by local authorities and activists in their work, however.
Students Cleaning Rio Beach in
Aqualung's 2006 CUW Event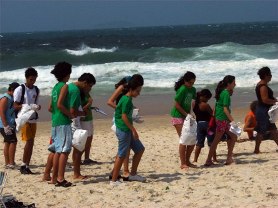 Ecosurfi's 2006 CUW event in Brazil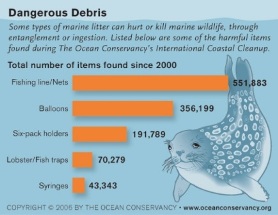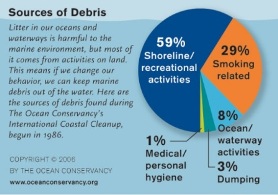 The two graphics above are provided courtesy of the OC and is based on data they have collected from ICC events worldwide. Important to keep in mind when considering these graphics, and the related country-specific data OC provides (see LAC examples from 2005 provided below), is that these are by number of items recovered, not by volume or weight. I have reservations about data that gives the same statistical weight to a cigarette butt or bottle cap as it does a scrap tire (and yes, the latter are a problem — see the picture above of tires collected at the 2006 Peruvian event), but it does at least provide some handle on what are the most common individual litter acts affecting the coastal environment (on the theory each item represents at least one act of littering by at least one person).
Globally the largest category is shoreline/recreational activities — primarily food and beverage packaging and other items related to food/beverage consumption (such as disposable plates, cups and utensils). The next largest category in global terms is "smoking related" — primarily cigarette butts.
That said, there are interesting variations among LAC locations. For example, dumping-related debris was unusually high in Mexico — triple the global average at 9.1%. Ocean and waterway debris are also unusually high in Dominica (54.5%), the Cayman Islands (19.7%), Grenada (13.3%) and Netherlands Antilles (17.5%), suggesting a need in those places for a crackdown on littering by boats and ships.
Also interesting to note are the "top ten" specific debris types listed for each LAC nation or territory. Take for example the number one litter type on those lists:
Plastic beverage containers – Argentina (22.1%), Cayman Islands (14.2%), Colombia (20.6%), Guyana (40%), Haiti (74.8%), Panama (11.8%), Peru (41.4%), Trinidad & Tobago (20.4%), US Virgin Islands (15.8%)
Glass beverage containers – Bahamas (15%), Grenada (31.7%), Netherlands Antilles (16.7%)
Cups/plates/utensils – Barbados (23.7%), Jamaica (14.7%)
Cigarettes – Brazil (19.5%), Ecuador (55.5%), Puerto Rico (24.3%)
Caps & Lids – Chile (38.7%), Cuba (15%), Mexico (16.2%), Venezuela (17.4%)
Bleach & Cleaner Bottles – Dominica (48%)
Food Wrappers – Dominican Republic (13.6%)
See for yourself — click on the table of the country or territory that interests you most to see a larger pop-up version with that country's debris breakdown for 2005.
Argentina Bahamas Barbados Brazil Cayman Is.
Chile Colombia Costa Rica Cuba Dominica
DR Ecuador Grenada Guyana Haiti
Jamaica Mexico Nth Antilles Panama Peru
Puerto Rico T & T USVI Venezuela
Tags: Amazonas, Aqualung Ecological Institute, Argentina, Bahamas, Bahia, beaches, beverage containers, beverage packaging, bleach bottles, bottle caps, Brasil, Brasilia, Brazil, Cayman Islands, Chile, cigarette butts, Clean Up the World Weekend, coastal management, coastlines, Colombia, Cuba, disposable cups, disposable plates, Distrito Federal, Dominica, Dutch Antilles, Ecosurfi, Ecuador, Escola Gaucha de Surf, Espírito Santo, Federal District, food wrappers, Grenada, Guyana, Haiti, Ilhas Caymans, International Coastal Cleanup, Jamaica, Lagoa de Rodrigo de Freitas, litter, llantas, marine litter, Mexico, Netherlands Antilles, Ocean Conservancy, Panama, Panama Verde, Pernambuco, Peru, pneus, PNUMA, Puerto Rico, Rio de Janeiro, Rio Grande do Norte, Rio Grande do Sul, rivers, Salvador, São Paulo, sponsorship, St. Maarten, tires, Trinidad and Tobago, tyres, UNEP, US Virgin Islands, Venezuela, waterway debris
Subscribe to My Comments Feed
Leave a Reply