« WHO Calls for Complete Tobacco Ad Ban | Home | Don't Be Shy! »
By Keith R | June 7, 2008
Topics: Climate Change, Environmental Protection | No Comments »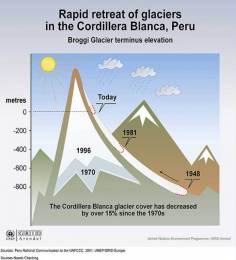 From the World Bank:
WB Announces Adaptation Program for Glacier Retreat In The Andes

The World Bank announced today a new program to address the impact of tropical glacier retreat in Bolivia, Peru, and Ecuador. The program, supported by the Global Environmental Facility (GEF), will grant US$7.49 million to implement a set of adaptation actions to face the threats posed by climate change in the Andes. The project totals US$ 33 million and draws from several donors.

The new Adaptation to the Impact of Rapid Glacier Retreat in the Tropical Andes Project (Andes Region Project) in Bolivia, Peru, and Ecuador targets mountainous and glacial areas.

"Climate change will heavily impact Andean countries' economies, particularly the poor. Adapting to climate change is crucial given the severe and irreversible effects it will have on the region," stated Carlos Felipe Jaramillo, World Bank director for Bolivia, Ecuador, Peru, and Venezuela, during the project launch in Lima.

The initiative seeks to strengthen the resilience of local ecosystems and economies affected by rapid tropical glacier retreat by implementing pilot adaptation activities that illustrate the costs and benefits of adaptation alternatives. The project's specific objectives are:

a)   The effective integration of the implications of glacier retreat into regional and local development planning, particularly in glacier basins

b)   The inclusion of glacier retreat impacts in local development projects and programs

c)   The collection of data on glacier dynamics to improve policy decisions.

"This project will help Andean countries monitor the changes in tropical glaciers and the evolution of mountain wetlands, as well as implement pilot adaptation measures, as a key input for decision-making on how to address the impacts of glacier retreat," commented Walter Vergara, head of Latin America's adaptation project portfolio.

This project is part of the World Bank's strategy to help the regions' countries face the impacts of climate change. In April, the World Bank signed an agreement with the Japan Aerospace Exploration Agency (JAXA) giving it access to cutting-edge expertise and information from the Advanced Land Observation Satellite (ALOS). These images and data will support World Bank-sponsored adaptation projects in Colombia, Mexico, the West Indies, and the Andes region of Peru, Bolivia, and Ecuador. The ALOS images of tropical glaciers in the Andes will be used to assess these glaciers' dynamics under the project approved today.

To date, World Bank investments in climate change adaptation initiatives in Latin America reach US$90 million.
________________________
Desde el Banco Mundial:
BM anuncia programa de adaptación por retroceso de glaciares en región andina

El Banco Mundial anunció hoy que implementará un nuevo programa tendiente a enfrentar las consecuencias del retiro de los glaciares tropicales en Bolivia, Ecuador y Perú. El programa, apoyado por el Fondo Mundial para el Medio Ambiente (FMAM), otorgará US$7.49 millones para la formulación de un paquete de medidas tendientes a enfrentar las amenazas del cambio climático en la zona andina. El monto total del proyecto es de US$33 millones financiado por varios donantes.

El nuevo Proyecto de adaptación regional al impacto del veloz derretimiento de glaciares en los Andes tropicales (Proyecto Regional Andes) en Bolivia, Ecuador y Perú, pone énfasis en las zonas montañosas y de glaciares.

"El impacto del cambio climático afectará fuertemente a las economías de los países andinos, en especial a los pobres. Adaptarnos al cambio climático resulta crucial dados los severos e irreversibles efectos que éste tendrá en la región", afirmó Carlos Felipe Jaramillo, director para Bolivia, Ecuador, Perú y Venezuela del Banco Mundial durante un evento de presentación del proyecto en Lima.

La iniciativa busca contribuir a fortalecer los ecosistemas locales y las economías afectadas por el retroceso acelerado de glaciares tropicales, a través de la ejecución de actividades piloto de adaptación que ilustren los costos y beneficios de medidas alternativas de adaptación. Los objetivos específicos del proyecto son:

a)   integración efectiva de las consecuencias del retiro de glaciares en los planes regionales y locales de desarrollo y en particular en las áreas de cuencas con participación glaciar

b)   inclusión de los efectos del retroceso glaciar en los programas y proyectos locales específicos de desarrollo

c)   generación de datos sobre la dinámica glaciar con el fin de mejorar la toma de decisiones de política.

"Este proyecto apoyará a los países andinos a monitorear la evolución de los glaciares tropicales y la evolución de los humedales de montaña así como implementar medidas piloto de adaptación— como insumo para la toma de decisiones para enfrentar los efectos del retroceso de glaciares", afirmó Walter Vergara, gerente de la cartera de proyectos de adaptación en América Latina.

Este proyecto forma parte de la estrategia del Banco Mundial para apoyar a los países de la región a enfrentar las consecuencias del cambio climático. En abril, el Banco Mundial firmó un acuerdo con el Organismo Espacial Japonés (JAXA por sus siglas en japonés) a través del cual tendrá acceso a la experticia e información de último minuto provenientes del Satélite de Observación Terrestre Avanzada (ALOS, por sus siglas en inglés). Estas imágenes y datos respaldarán los proyectos de adaptación promovidos por el Banco Mundial en Colombia, México, la región andina de Perú, Bolivia y Ecuador y en las Indias Occidentales. Las imágenes captadas por ALOS de los glaciares tropicales en los Andes se utilizarán para evaluar su dinámica en el marco del proyecto aprobado hoy.

A la fecha, el total de inversiones destinadas a iniciativas de adaptación al cambio climático en América Latina apoyadas por el Banco Mundial asciende a US$90 millones.
Tags: ALOS, Andes, Banco Mundial, Bolivia, cambio climático, climate adaptation, Climate Change, Ecuador, FMAM, GEF, glacier retreat, humedales, JAXA, mudanças climáticas, Peru, wetlands, World Bank
Subscribe to My Comments Feed
Leave a Reply