« CARICOM To Enter Environmental Policy Arena | Home | World No-Tobacco Day: Chile's "Smoke-Free Classroom" Initiative »
By Keith R | June 12, 2008
Topics: Biodiversity, Climate Change, Conservation, Economics & the Environment, Energy & the Environment, Environmental Protection, Sustainable Agriculture, Water Issues | 1 Comment »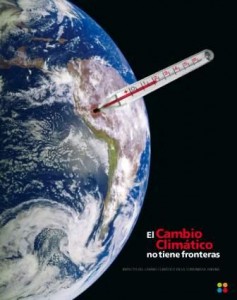 In early May the Andean Community (CAN) released its report on the probable impact of global climate change on its four member states (Bolivia, Colombia, Ecuador, Peru).
One of the key conclusions of El Carmbio Climático no tiene fronteras ("Climate Change Does Not Have Borders") is that by 2025 the impacts of global climate change will cost the four CAN nations together about US$30 billion annually, or roughly an average 4.5% of their annual gross domestic product (GDP). In relative terms hardest hit will be Bolivia at 7.3% of its annual GDP (see table below — click to enlarge), while the lowest annual economic hit will belong to Peru at 4.4%.
How do they arrive at that figure? Well, if you dig into the book's analysis and bibliography, you quickly realize that the authors — led by Carlos Amat y León of the Economics Faculty at Peru's University of the Pacific (Universidad del Pacífico – UP) — relied heavily on the scenarios, analysis and conclusions of the latest assessment of the Intergovernmental Panel on Climate Change (IPCC), the Stern Review and the Nagy paper on Latin America and the Caribbean (LAC) which served as a Stern Review input. But adapted and/or extrapolated to the particular circumstances of the CAN nations, of course. How valid their methodology and calculations are, I am not qualified to judge. But I do give them credit for laying out fairly clearly what sources, methodology and key assumptions were used to produced the report.
One Size Does Not Fit All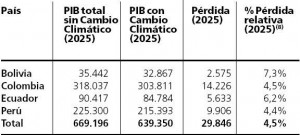 What might some of the particular circumstances (special vulnerabilities?) of the CAN 4 be? What factors contribute to a higher impact figure than say, that estimated for the OECD nations (1.5-2.5%)?
Well, the report lays out quite a few — too many to cover here. But here are a few:
high poverty levels (from 17.8% in Colombia to 42.2% in Bolivia);
highly rural based populations (from 27% in Peru to 51% in Colombia);
high percentage of malnourished population;
the percentage (from 21% in Colombia to 43% in Bolivia) of workers employed in agriculture (a sector on the front lines of climate change impacts);
the high percentage of current electricity generation dependent on hydropower (vulnerable to glacier melt) (from 41% in Bolivia to 76% in Colombia and Peru).
Taken together with the lower level of public services available in these nations and their weaker access to capital markets, investment and aid, CAN argues that their populations will be vulnerable to probable climate change impacts and their governments less equipped to handle adaptation and mitigation than OECD nations (or even their richer LAC neighbors).
A Look at the Estimated Micro Impacts
The colorful chart at right (click to enlarge) summarizes (in Spanish) most of the key impacts (beyond the overall GDP impact discussed above) envisaged at various degrees Centigrade rise in overall global temperature, with a particular stress on what happens if the post-Kyoto Protocol negotiations only target keeping global warming to +2º C (represented by the dark pink column on the chart). These include:
diminished productivity in cereal cultivation;
shortage of rice and potato in 2010, and rice, potatoes and soybeans in 2030 in Ecuador;
losses in energy and agriculture surpass 1.3% of GDP;
Precipitation loss of up to 50% in Colombia's central Caribbean coastline, in the Sierra Nevada de Santa Maria, the Guajira peninsula and in Alto Magdalena;
20% drop in rains in Ecuador;
diminished annual water flow in 7 of Ecuador's 11 principal basins;
accelerated glacier retreat, with smaller glaciers disappearing altogether;
by 2020, 40 million people will be at risk of losing their water supply for drinking, hydroelectric generation and agriculture, with La Paz, Lima and Quito particularly vulnerable;
probable extinction risk for 20-30% of known vegetable and animal species of the region;
bleaching of coral reefs;
0.4-1 meter sea level rise in lower coasts, provoking the disappearance of many mangroves;
extinction of 43% of the 69 tree species studied in the Amazon zones of the CAN nations;
0.7% GDP per year infrastructure damage in coming decades, rising to over 2% by 2100;
2x to 5x rise in dengue transmission, with probable appearance of whole new transmission zones for dengue.
Still Much We Don't Know
The report confesses that at present there is precious little we know about the magnitude of climate change impact on the CAN 4. So a top priority, it stresses, must be filling the gaps. Research priorities should include:
Climate change scenarios tailored to CAN;
What impact higher temperatures and precipitation changes will have on the cultivation of key crops and the fishing industry;
What impact global climate change will have on the longtime nemesis of Andean nations, the weather phenomenon popularly known as "El Niño."
What impact climate change will have on the region's water supplies, and the targeted investments needed to minimize the negative impacts;
how to properly value environmental services so that they might help protect biodiversity and forest cover.
Policy/Strategy Recommendations for CAN Nations

Regarding water, the report recommends, among other things:
charging adequate tariffs for water use;
minimizing system losses in the supply of potable water;
implement "technified" irrigation systems;
maximize water recycling;
invest in water treatment and reuse systems;
raise environmental quality standards for water and effluent
treat used and industrial before it is discharged into rivers, lakes and the sea;
minimize sewage;
promote reforestation in upper basins
implement an environmental services system;
construct small water reservoirs in agricultural zones for use during shortages;
completely inventory all subterranean waters;
promote desalinization of sea water.
Regarding energy, the report merely recommends that the Andean nations insist in the global negotiations on climate change on provisions for international incentives, technology transfer and research in clean energy technology for developing nations.
On deforestation, the report calls for
providing "economically interesting" incentives for forest conservation;
facilitate the use of satellite imagery for controlling deforestation;
strengthen monitoring, inspection and control mechanisms.
No CAN an Island…
Interestingly enough, the study also makes the point that CAN cannot work on this issue in isolation, and insists that CAN should advocate a number of steps to "strengthen the institutional architecture of policy coordination" in South America, namely:
accelerate the construction of intercontinental highways (in the name of regional integration);
promote energy integration through transnational electricity transmission lines and hydroelectric projects with multinational participation;
construct an intercontinental gas pipeline network;
promote international agreements to facilitate access to water;
international agreements on food trade that guarantee reliable supply;
R&D into adaptation of cultivars key to the food base;
Adapt and implement new technologies to produce biofuels.
________________________
Desde la Comunidad Andina (CAN):
Cambio climático podría costar a los países andinos 30 mil millones de dólares al año, según revela estudio

Las pérdidas por efecto del cambio climático en los cuatro países de la Comunidad Andina podrían alcanzar en el 2025 la cifra de los 30 mil millones de dólares anuales, lo que equivale el 4.5% de su PIB, pudiendo comprometer el potencial de desarrollo de Bolivia, Colombia, Ecuador y Perú.

Este y otros reveladores datos están contenidos en el estudio "El Cambio Climático no tiene fronteras"* elaborado, a iniciativa de la Secretaría General de la Comunidad Andina, por un equipo de investigadores de la Universidad del Pacífico del Perú, con la colaboración de centros académicos y de investigación y autoridades de Bolivia, Colombia y Ecuador y con el apoyo del Ministerio de Ambiente de España y la Agencia Española de Cooperación Internacional para el Desarrollo (AECID).

Durante la presentación del informe, el coordinador del equipo de investigación, el ex ministro de Agricultura del Perú, Carlos Amat y León, sostuvo que " el cambio climático ya está ocurriendo" y ello se expresa en la pérdida de glaciares, en la mayor frecuencia de inundaciones, intensificación y mayor frecuencia del fenómeno de El Niño.

"En el quinquenio 2002-2006 las inundaciones, sequías, deslizamientos, heladas, huaycos, aludes, aluviones se han duplicado con respecto al quinquenio 1987-1991, y prácticamente no existe una sola provincia de los países de la CAN que no haya sido al menos afectada una vez por un desastre hidrometeorológico desde 1970", precisó.

Indicó que el cambio climático viene evidenciándose en la subregión andina por más de tres décadas. "Mientras que desde 1990, a nivel mundial, se registraron cambios en la temperatura global de 0,2ºC por década, ya desde 1974 a 1998 este incremento en la región de los Andes Centrales fue de 0,34ºC; es decir, 70% más que el promedio global".

Amat y León alertó que si la temperatura aumenta más de 2°C, los países andinos enfrentarán serios problemas. "La Amazonía podría empezar a colapsar y los glaciares acelerarían su retroceso afectando la oferta hídrica", manifestó

Aseguró que aún sin que ello ocurra, "al 2020, alrededor de 40 millones de personas podrían estar en riesgo de perder la oferta de agua para consumo humano, hidroenergía y agricultura, debido a la desglaciación de los Andes, siendo las ciudades más afectadas Quito, Lima y La Paz.

Advirtió que un dato que debe tomarse en cuenta es que la población que va a ser testigo de los efectos del cambio climático ya está viva y tiene menos de 33 años; constituye el 64 por ciento de la población actual.

Amat y León subrayó que tiene que haber un interés sustantivo de la comunidad internacional para cooperar con el esfuerzo de los países andinos para enfrentar los efectos del cambio climático y aprender de esta experiencia para abordar este desafío común.

Añadió que es indispensable un plan de acción con medidas sustantivas como la transferencia de tecnología para generar energía limpia; compartir conocimientos y capacidades; aportes financieros en proporción a la magnitud de los problemas; adecuar los procesos productivos a los nuevos parámetros que impone el cambio climático; y fortalecer la capacidad de gobernanza, particularmente de los gobiernos locales, para emprender el diseño e implementación de la infraestructura económica y social.

Por su parte, el Secretario General de la Comunidad Andina, Freddy Ehlers, señaló que, en vista de que el actual modelo de desarrollo es incompatible con la sustentabilidad del planeta, es necesario definir un nuevo modelo de desarrollo que garantice el desarrollo integral del ser humano y su relación armónica con la naturaleza.

Asimismo, enfatizó la necesidad de incrementar las acciones concertadas de mitigación y adaptación a este fenómeno, incluyendo los compromisos de reducción de emisiones, así como de desarrollar nuevos mecanismos e incentivos para conservar los bosques y su biodiversidad, de conformidad con el Plan de Trabajo de Bali sobre cambio climático y los objetivos de la Convención de Diversidad Biológica.

Ehlers manifestó que un reciente estudio, basado en datos del Informe Stern, la Huella Ecológica y el Banco Mundial, establece que los países andinos podrían recibir miles de millones de dólares de los países industrializados por los servicios ambientales que los bosques tropicales amazónicos dan al mundo entero. "Constituyen, por lo tanto, una fuente fundamental de negociación de los países andinos con la comunidad internacional", puntualizó.
Tags: AECI, agua potable, Alto Magdalena, aludes, aluviones, Amazon, Andean Community, Andes, arroz, biocombustibles, biodiversidad, Biodiversity, Biofuels, Bolivia, calidad ambiental, cambio climático, Carlos Amat y León, cereal, clean energy, Climate Change, Colombia, Comunidad Andina, coral bleaching, deforestación, deforestation, dengue, desalinization, desastre hidrometeorológico, deslizamientos, Ecuador, effluent, El Niño, energía limpia, environment, environmental quality, environmental services, España, food security, gas pipeline, gasoductos, glacier retreat, Guajira, heladas, huaycos, hydroelectric, imágenes satelitales, incentives, Informe Stern, infrastructure, inundaciones, IPCC, irrigation, La Paz, Lima, manglares, mangroves, medio ambiente, papa, Peru, potable water, potato, Quito, reforestation, Relatório Stern, reservoirs, rice, satellite imagery, seguridad alimentaria, sequías, Sierra Nevada de Santa Maria, soya, soybeans, Spain, species extinction, Stern Review, technology transfer, transferencia de tecnología, Universidad del Pacífico, water recycling, water reuse, water shortage, water tariffs, water treatment
One Response to "Climate Change May Hit Andean Nations Hard"
Nicole Says:
June 29th, 2010 at 5:42

Hi, this blog has some useful information my daughter was looking for about climate change….

Great posts and good work

Nicole from London
Leave a Reply