« Past as Prologue for Caribbean Reefs? | Home | Is Vaccination for Rotavirus Gastroenteritis Cost-Effective in LAC? »
By Keith R | June 13, 2008
Topics: Climate Change, Environmental Protection | No Comments »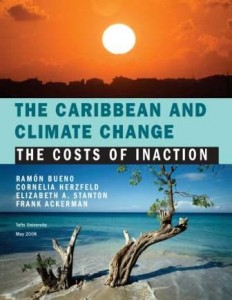 The Stockholm Environment Institute (SEI) and Tufts University have just released a report commissioned by the group Environment Defense (EDF) on the potential economic impact of global climate change on the Caribbean. The report comes soon after another by the Andean Community (CAN) on climate change's economic impact on four Andean nations.
One of the key conclusions of The Caribbean and Climate Change: The Costs of Inaction is that, unless greenhouse gas emissions are checked globally, climate change will cost the two dozen Caribbean nations and territories by 2025 about US$10.7 billion, or roughly a regional average of 5% of their gross domestic product (GDP), US$21.9 billion by 2050, (10.3% of GDP), US$33.7 billion (15.9%) by 2075 and US$46.2 billion (21.7%) by 2100.
Even those averages, eye-opening as they may be, do not reflect the horrendous economic impact estimated for some of the individual nations and territories (see chart below). For example, the project impact on Haiti may be 30.5% of GDP by 2025, rising to 123.2% by 2100, 21.3% of GDP in 2025 for Grenada rising to 111.5% by 2100, and 19% in 2025 for the Turks and Caicos, rising to 75.9% by 2100.

The report compares two possible scenarios — one envisioning rapid stabilization ("optimistic"), the other business-as-usual ("pessimistic") – and looks at three types of impacts: hurricane damages, loss of tourism revenue, and infrastructure damage due to sea-level rise. [The report's authors caution that there might be other types of impacts (such as agricultural production?) that may raise the costs still further.] The report argues that the difference in cost estimates between the optimistic and pessimistic scenarios represents "the potential savings from acting in time to prevent the worst economic consequences of climate change."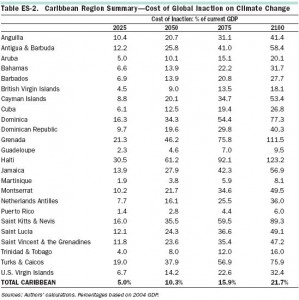 The reports also provides "case studies" — more in-depth analysis — for Colombia, Cuba and Puerto Rico.
Among the key conclusions of the report:
The costs of inaction will amount to 22 percent of gross domestic product (GDP) for the Caribbean as a whole by 2100;
The costs of inaction will reach an astonishing 75 percent or more of GDP by 2100 in Dominica, Grenada, Haiti, St. Kitts & Nevis and Turks & Caicos;
The Caribbean's largest island, Cuba, faces a nearly 13 percent economic hit by mid-century, and a 27 percent loss by 2100, unless there is swift action to address climate change;
Losses from inaction would be less severe but still significant in Puerto Rico, reaching nearly 3 percent by 2050 and 6 percent by the end of the century;
The nation of Colombia, with its long Caribbean coastline, faces permanent flooding of 1,900 square miles in low-lying coastal areas, affecting 1.4 million people.
Tags: cambio climático, Caribbean, Caribe, Climate Change, Colombia, Cuba, Dominica, Environmental Defense, Grenada, Haiti, mudanças climáticas, Puerto Rico, SEI, St. Kitts and Nevis, Tufts University, Turks and Caicos
Subscribe to My Comments Feed
Leave a Reply