« Combating Maternal/Infant Mortality/Malnutrition in Peru / Combatir mortalidad/desnutrición materno/infantil en Perú | Home | Links between Excessive Alcohol and Partner Violence / Vínculos entre consumo excesivo de alcohol y violencia doméstica »
By Keith R | December 11, 2008
Topics: Climate Change, Sustainable Forest Use | No Comments »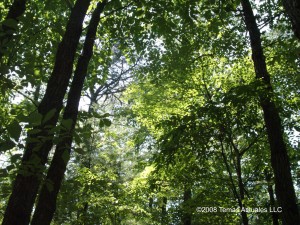 From the UN Food and Agriculture Organization (FAO):
Forestry takes on the climate change challenge

Global organizations team up to ensure contribution of forests

To ensure that sustainably managed forests play a key role in mitigating the negative effects of climate change, a new strategic framework is being launched jointly by 14 international organizations* known as the Collaborative Partnership on Forests, FAO said today.

Aimed at policy-makers and those involved in the global forest sector, the Strategic Framework emphasizes the importance of assisting countries to take measures to mitigate and adapt to climate change.

Adaptation measures include the conservation of genetic variation, reduced impact logging and policies that ensure effective management responses to ecological change. The new framework supports the United Nations Framework Convention on Climate Change (UNFCCC).

Forests cover nearly one-third of the earth's land surface and account for almost half its terrestrial carbon pool. Total carbon in forests was estimated at 633 giga tonnes in 2005 – equivalent to 160 tonnes of carbon per hectare, according to the FAO Global Forest Resources Assessment.

Deforestation, forest degradation and other changes in forests contribute significantly — 17.4 percent — to global greenhouse gas (GHG) emissions, mainly in tropical developing countries. Most deforestation is caused by the expansion of agriculture and urban and infrastructure development.

Forest management the key

"Sustainable forest management has a significant strategic role in achieving long-term climate change mitigation and it provides a robust framework for effective adaptation. This goes far beyond traditional management and includes conservation of biodiversity, support to livelihoods, provision of a range of forest goods and services, and issues related to governance and financing, " says Jan Heino, Chairperson of the Collaborative Partnership on Forests and FAO Assistant Director-General for Forestry.

Forests make a substantial contribution to the mitigation of climate change through carbon sequestration, carbon substitution, and carbon conservation. The extent to which they do so is a function of their management and the effectiveness of policies at the local, national and global levels.

Wood is a renewable resource and, when obtained from sustainably managed forests, an efficient material for storing carbon. Although wood-harvesting temporarily reduces carbon storage in the forest, a large part of the harvested carbon can be stored in wood products for many decades. When wood is used in long-term products such as housing and furniture, the reduction in green house gas emissions is substantial compared to other, more energy-intensive and carbon-intensive substitutes such as concrete, steel, aluminum and plastics.

The Collaborative Partnership on Forests strategic framework lays the groundwork for a coordinated forest-sector response to the global climate change agenda. It's force is in the fact that it has been jointly created and agreed by the world's major forest organizations. It is offered as guidelines to all forest-related policy-makers and practitioners around the world.

_________________
* Center for International Forestry Research (CIFOR); Convention on Biological Diversity (CBD) Secretariat; Global Environment Facility (GEF) Secretariat; International Tropical Timber Organization (ITTO); International Union of Forest Research Organizations (IUFRO); UN Convention to Combat Desertification (UNCCD) Secretariat; UN Development Programme (UNDP); UN Environment Programme (UNEP); UN Food and Agriculture Organization (FAO); UN Forum on Forests (UNFF) Secretariat; UN Framework Convention on Climate Change (UNFCCC) Secretariat; World Agroforestry Centre (ICRAF); World Bank; World Conservation Union (IUCN).
_____________________
Desde la Organización de las Naciones Unidas para la Agricultura y la Alimentación (FAO):
La silvicultura acepta el desafío del cambio climático

Las organizaciones mundiales se unen para garantizar la contribución de los bosques

Para garantizar que los bosques gestionados de forma sostenible juegan un papel fundamental en la mitigación de los efectos negativos del cambio climático, 14 organizaciones internacionales* reunidas en la denominada Asociación de Colaboración en materia de Bosques (ACB) están lanzando conjuntamente un nuevo marco estratégico, según informó hoy la FAO.

Dirigido a responsables políticos y actores del sector forestal mundial, el marco estratégico subraya la importancia de ayudar a los países a tomar medidas para mitigar el cambio climático y, al mismo tiempo, adaptarse a él.

Entre las medidas de adaptación se incluyen la conservación de la variedad genética, la tala de impacto reducido y las políticas que garanticen respuestas efectivas de gestión al cambio ecológico. El nuevo marco respalda la Convención Marco de las Naciones Unidas sobre el Cambio Climático (CMNUCC).

Los bosques abarcan casi una tercera parte de la superficie terrestre del planeta y representan casi la mitad de sus reservas de carbono terrestre. Según la Evaluación de los Recursos Forestales Mundiales de la FAO, se calcula que la cantidad total de carbono en los bosques era de 633 giga toneladas en 2005 – equivalente a 160 toneladas de carbono por hectárea.

La deforestación, la degradación de los bosques y otros cambios que éstos experimentan, contribuyen significativamente (un 17,4 por ciento) a las emisiones mundiales de gases de efecto invernadero (GEI), fundamentalmente en los países tropicales en desarrollo. La mayor parte de la deforestación se debe a la expansión agrícola y al desarrollo urbano y de infraestructuras.

La gestión forestal es la clave

"La gestión sostenible de los bosques desempeña un papel estratégico importante para conseguir la mitigación del cambio climático a largo plazo y proporciona un marco sólido para una adaptación efectiva. Esto va más allá de la gestión tradicional e incluye la conservación de la diversidad biológica, el apoyo a los medios de subsistencia, el suministro de una gama de bienes y servicios forestales, y aspectos relacionados con la administración y financiación", afirma Jan Heino, Presidente de la ACB y Director General Adjunto de la FAO al frente del Departamento Forestal.

Los bosques contribuyen notablemente a la mitigación del cambio climático a través de la absorción, sustitución y conservación de carbono. Hasta qué punto lo consiguen depende de su gestión y de la efectividad de las políticas a nivel local, nacional y mundial.

La madera es un recurso renovable y, cuando se obtiene de bosques gestionados de forma sostenible, resulta un material eficaz para almacenar carbono. Aunque la extracción de madera reduce temporalmente el almacenamiento de carbono en el bosque, una gran parte del carbono extraído puede almacenarse en productos madereros durante muchas décadas. Cuando la madera se utiliza en productos de larga duración como viviendas y muebles, la disminución de los gases de efecto invernadero es considerable en comparación con otros sustitutos más dependientes del carbono y la energía como el hormigón, el acero, el aluminio y los plásticos.

El marco estratégico de la Asociación de Colaboración en materia de Bosques sienta las bases para una respuesta coordinada del sector forestal a la agenda mundial del cambio climático. Su fuerza radica en que ha sido creado y acordado conjuntamente por las principales organizaciones forestales mundiales. Propone una serie de directrices para todos los responsables políticos y profesionales relacionados con el sector forestal en todo el mundo.

________________
* Banco Mundial; Centro de Investigación Forestal Internacional (CIFOR); Centro Mundial de Agroforesteria (ICRAF); Convención de las Naciones Unidas sobre Desertificación (CNUD); Convención Marco de las Naciones Unidas sobre el Cambio Climático (CMNUCC); Convenio sobre la Diversidad Biológica (CDB); Fondo para el Medio Ambiente Mundial (FMAM); Foro de las Naciones Unidas sobre los Bosques (FNUB); Organización de las Naciones Unidas para la Agricultura y la Alimentación (FAO); Organización Internacional de las Maderas Tropicales (OIMT); Programa de la Naciones Unidas para el Medio Ambiente (PNUMA); Unión Internacional de Organizaciones de Investigación Forestal (IUFRO); Unión Internacional para la Conservación de la Naturaleza (UICN)
Tags: almacenar carbono, Banco Mundial, biodiversidad, Biodiversity, bosques, cambio climático, carbon sequestration, CBD, CIFOR, Climate Change, climate change mitigation, CMNUCC, CNUD, deforestation, desmatamento, diversidad biológica, environment, FAO, FMAM, FNUB, forest degradation, forest services, gases de efecto invernadero, greenhouse gases, ICRAF, IUFRO, medio ambiente, mitigación del cambio climático, mudanças climáticas, OIMT, PNUD, PNUMA, recursos forestales, servicios forestales, sustainable forest management, UICN, UNDP, UNEP, UNFCCC, UNFF, World Bank
Subscribe to My Comments Feed
Leave a Reply