« Eco-certification for Tourism – The Role of Green Globe, Part I | Home | Eco-Certification for Tourism: The Role of Green Globe, Part II »
By Keith R | September 11, 2006
Topics: Climate Change | 1 Comment »
A collection of 20 environment and development nongovernmental organizations (NGOs)* calling themselves the Working Group on Climate Change and Development recently released a report trying to catalog current manifestations in Latin America and Caribbean (LAC) of global climate change and look at probable future impacts thereof. Whether or not you wholly agree with their methodology, conclusions or recommendations, it is thought-provoking read that a broad audience in the region, and those concerned with the region, should take a look at — not just policymakers, NGOs and community leaders, but also those involved in sectors which will be heavily impacted by climate change, such as tourism, transport, logistics, real estate and insurance.
"Up in Smoke" is the first report to focus in on impacts specific to the LAC region and on the need for its nations to develop adaptation strategies. Other reports, studies and position papers may follow, but this one opens the debate. For that reason, I am adding it to the Temas reading list.
To download the PDF version of the report in English, click here; in Spanish, click here.
Much of the report appears to be based on studies done for, and workshops sponsored by, the Global Environment Facility (GEF) [for the report of one such workshop, clink this link], plus information gleaned from broader studies done by the Intergovernmental Panel on Climate Change (IPCC), World Health Organization (WHO), etc.
The report cautions that the region's diversity makes modeling climate change impacts for it difficult. It also acknowledges that
…with or without global warming, extreme weather is a problem for the people of the region. For many people, however, climate change is set to turn an already rough ride into an impossible one.
Probable Regional Impacts of Climate Change
I won't repeat here all the findings (I hear some of you breathing a sigh of relief!), but I'd like to bullet-list a few I think those who in LAC nations who write policy, and those who try to influence its shape, should ponder:
A likely increase in intensity in hurricanes and tropical storms, making civil defense and disaster response planning and preparation all the more crucial. This of course is of greatest concern to the Caribbean Basin.
Rise in sea level, resulting in loss of coastline territory and infrastructure and contamination of coastal lands by saltwater intrusion. This is deemed most worrisome in Central America, the Caribbean islands, Uruguay and Venezuela. It is worth noting that 60 of LAC's 76 largest cities (such as Rio de Janeiro, Montevideo and Guayaquil) are located on the coast.
Dramatic changes in snow and rain fall patterns, likely to increase stress on already stretched freshwater supplies in Bolivia, Chile, Colombia, Peru and western Argentina.
Warming in high mountain regions, melting glaciers and snow/ice caps, affecting freshwater supplies and in turn impacting agriculture and tourism. The glaciers are disappearing fastest in the Colombian, Peruvian and Venezuelan Andes.
Crop yield decreases potentially linked to climate change have already been suggested for barley, grapes, maize, potatoes, soybeans and wheat. If so and the crop impact deepens and/or widens, there will be important implications for food supplies in the region, not to mention employment in the agricultural sector.
Spread of vector-borne diseases such as malaria, dengue and Chagas disease, with all that implies for public health.
Probable sharp increases in ground-level ozone ("smog") and other forms of urban air pollution due to higher surface temperatures, with all the health implications thereof.
Bleaching and stress on coral reefs.
A possible "global feedback" effect, where climate change stresses the Amazonian rainforest and LAC forests (which together account for one-fourth of the world's forest cover) to the point that there is significant drying and die-out, releasing large amounts of carbon (and reducing the capacity to naturally absorb CO2) into the atmosphere, in turning worsening global climate change, further affecting the forests…
The Report's Policy & Planning Recommendations for LAC Anticipation of, and Adaptation to, Climate Change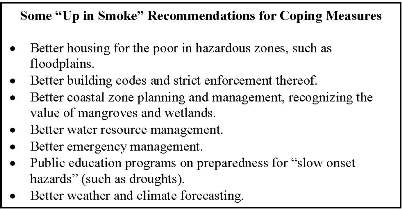 The report makes a number of recommendations. These include the predictable call for "rich countries" to meet and exceed their Kyoto Protocol commitments, to facilitate technology transfer and to give more funds to LAC nations to prepare and implement adaptation strategies. Others include:
Greater policy priority by LAC nations on energy efficiency, use of renewable energy sources and halting deforestation and illegal logging.
National mapping of the interactions of climate change risks with other vulnerabilities (water, health, etc.).
Support for community-based coping strategies and disaster risk reduction.
Promotion of low-carbon urban development that includes protection of water sources and green areas, utilizing the Brazilian cities of Curitiba and Porto Alegre as models.
One of the more eyebrow raising recommendations is an abandonment of "dogmatic" adhesion to water privatization. The report suggests that this could somehow "easily increase the vulnerability of millions of people in the region" to water supply access. This contention, though, is not well-supported in the report, in my opinion.
— Keith R
* ActionAid, Bird Life International, Catholic Agency for Overseas Development (CAFOD), Christian Aid, Columban Faith and Justice, Friends of the Earth (FoE), Greenpeace, International Institute for Environment and Development (IIED), MedAct, the New Economics Foundation (NEF), Operation Noah, Panos, People & Planet, Practical Action (formerly ITDG), Progressio (formerly CIIR), the Royal Society for the Protection of Birds (RSPB), Tearfund, The Energy & Resources Institute, Europe (teri Europe), WWF, World Vision International
Tags: ActionAid, Andes, Argentina, barley, Bolivia, CAFOD, cambio climático, Caribbean, Central America, Chagas disease, Chile, Christian Aid, Climate Change, Colombia, crop yield, Curitiba, deforestation, dengue, eficiencia energética, energía renovable, energia renovável, Energy Efficiency, enfermedad de Chagas, FoEI, freshwater supplies, glacier retreat, grapes, Greenpeace, Guayaquil, hurricanes, IIED, illegal logging, IPCC, maize, malaria, MedAct, Montevideo, mudanças climáticas, NEF, Operation Noah, Panos, Peru, Porto Alegre, potatoes, Practical Action, Progressio, renewable energy, Rio de Janeiro, RSPB, sea level rise, smog, soybeans, Tearfund, teri Europe, tropical storms, Up in Smoke, urban development, Uruguay, vector borne diseases, Venezuela, water privatization, wheat, WHO, World Vision International, WWF
One Response to "A Sobering Look at Climate Change's Probable Impact on the Region"
Carlos Rymer Says:
September 22nd, 2006 at 21:27

How can we let policy-makers in LAC that climate change will be impacting them. Can't these countries get together and urge the U.S. to join them in reducing emissions by 80% by 2050? How can we, without wide popular, vocal support in LAC, push these countries to begin reducing emissions and preparing for worsening effects?

Carlos
Leave a Reply