« Sustainable Energy & Climate Change Fund for LAC Launched / Lanzó el Fondo de Energía Sostenible y Cambio Climático para ALC / Lançou o Fundo de Energia Sustentável e Mudança Climática | Home | Santa Catarina Industry Concerned About the Environment »
By Keith R | August 9, 2007
Topics: Climate Change, Energy Efficiency | No Comments »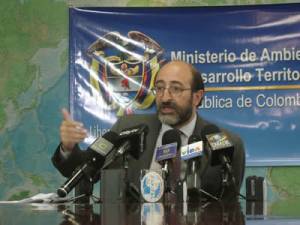 Synopsis in English: Environment Minister Juan Lozano Ramírez announced yesterday that all public sector entities in Colombia must switch their lighting to efficient, energy-saving bulbs by 31 December. Public housing, which also falls under Lozano's mandate, will also switch to energy-saving bulbs, but with a longer transition time (two more years). Lozano billed the measure as a way to cut energy demand, bring operational savings to public sector budgets, and contribute to reducing Colombia's contribution to global climate change. Lozano also took the occasion to reiterate how seriously the Colombian Government takes climate change, its efforts to develop clean development mechanism (CDM) projects under the Kyoto Protocol, and its drafting of an integrated climate change mitigation strategy.
____________________________________
Desde el Ministerio de Ambiente, Vivienda y Desarrollo Territorial (MAVDT):
DESDE EL 2008 TODAS LAS ENTIDADES PÚBLICAS DEBERÁN USAR BOMBILLAS AHORRADORAS DE ENERGÍA

Gobierno busca mitigar impactos ambientales

Hasta el 31 de diciembre de este año todas las entidades del sector público tendrán plazo para cambiar las bombillas tradicionales por las ahorradoras de energía.

Así lo recordó este miércoles el ministro de Ambiente, Vivienda y Desarrollo Territorial, Juan Lozano Ramírez, quien explicó que esta medida busca reducir los posibles efectos ambientales y contribuir a contrarrestar los efectos del cambio climático.

El ministro anuncia medidas gubernamentales para reducir efectos ambientales.

"La iniciativa gubernamental tiene un doble propósito: mitigar impactos ambientales reduciendo la demanda de este tipo de bombillas y de consumo de energía, y en segundo lugar contribuir al impacto de austeridad en los presupuestos públicos el cual tiene que ver con una cultura de responsabilidad y una tecnología frente al ahorro de energía", argumentó el Ministro.

Según Lozano Ramírez, ninguna entidad tendrá excepción en la aplicación de esta medida y todas deberán tener planes para uso eficiente de sus recursos.

El Ministro insistió en que las entidades oficiales deben montar este programa para que a más tardar el 1º de enero de 2008 estén cumpliendo con esta disposición.

El jefe de la Cartera Ambiental explicó que las Viviendas de Interés Social también están contempladas en esta medida, pero con unos plazos más amplios.

"Los programas de vivienda de interés social deberán tener unos sistemas eficientes de ahorro de energía para recibir las elegibilidades adecuadas. Por ser más largos estos ciclos, entonces se les dio dos años más de plazo", explicó Lozano Ramírez.

El Ministro destacó que Colombia viene desarrollando una política integral que busca mitigar los efectos que se derivan del cambio climático.

"Los daños causados por este fenómeno son irreparables, los nevados se están derritiendo, se está subiendo el nivel del mar, ya hay territorios insulares que padecen de estas dificultades, hay páramos en los que se han ido perdiendo especies y vegetación por efecto del cambio climático, entonces todos esos proyectos buscan que nos podamos adaptar a un fenómeno global del cual nosotros somos victimas", aseguró el Ministro.

Finalmente Lozano Ramírez manifestó que hay otras acciones que están dirigidas a aprovechar instrumentos internacionales que se han generado en la lucha contra el cambio climático en particular todos esos proyectos del Mecanismo de Desarrollo Limpio del protocolo de Kyoto, que da enormes oportunidades para acceder a recursos.
Tags: ahorro de energía, bombillas, cambio climático, Climate Change, Colombia, eficiencia energética, Energy Efficiency, energy-saving bulbs, Juan Lozano, MAVDT
Subscribe to My Comments Feed
Leave a Reply