« "Cereal Offenses" in LAC | Home | Unique Customs Cooperation Pact on Multilateral Environmental Agreements »
By Keith R | December 29, 2008
Topics: Climate Change, Sanitation, Waste & Recycling | No Comments »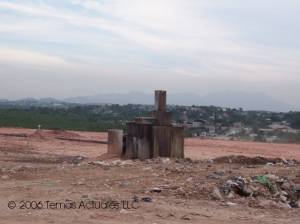 While many developing nations — including most Latin American and Caribbean (LAC) nations — are content to submit the minimum communication required under the UN Framework Convention on Climate Change (UNFCCC), Brazil has not taken the easy route.  If you check the Temas listing of national greenhouse gas (GHG) inventories,  you'll see that no less than 12 of them are from Brazil — one an overview, plus specific ones on fuel combustion, mining, livestock rearing, rice cultivation, industrial solvent use, hydroelectric reservoirs and last but not least, one on methane emissions from the waste sector.
During the first half of 2009 Brazil plans to release an update and expansion of that last inventory — this one to estimate all GHG emissions from the waste and sanitation sectors for the 1990-2005 period, including sewage and wastewater treatment, incineration and waste treatment.  To my knowledge, no other developing country has yet submitted such an inventory, so in this Brazil is blazing a trail for others to follow, both within and outside LAC.
To prepare the ambitious inventory a network of specialists has been created by the Ministry of Science and Technology (MCT) and São Paulo's respected environment agency, CETESB, with funding and support from the UN Development Programme (UNDP).  The network includes representatives from the Environment Ministry (MMA), the Cities Ministry (MCidades), federal universities, associations of municipalities, sanitation and waste management entities, and of state environment officials from Acre (AC), Espírito Santo (ES), Federal District (DF), Minas Gerais (MG), Paraíba (PB), Paraná (PR), Pernambuco (PE), Rio de Janeiro (RJ), Rio Grande do Sul (RS), Santa Catarina (SC) and São Paulo (SP).
MG, PR, RJ, SC and SP already were all in the process of doing their own inventories voluntarily; the Network will help the other states do their own.  The project not only helps prepare Brazil's inventory, but raises consciousness and focus among state and local actors about the linkages between climate change and the waste/sanitation sector.  And, of course, it may help these actors develop clean development mechanism (CDM) projects to earn carbon credits by capturing biogas (and probably using it to generate electricity or power vehicles).
For more information about the Network (in Portuguese), visit its website.
____________________
Desde o Programa das Nações Unidas para o Desenvolvimento (PNUD):
Rede nacional medirá emissão de gás estufa

Grupo de instituições de vários Estados vai levantar dados sobre participação do setor de lixo e saneamento nas emissões brasileiras

Os próximos dados sobre a emissão de gases de efeito estufa no Brasil, a serem divulgados no primeiro semestre de 2009, devem ser mais abrangentes e detalhar com mais precisão as fontes poluidoras brasileiras — ao menos no que diz respeito às emissões do setor de resíduos sólidos e efluentes, que inclui tratamento de esgoto (residencial e industrial), incineração e tratamento de lixo.

Para tentar aprimorar as informações do setor, foi criada uma Rede Nacional de inventário das emissões de gases de efeito estufa dos setores de resíduos sólidos e efluentes, que pretende juntar especialistas de várias partes do país. Lançada oficialmente em 13 de novembro, a rede é fruto da parceria entre Ministério de Ciência e Tecnologia, PNUD e CETESB (Companhia de Tecnologia de Saneamento Ambiental), ligada ao governo de São Paulo. Além de dar maior precisão aos dados, a intenção do projeto, segundo o gerente da divisão de questões globais da CETESB, João Wagner Silva Alves, é "aumentar a participação da sociedade brasileira na elaboração destes dados", o que, de acordo com ele, dá mais transparência ao processo.

Já fazem parte da rede universidades federais, associações de municípios, órgãos públicos ligados a meio ambiente e coleta de lixo, o Ministério das Cidades e o Ministério do Meio Ambiente.

Publicação que mostra a situação das emissões de gases causadores do efeito estufa, o inventário das emissões é um dos compromissos que o Brasil assumiu ao aderir à Convenção-Quadro das Nações Unidas Sobre Mudança do Clima — realizada em 1992, com o objetivo de estabilizar a concentração de gases estufa na atmosfera e evitar sua interferência no clima terrestre. De acordo com o texto do tratado, os países signatários devem "elaborar, atualizar periodicamente, publicar e pôr à disposição da Conferência das Partes (…) inventários nacionais de emissões antrópicas".

Até agora, o Brasil publicou um único inventário, a Comunicação Nacional Inicial do Brasil, lançada em dezembro de 2004 e referente às emissões de 1990 a 1994. Os dados específicos sobre emissões por resíduos sólidos e efluentes nos quais este primeiro relatório se baseou (presentes nos Relatórios de Referência) foram elaborados pela CETESB.

Com a rede, a idéia é obter dados de mais fontes, o que deve torná-los mais úteis aos diferentes Estados. "Quem lê a Comunicação Nacional vai concluir que 75% do dióxido de carbono emitido pelo Brasil é devido ao desmatamento. Só que esse desmatamento acontece na Amazônia, então esses dados não têm utilidade nenhuma para São Paulo ou Rio Grande do Sul", exemplifica o gerente da divisão de questões globais da CETESB.

O primeiro relatório mostrou que, em 1994, a emissão brasileira de dióxido de carbono, a maior dentre as emissões causadoras do efeito estufa, teve um aumento de 5% em relação a 1990, e chegou a 1,03 bilhão de toneladas. Deste número, 23% estavam ligados a produção e consumo de energia e 75% a mudanças em florestas – 59% foram emitidos pelo desmatamento da Amazônia e 26% pelo desmatamento do Cerrado. No mesmo período, as emissões do gás metano (segundo "poluente estufa" mais emitido) aumentaram 7%, sendo em razão sobretudo da criação de animais ruminantes. Esses dados serão revistos pelo próximo relatório, que abrangerá as emissões de 1990 a 2005.

Até agora, segundo Alves, a rede nacional para a elaboração do inventário conta com representantes de Rio Grande do Sul, Paraná, Santa Catarina, Pernambuco, São Paulo, Acre, Paraíba, Distrito Federal, Rio de Janeiro, Minas Gerais e Espírito Santo. Destes, Minas, Rio de Janeiro, Paraná, Santa Catarina e São Paulo já estão elaborando voluntariamente seus próprios inventários, que, quando prontos, enriquecerão os próximos relatórios nacionais. As iniciativas estaduais vão ao encontro de outro objetivo da rede: fazer com que o levantamento seja contínuo e independente das publicações ligadas à convenção de 1992.

A importância dessa rede nacional, avalia o supervisor do projeto do PNUD que apóia a iniciativa, Marcos William Bezerra de Freitas, está em "não só São Paulo ficar fazendo o inventário, sendo que existem especificidades regionais e agentes locais que estão inseridos nessa realidade e são capazes de colaborar." E completa: "A rede traz esses atores locais para um projeto que é nacional. Se é nacional, a lógica é que envolva os atores de todas as regiões." No projeto, além de fornecer a estrutura necessária e promover, com a CETESB, encontros e reuniões, o PNUD faz a análise técnica dos dados levantados, em parceria com o Ministério de Ciência e Tecnologia.

O projeto, de acordo com Freitas, tem disponíveis R$ 227 mil vindos do PNUD e R$720 mil da CETESB. A divulgação da rede tem sido feita através de reuniões-oficinas, nas quais o projeto é apresentado e os interessados entram em contato com o método utilizado pela CETESB para calcular as emissões.
Tags: Acre, biogas, Brasil, Brazil, carbon credits, CETESB, clean development mechanism, Climate Change, Distrito Federal, efluentes, Espírito Santo, gases de efeito estufa, greenhouse gases, incineração, incineration, lixo, MCidades, MCT, mecanismo de desenvolvimento limpo, metano, methane, Minas Gerais, mudanças climáticas, Paraíba, Paraná, Pernambuco, PNUD, residuos sólidos, Rio de Janeiro, Rio Grande do Sul, saneamento, Sanitation, Santa Catarina, São Paulo, sewage treatment, trash, tratamento de esgoto, UNDP, UNFCCC, waste, wastewater treatment
Subscribe to My Comments Feed
Leave a Reply