« What the Other Guy Blogs About: ISO 26000 on CSR | Home | A Green IT Law for Brazil? »
By Keith R | August 27, 2009
Topics: Climate Change, Energy & the Environment, Sustainable Transport | No Comments »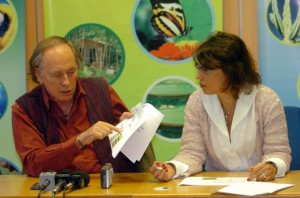 The Environment Ministry (MMA) is considering further measures to reduce greenhouse gas (GHG) emissions from industry and the energy sector. Estimates released today by Environment Minister Carlos Minc shows that industry and power generation and consumption are increasing their share of Brazil's total GHG emissions.
The new estimates suggest that Brazil is moving towards an emission profile similar to those of developed countries, albeit in different proportions.  By the end of the year, MMA intends to release estimates for GHG emissions from other sectors, but Minc believes that industry and energy sectors together have gone from 18% of total CO² emissions to about 30%, while the share of emissions due to deforestation have dropped.

The study compares 1994 data on emissions from the national GHG inventory, and data from 2007 based on official sources such as the Energy Research Corporation (EPE), attached to the Ministry of Mines and Energy (MME), the Brazilian Institute of Geography and Statistics (IBGE), and industry annual reports.  The new figures shows as one of the reasons for greater GHG emissions share from power production is the greater number of thermoelectric plants. In 1994 for every gigawatt consumed, Brazil emitted 42 metric tons of CO².  In 2007 that number jumped to 54 T due to increased participation of thermoelectric plants in power production.  Minc said that the government need to encourage clean energy generation and limit the expansion of thermoelectric plants that would emit 122% more.
The transport sector also increased its CO2 emissions.  It alone accounts for 50 million tons of CO² or more into the atmosphere — 30 million by the consumption of diesel, 15 million by the burning of gasoline, and 5 from million natural gas.
This, according to the Minister, means rethinking Brazilian transport.  The current Brazilian transport matrix places too much stress on road transport — Brazil should invest more in water transport, for example, while also investing in the use of biodiesel in water transport.  Minc also called for greater emphasize on public transport, requiring annual emissions inspection of vehicles, more flex-fuel cars, and otherwise reducing the impact of fossil fuels.

In 1994, the sectors of energy and industry emitted 243 tonnes of CO²; 13 years later it is estimated that Brazil is emitting 444 tons in in energy generation alone. This represents a 71% increase.
______________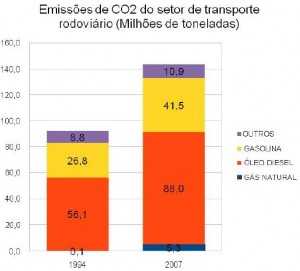 Desde o Ministerio de Meio Ambiente (MMA):
Crescem emissões de CO² da indústria e energia

O Ministério do Meio Ambiente começa a estudar novas medidas para reduzir as emissões de gases estufa da indústria e energia. Estimativas apresentadas nesta quinta-feira (27/8) ao ministro Carlos Minc dão conta de que o crescimento do setor industrial e da geração e consumo de energia está levando os dois setores a ter um peso mais expressivo no total de emissões.

O Brasil está caminhando para um perfil de emissões similares aos dos países desenvolvidos, mesmo que em proporções diferentes, revela a estimativa de emissões de dióxido de carbono nos setores de energia e de processos industriais apresentada.

Até o final do ano, pretende-se estimar as emissões dos demais setores e Minc acredita que indústria e energia juntas devem saltar de 18% do total de emissões de CO² para cerca de 30%, enquanto as emissões por desmatamento apresentam quedas sucessivas.

O estudo compara os dados de emissões de 1994, do inventário nacional, e de 2007 que teve como base fontes oficiais tais como Empresa de Pesquisa Energética, ligada ao Ministério das Minas e Energia, IBGE e anuário de indústrias, e aponta como um dos vilões a ampliação do número de termoelétricas. Em 1994 para cada gigawats consumido, emitia-se 42 toneladas de CO². Agora, esse número pulou para 54 devido a maior participação de termoelétricas.

Para o caso do setor de transporte, outro segmento que aumentou as emissões, a saída, segundo o ministro, será o governo e a sociedade adotarem medidas como dar ênfase ao transporte coletivo, investir em hidrovias, exigir a inspeção de emissões anualmente dos veículos e, no caso do setor elétrico, incentivar a geração de energia limpa, limitando a expansão das termoelétricas que passaram a emitir 122% a mais.

Só o setor de transportes passou a jogar 50 milhões de toneladas de CO² a mais na atmosfera. São 30 milhões pelo consumo de diesel, 15 milhões pela queima de gasolina e 5 milhões de gás natural. Isso, segundo o ministro, implica repensar a matriz brasileira de transportes que, segundo ele, valorizou o "rodoviarismo, que já era grande e aumentou ainda mais". Mais carros flex, biodiesel e investimentos no transporte hidroviário é o que propõe Minc para diminuir o impacto dos combustíveis fósseis. "A meta é buscarmos uma economia de baixo carbono", afirma.

Em 1994, os setores de energia e indústria emitiam 243 toneladas de CO² e em 13 anos estima-se um total de 444 mil toneladas somente na geração de energia. Isso representa 71% a mais e liga o sinal de alerta no MMA para os padrões atuais de desenvolvimento.

"Temos de atuar junto a esses setores para reverter a curva ascendente de emissões", avalia Suzana Kahn. "Queremos crescer emitindo menos carbono", defende o ministro.
Tags: biodiesel, Brasil, Brazil, Carlos Minc, carros flex, clean energy, Climate Change, CO2, deforestation, desmatamento, diesel, dióxido de carbono, energia limpa, environment, EPE, flex-fuel, gas natural, gases de efeito estufa, gasoline, greenhouse gases, hidrovias, IBGE, inspeção veicular, meio ambiente, MMA, MME, mudanças climáticas, natural gas, public transport, road transport, termoelétricas, thermoelectric plants, transport, transportes, usinas termoelétricas, water transport
Subscribe to My Comments Feed
Leave a Reply