« Mexico's Superama Chain to Recycle Plastic Bags | Home | Comisión argentina comienza trabaajo sobre los agroquímicos »
By Keith R | February 5, 2009
Topics: Biofuels, Climate Change | No Comments »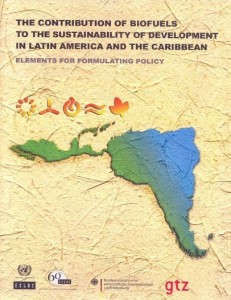 The biofuel programs in the developed countries — particularly those in the US and the European Union (EU) — represent a series of opportunities, challenges and risks for the countries of Latin America and the Caribbean (LAC).  If biofuel production is to create economic growth in LAC nations without jeopardizing its natural capital and social equity, it must be developed in the framework of well thought-out national policy.  The UN Economic Commission on LAC (ECLAC) recently released a report* looking at what LAC policymakers should consider in formulating such a policy.
Not a Simple, Straightforward Issue
The report cautions that any national biofuels policy take into account the complex, multi-dimensional nature of the subject, address not only the export market bu solves domestic problems, creates new opportunities for rural development, and meet the set of conditions that ensure biofuel production actually contributes to sustainable development.  The report notes, with a hint of regret, that many LAC nations have already set goals for the local market and passed biofuel legislation without undertaking a thorough examination neither of what it might entail for their agricultural sector and natural resource use, nor its social impacts in areas such as poverty reduction and food prices.
The report suggests that the following questions be addressed when defining a biofuel policy agenda:
How would biofuels affect the net energy balance? What would be the  effect of replacing oil products for domestic consumption (especially in the transportation sector) in relation to the consumption of fossil fuel energy throughout all links in the biofuels production chain. If this balance is not significantly positive, biofuels programs will risk creating other negative impacts for import-dependent countries, without any compensation whatsoever in terms of fossil energy savings or foreign reserve levels.
If the above-mentioned balance is not significantly positive, it must be determined whether the introduction of biofuels will actually have a positive effect on greenhouse gas emissions and contribute permanently to achieving the ultimate objective of the UN Framework Convention on Climate Change (UNFCC).
In the case of biofuels production based primarily on monocultures, an assessment must be made regarding the impact on the social conditions affecting the labor market, concentration of property, and social distribution of the gains. If monocultures predominate, biofuels programs could ultimately have a negative impact on employment, on reducing distributive asymmetries, and on rural development.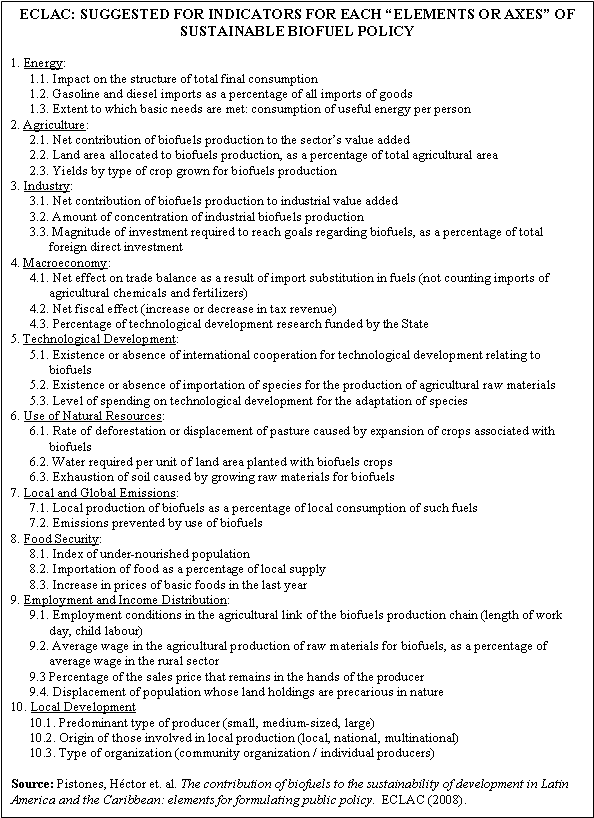 No One Size Fits All
There are marked differences between the region's countries in regard to production and use of biofuels, natural resources, previous experience and technological development, availability of alternative energy sources for transportation, degree to which the basic energy needs of populations are being met, and poverty and under-nutrition. In short, there really can be no single, across-the-board criteria on the appropriateness of biofuels programs for LAC nations.
Countries with long experience producing and using bioethanol, advanced technological development in all links of the productive chain, a mature automobile industry and a very large domestic market (in other words, Brazil) could become large exporters of that fuel. In the case of major vegetable oil exporters that also have abundant natural resources (such as Argentina and Colombia), there are actors willing to become involved in the export of biodiesel. However, the authors warn, serious risks could accrue in terms of natural resources, biodiversity and exacerbating social asymmetries.
The report suggests that biofuels' agricultural activity could be minimal if done carefully, but urges better management of soil and water resources, improvements of existing crop varieties, along with the use of any new varieties if they are "appropriately adapted to ecological conditions."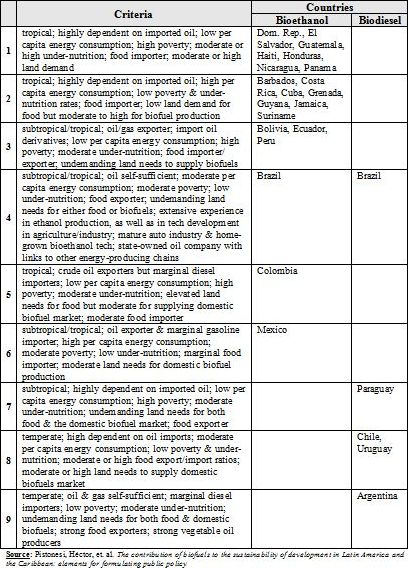 For those LAC nations that are poor in natural resources, and in some that suffer from marked poverty, under-nutrition and/or inadequate coverage of basic energy needs, exporting biofuels is not a sustainable option, since it would have negative effects on various aspects of sustainable development.
The report reiterates ECLAC's past suggestion that, for most LAC nations, energy savings policies and programs can contribute more to sustainable development than biofuels, "which are at best a marginal, short-term solution to central problems of energy and the environment."  It also suggests that perhaps the proper national approach would be to develop rural development policies that meet the nation's basic energy needs and address issues such as poverty, indigence and under-nutrition.
The report divides LAC nations into nine "situations" based on diverse criteria (see table at right – click to enlarge) and discusses some of the key policy considerations for each "situation."
Policy Should Be Multifaceted and Have Broad Input
Finally, the report argues that the overall public policy approach to biofuels production and use should be multi-dimensional and managed in a centralized fashion. Participation in policy formation must not be limited to energy authorities; it should include input from relevant government entities concerned with agriculture, industry, transportation, finance, natural resources, environment, social areas (such as health), and regional entities.
_____________
* Pistonesi, Héctor, et. al. The contribution of biofuels to the sustainability of development in Latin America and the Caribbean: elements for formulating public policy. Published by ECLAC/CEPAL.  English. 2008. 82 pp.
Tags: agribusiness, agricultura, agriculture, automobile industry, biocombustibles, biocombustiveis, biodiesel, biodiversidad, Biodiversity, bioethanol, biofuel, cambio climático, CEPAL, Climate Change, CMNUCC, ECLAC, empleo, employment, energy matrix, gases de efecto invernadero, gases de efeito estufa, greenhouse gases, matriz de energía, matriz energética, monoculture, mudanças climáticas, rural development, transport, transportation, transportes, UNFCCC, vegetable oil
Subscribe to My Comments Feed
Leave a Reply