« Pará Adopts a Recycling Policy | Home | More LAC Nations Covered by Forest Carbon Partnership Facility »
By Keith R | October 27, 2008
Topics: Climate Change, Economics & the Environment | No Comments »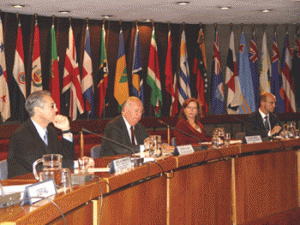 From the UN Economic Commission for Latin America and the Caribbean (ECLAC):
Concern Grows Over Impact of Climate Change on Economies in the Region

Participants discussed the region's role in addressing climate change and alternatives to mitigate its effects, among other issues.

The possible imposition of trade barriers on products from the region due to carbon emissions in their production and transportation is becoming a concern for developing countries. According to the Kyoto Protocol, developing economies are not obliged to meet emission-reduction goals.

Negotiations over measures to mitigate the effects of climate change are enormously complex, in spite of a shared awareness that the longer it takes to reach agreements, the greater the negative impact will be, especially in the developing world, as well as the efforts the international community must make to address it.

These are some of the conclusions of the seminar "Climate change in Latin America: Impact, Possibilities for Mitigation and Financing", carried out October 15-16 in ECLAC headquarters in Santiago, Chile. The seminar was organized by the UN regional commission and Endesa Latin America.

The seminar, inaugurated by Commission Secretary Laura López, was attended by representatives of governments, the United Nations system, the World Bank, the Inter American Development Bank (IDB), universities and NGOs.

The keynote speakers were the United Nations Special Envoy on Climate Change, former Chilean President Ricardo Lagos; former Costa Rican President and CEO of the Concordia 21 Group, José María Figueres; and the Chief Economist for Latin America and the Caribbean of the World Bank, Augusto de la Torre.

During the seminar, ECLAC announced it would prepare a series of studies on economy and climate change in eight South American nations: Argentina, Bolivia, Colombia, Chile, Ecuador, Paraguay, Peru and Uruguay. These studies will examine costs of climate change adaptation, trends in greenhouse gas emissions and the potential to mitigate their effects. This initiative complements similar studies already underway in Central America, the Caribbean and Mexico.

These studies will be the basis for future subregional analyses directed by ECLAC, along with the governments of countries involved, their research institutions, the government of the United Kingdom, and the Inter American Development Bank. Results will be released in July 2009.

The Director of ECLAC's Sustainable Development and Human Settlements Division, Joseluis Samaniego, noted that in order to avoid a 2º C rise in temperature, developed countries must stabilize the concentration of greenhouse gas emissions by reducing them 60% to 80% by 2050.

"In this context, the participation of developed nations in mitigation efforts is inevitable, whether voluntary or obligatory. Decisions made today on infrastructure will shape the future that countries in the region will have to address, in the framework of an international regime that we assume will continue to evolve beyond 2010," he said.

Five studies on the evolution and mitigation of greenhouse gas emissions in Argentina, Brazil, Chile, Colombia and Peru, financed by Endesa, were presented during the seminar. The reports were prepared by independent research institutions, such as the Bariloche Foundation, the private consulting firm PSR, the University of Chile, the University of Los Andes, in Colombia, and the Catholic University of Peru.

In his presentation, Ricardo Lagos valued the ECLAC seminar as an instance that contributes to defining the role of Latin America and the Caribbean in the global fight against climate change. "Is it possible to think about an intermediate stage between 2012-2020 in which middle-income countries may have a menu of options that could contribute to reducing contaminating emissions? That is up for debate," he asserted.

Among possible options, Lagos mentioned monetary contributions to activities that avoid deforestation; sharing national plans to combat climate change with the international community; and reaching agreements among industries of similar productivity and technology on maximum emission levels, regardless of where these industries are located.
___________________________
Desde la Comisión Económica para América Latina (CEPAL):
Preocupa a países de América Latina y el Caribe los impactos que pueda provocar el cambio climático en sus economías

En la reunión se discutió sobre el rol que le corresponde a la región en el combate al fenómeno climático y alternativas de mitigación de efectos, entre otros temas.

La posible imposición de barreras comerciales a los productos de la región con base en el carbono emitido durante su producción y transporte es una de las preocupaciones de los países en desarrollo. Según las condiciones establecidas en el Protocolo de Kyoto, los países en desarrollo no están obligados a cumplir con metas de disminución de emisiones.

Las negociaciones sobre medidas para atenuar los efectos del fenómeno son de gran complejidad, pese a que existe conciencia de que cuanto más tiempo tome alcanzar acuerdos mayores serán los impactos negativos, especialmente en los países en desarrollo, así como los esfuerzos que deberá realizar la comunidad internacional para enfrentar el problema.

Estas son algunas de las conclusiones a las que se llegó ayer en el seminario sobre "Cambio climático en América Latina: Impacto, posibilidades de mitigación y financiamiento", realizado en la sede de la CEPAL, en Santiago de Chile, y organizada por esta Comisión y la empresa Endesa Latinoamérica.

A la cita, inaugurada por la Secretaria de la Comisión, Laura López, asistieron representantes de gobierno, del sistema de Naciones Unidas, el Banco Mundial, del Banco Interamericano de Desarrollo (BID), de universidades y ONGs.

Destacó la presencia del Enviado especial de las Naciones Unidas sobre el cambio climático y ex Presidente de Chile, Ricardo Lagos; el ex jefe de Estado de Costa Rica y Consejero del Grupo Concordia 21, José María Figueres; y del Economista Jefe para América Latina y el Caribe del Banco Mundial, Augusto de la Torre.

En el seminario se anunció la puesta en marcha de estudios sobre la economía y el cambio climático en 8 países de América del Sur: Argentina, Bolivia, Colombia, Chile, Ecuador, Paraguay, Perú y Uruguay. En ellos se examinarán los costos de la adaptación, las tendencias en la emisión de gases de efecto invernadero y su potencial de mitigación.  Esta iniciativa complementa acciones ya emprendidas por la CEPAL en Centroamérica, el Caribe y México.

Dichas investigaciones constituirán la base de estudios subregionales conducidos por la Comisión en conjunto con los gobiernos de los países involucrados, sus instituciones de investigación, el gobierno del Reino Unido y el Banco Interamericano de Desarrollo. Los resultados estarán  en julio del 2009.

El Director de la División de Desarrollo Sostenible y Asentamientos Humanos de la CEPAL, Joseluis Samaniego, sostuvo que evitar incrementos de temperatura por encima de los 2º C demanda estabilizar la concentración de gases de efecto invernadero con reducciones de 60% a 80% en 2050 por parte de los países desarrollados.

"En este contexto la participación de los países en desarrollo en los esfuerzos de mitigación aparece como inevitable, independientemente si éstos son voluntarios u obligatorios.  Las decisiones que se tomen hoy en materia de infraestructura conformarán el futuro que los países de la región enfrentarán en el marco de un régimen internacional que suponemos continuará evolucionando, mucho más allá del 2010", enfatizó.

Por otra parte, en el seminario fueron también presentados 5 estudios financiados por Endesa sobre la evolución y mitigación de las emisiones de gases de efecto invernadero en Argentina, Brasil, Chile, Colombia y Perú. Estos fueron elaborados por instituciones de investigación independientes como la Fundación Bariloche, la Consultora privada PSR, la Universidad de Chile, La Universidad de los Andes de Colombia, y la Universidad Católica de Perú.

Durante su exposición, Ricardo Lagos valoró la realización del seminario en la CEPAL por tratarse de una instancia que ayudará a definir el rol que debiera jugar América Latina y el Caribe en el combate global al cambio climático. "¿Es posible pensar en una fase intermedia entre los años 2012 y 2020 en el que se ofrezca un menú de alternativas a un conjunto de países de ingreso medio que permitan aportar en la tarea de reducir emisiones contaminantes? Ese es tema de debate", señaló.

Entre las alternativas del menú mencionado, Lagos precisó que se podrían crear contribuciones monetarias para actividades que eviten la deforestación; compartir con la comunidad internacional planes nacionales de combate al cambio climático y lograr acuerdos sectoriales entre industrias de similar productividad y tecnología sobre máximos de emisión, independientemente de donde estén establecidas estas entidades.
Tags: Argentina, Banco Mundial, Bariloche Foundation, BID, Bolivia, Brasil, Brazil, cambio climático, Catholic University of Peru, CEPAL, Chile, Climate Change, climate change mitigation, Colombia, Concordia 21 Group, ECLAC, Ecuador, Endesa, gases de efecto invernadero, greenhouse gases, IDB, José María Figueres, mudanças climáticas, Paraguay, Peru, Ricardo Lagos, University of Los Andes, Uruguay, World Bank
Subscribe to My Comments Feed
Leave a Reply