« OAS & Consumers International Sign Cooperation Accord / La OEA y CI | Home | Puerto Rico Proposes Amending Its Waste Reduction/Recycling Regulation »
By Keith R | November 10, 2008
Topics: Climate Change, Energy Efficiency | No Comments »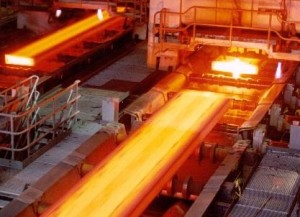 By my count, this is the second loan from the Inter-American Development Bank (IDB) to Usiminas to improve energy efficiency in their steelmaking, cut carbon emissions and calculate their carbon footprint. The loan from last May covered its Ouro Branco mill, this one its new Santana do Paraiso mill, both in Minas Gerais state.
________________________
From the Inter-American Development Bank (IDB):
Brazil's Usiminas plans to get IDB loan to finance energy efficiency

IDB to provide "A" loan in yen for the first time ever; Sumitomo to syndicate B loan

Usiminas, Brazil's largest flat steelmaker, will obtain a $50 million "A" loan from the Inter-American Development Bank to finance investments in power generation. Sumitomo Mitsui Banking Corporation has been appointed as the lead arranger for syndicating another loan related to investments in power generation for Usiminas, a portion known as a "B" loan.

Under the program, the IDB will be the lender of record for the entire A and B loan facility. The IDB, Sumitomo and other participating banks in the syndication will share in the commercial risk of the operation.  Pricing for both loans are based on market rates.

The A loan, to be denominated in yen for the first time since the IDB began this program, will mature in 10 years. The B portion, also in yen, will mature in eight years. The board of the IDB approved the financing yesterday. The IDB is the single biggest source of long-term financing for Latin America and the Caribbean.

Usiminas plans to use the facility to finance investments in a new power generation plant and related equipment in its new Santana do Paraiso plant in the Brazilian southeastern state of Minas Gerais. The new plant will produce electricity using excess heat and gases originated from the production of the steel, allowing the Belo Horizonte-based company to cut its production costs and reduce carbon emissions.

The A/B Loan program has allowed more than 100 international banks and institutional investors to provide more than $5.8 billion in some 58 transactions in Latin America and the Caribbean since the program began in 1995. Last year, closings for B loans shot up to $1.3 billion and are expected to reach at least $1.7 billion in 2008.

"Market conditions are very tight for Latin American companies and the IDB, through this program, can help investors mitigate certain risks and feel more comfortable in investing in the region," said Jozef Henriquez, IDB's syndication chief.

The IDB has preferential status granted by its borrowing member countries such as preferred access to foreign exchange, which reduces currency transfer and convertibility risk when companies have to service their debt with the bank. Outside the region, bank regulators in Europe and other member countries exempt B Lenders from setting aside country risk provisions.

The program allows companies to broaden their circle of lending beyond domestic markets, thus providing borrowers an opportunity to get better structures and terms from banks.

Sumitomo is primarily planning to tap banks and institutional investors in Japan because it is a market that has been relatively insulated from the turmoil in financial markets, said Henriquez.  "It is the first time this class of investors will become the primary target for a B-loan," he said.

The IDB's Sustainable Energy and Climate Change Initiative (SECCI) will develop benchmarks of energy efficiency and emission reduction and provide Usiminas an energy balance, energy indicator and carbon footprint analysis.
______________________________
Desde o Banco Interamericano de Desenvolvimento (BID):
A brasileira Usiminas planeja receber empréstimo do BID para financiar eficiência energética

BID deve fornecer um empréstimo "A" em ienes pela primeira vez; Sumitomo coordenará o empréstimo "B" consorciado

A Usiminas, a maior siderúrgica de aços planos do Brasil, obterá um empréstimo "A" de US$50 milhões do Banco Interamericano de Desenvolvimento para financiar investimentos em geração de energia. O Sumitomo Mitsui Banking Corporation foi escolhida para coordenar um outro empréstimo consorciado, conhecido como empréstimo "B",  também relacionado a investimentos em geração de energia da empresa.

Dentro do programa, o BID será o credor oficial de todo o instrumento de empréstimos A e B. O BID, o Sumitomo e os outros bancos participantes do consórcio compartilharão o risco comercial da operação. As tarifas para ambos os empréstimos serão baseados nas taxas de mercado.

O empréstimo A, a ser denominado em ienes pela primeira vez desde que o BID  iniciou a esse programa, terá prazo de 10 anos. A parte B, também em ienes, terá prazo de oito anos. A diretoria do BID aprovou o financiamento ontem. O BID é a maior fonte individual de financiamento de longo prazo para a América Latina e o Caribe

A Usiminas pretende usar o empréstimo para financiar investimentos em uma nova usina de geração de energia e equipamentos relacionados em sua nova instalação em Santana do Paraíso, no Estado de Minas Gerais, no sudeste do Brasil. A nova usina produzirá eletricidade usando calor e gases excedentes originários da produção do aço, permitindo que a empresa – sediada em Belo Horizonte – reduza os seus custos de produção e suas emissões de carbono.

O programa de empréstimo A/B possibilitou que mais de 100 bancos e investidores institucionais internacionais fornecessem mais de US$5,8 bilhões em 58 transações na América Latina e no Caribe desde que o programa teve início em 1995. No ano passado, a concessão de empréstimos B subiram para R$1,3 bilhão e espera-se que atinjam US$ 1,7 bilhão em 2008.

"As condições de mercado estão muito difíceis para empresas da América Latina e do Caribe e o BID, por meio desse programa, pode ajudar os investidores a reduzir alguns riscos e se sentir mais confiantes para investir na região", disse Jozef Henriquez, chefe de operações consorciadas do BID.

O BID tem situação preferencial garantida por seus países membros mutuários, como acesso preferencial ao câmbio de divisas, o que reduz o risco de transferência e conversibilidade cambial quando as empresas têm de servir sua dívida com o banco. Fora da região, os reguladores do sistema bancário na Europa e em outros países membros isentam os credores de empréstimos B de constituir provisões referentes ao risco-país.

O programa possibilita que as empresas ampliem o seu círculo de empréstimos para além dos mercados domésticos, proporcionando aos mutuários uma oportunidade de obter melhores estruturas e condições com os bancos.

O Sumitomo pretende reunir essencialmente bancos e investidores institucionais do Japão, porque esse é um mercado que tem estado relativamente isolado das turbulências dos mercados financeiros, disse Henriquez. "É a primeira vez que essa classe de investidores vai se tornar o alvo primário para um empréstimo B", disse ele.

A Iniciativa de Energia Sustentável e Mudança Climática (SECCI) do BID desenvolverá padrões de referência para eficiência energética e redução de emissões e oferecerá à Usiminas uma análise de balanço energético, indicador energético e pegada de carbono.
_________________________________
Desde el Banco Interamericano de Desarrollo (BID):
Siderúgica brasileña Usiminas tendrá apoyo del BID para inversiones en generación de energía

Primer préstamo A en yen del Banco, Sumitomo coordinará sindicación de préstamo B

Usiminas, la mayor productora acero laminado del Brasil, obtendrá un préstamo de US$50 millones del BID para financiar inversiones en generación de energía. Sumitomo Mitsui Banking Corporation gestionará la sindicación de un crédito adicional para el proyecto.

Bajo el programa, el BID será el prestamista líder de ambos créditos, denominados A y B. El BID, Sumitomo y otras instituciones financieras participantes compartirán el riesgo comercial de la operación. Las tasas de interés de los créditos se basarán en tasas de mercado.

El préstamo A, el primero denominado en yenes desde que el BID inició este programa, tendrá un plazo de 10 años. El préstamo B, que también se denominará en yenes, tendrá un plazo de ocho años. La operación fue aprobada ayer por el directorio ejecutivo del BID, la mayor fuente de financiamiento multilateral a largo plazo para América Latina y el Caribe

Usiminas usará los recursos para financiar inversiones en una nueva planta de generación de energía y en equipos relacionados para su nueva acerería en Santana do Paraíso, en el estado brasileño de Minas Gerais. La nueva planta producirá electricidad usando el calor y los gases originados por la producción de acero, permitiendo a la empresa reducir costos de producción y las emisiones de gases de invernadero.

Desde que el BID inició su programa de prestamos A/B en 1995 ha conseguido que más de 100 bancos internacionales e inversionistas institucionales provean más de US$5.000 millones  en créditos, distribuidos en aproximadamente 58 transacciones en América Latina y el Caribe. El año pasado los prestamos B alcanzaron cerca de US$1.300 millones y se espera que lleguen a unos US$1.700 millones en 2008.

"Las condiciones del mercado están muy complicadas para las compañías latinoamericanas y el BID, a través de este programa, puede ayudar a los inversionistas a mitigar ciertos riesgos para que se sientan más cómodos al invertir en la región", comentó Jozef Henríquez, jefe de sindicaciones del BID.

Como acreedor preferencial, el BID tiene acceso preferente al mercado cambiario, lo cual reduce los riesgos de transferencias de divisas y convertibilidad cuando las empresas deben cumplir con sus obligaciones financieras con el banco. Fuera de la región, los reguladores bancarios en  Europa y otros países miembros exceptúan a los proveedores de préstamos B de hacer provisiones relacionadas al riesgo país.

El programa permite a las compañías ampliar sus fuentes de financiamiento más allá de los mercados locales, creando oportunidades de acceder a mejores términos y estructuras de financiación.

Sumitomo planea convocar a bancos e inversionistas institucionales en Japón ya que es un mercado que ha estado relativamente aislado de la crisis financiera global, señaló Henríquez. "Es la primera vez que este tipo de inversionistas son el blanco principal en la búsqueda de financiación para un préstamo B", agregó.

La Iniciativa de Energía Sostenible y Cambio Climático del BID desarrollará lineamientos para medir la eficiencia energética y la reducción de emisiones y proveerá a Usiminas de una evaluación energética, indicadores de energía y análisis de impacto de carbono.
Tags: aços planos, análisis de impacto de carbono, BID, carbon emissions, carbon footprint, eficiencia energética, emissões de carbono, Energy Efficiency, gases de efecto invernadero, IDB, Minas Gerais, pegada de carbono, Santana do Paraiso, SECCI, siderúrgica, steelmaking, Sumitomo, Usiminas
Subscribe to My Comments Feed
Leave a Reply