« Important LAC Developments on Clinical Trials | Home | Air Travelers Can Help Mitigate Climate Change and Reforest Colombia »
By Keith R | March 23, 2009
Topics: Climate Change | No Comments »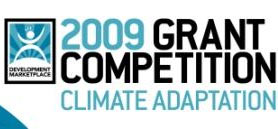 From the World Bank:
Development Marketplace Grant Competition Launched for Innovative Climate Adaptation Solutions

The 2009 Global Development Marketplace (DM2009) today launched its annual global search for innovative local projects and project ideas, with the focus this year on how to help poor and vulnerable communities disproportionately affected by current and predicted climate threats. Innovating organizations from civil society, governments, and the private sector are invited to submit project proposals online from today to May 18, to enter the competition for grants provided by the World Bank Group, the Global Environment Facility (GEF) and other partners.

The 2009 competition focuses on three themes:

Climate adaptation and disaster risk management
Climate risk management with multiple benefits
Resilience of indigenous peoples communities to climate risks

"The Development Marketplace is an important opportunity to empower innovators at the local and community level and learn from their high quality work" said Katherine Sierra, Vice President of Sustainable Development at the World Bank. "We know that local innovation and community-based knowledge can provide answers to major development challenges, including adaptation to climate change."

An award pool of more than US$5 million will support 20-25 projects. Typically, DM competitions attract nearly 3,000 applicants, from which about 100 finalists are selected. Finalists competing for grants will be invited to the Development Marketplace held November 3-5, 2009, in Washington, D.C.

"It is the poorest countries and communities that suffer the most because of their geographical location, low incomes, and low institutional capacity as well as their greater reliance on climate-sensitive sectors like agriculture. Adapting to climate risks and change therefore is increasingly important in developing countries," said Monique Barbut, Chairman and CEO of the GEF.

Development Marketplace is a competitive grant program that identifies and funds innovative, early-stage projects with high potential for development impact. Since its inception in 1998, DM has awarded roughly US$54million to more than 1,000 projects through global, regional and country-level competitions. Using DM funding as a launching pad, many projects scale up or replicate elsewhere winning prestigious awards for social entrepreneurship.

Held every 12-18 months, the global competition features an open and transparent selection process that involves hundreds of development experts from inside and outside the World Bank.

"The Development Marketplace has already established itself as one of the world's top competitive platforms for innovative approaches to fighting poverty and promoting sustainable development," said Sanjay Pradhan, Vice President of the World Bank Institute. "Now that the Development Marketplace has joined us, the Institute is positioned to connect these innovators with those who can apply and scale up what they have conceived."

DM2009 competition is open to applications from non-governmental organizations, civil society groups, foundations, governments, private businesses and development agencies based in the country of implementation. Other applicants can apply only with the participation of a local partner.
Tags: Banco Mundial, cambio climático, Climate Change, Development Marketplace, GEF, World Bank
Subscribe to My Comments Feed
Leave a Reply