« Trash Photos XIV: From Used Tires to Furniture | Home | Espirito Santo Prepares for Chemical Emergencies »
By Keith R | January 7, 2009
Topics: Climate Change | No Comments »
In its recent report on activities and issues it confronted in 2008, the environment secretariat (SEA) of Rio de Janeiro state (RJ) included a summary graphic from the so-to-be-released state greenhouse gas (GHG) inventory that I though I'd share with you here: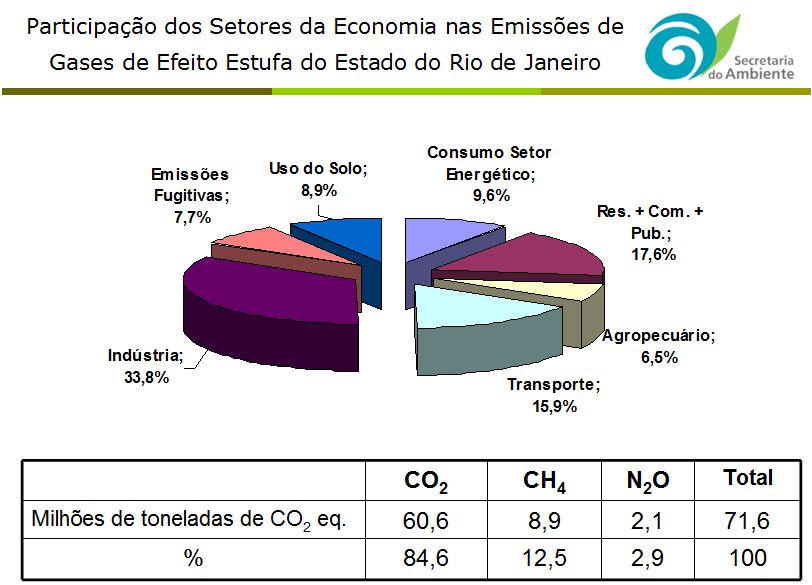 By sources, the biggest GHG emitter in RJ is industry at 33.8%, followed by the residential-commercial-public sector (presumably mostly due to energy use, but that is not clear) at 17.6%, transport at 15.9%, the energy generation sector at 9.6%, changes in land use at 8.9%, fugitive emissions at 7.7% and agriculture at 6.5%.  Contrast that with the figures from Minas Gerais' recently released state GHG inventory, wherein agriculture and land use accounted for over half, and industry only 5.8%!
RJ state says it emits 71.6 million metric tons of carbon dioxide equivalent (CO2e) in GHGs annually.  The overwhelming GHG released in RJ state is carbon dioxide at 84.6%, followed by methane at 12.5% and N2O at just 2.9%.
Tags: agriculture, Brasil, Brazil, CH4, Climate Change, CO2, CO2e, energy, environment, fugitive emissions, gases de efeito estufa, greenhouse gas inventory, greenhouse gases, land use, meio ambiente, metano, methane, Minas Gerais, mudanças climáticas, N2O, produção agropecuária, Rio de Janeiro, SEA, transport, transportes, uso do solo
Subscribe to My Comments Feed
Leave a Reply