« Environmental Policy Reborn in Rio? | Home | A True Solution to Aruba's Waste Problem, or Just Fluff? »
By Keith R | January 14, 2009
Topics: Climate Change, Energy & the Environment, Energy Efficiency | No Comments »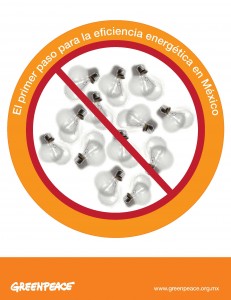 Greenpeace Mexico just launched an all-out push for Mexico to ban incandescent light bulbs and aggressively adopt energy efficiency as part of its commitments to combat global climate change.  GP Mexico released a manifesto, "El primer paso para la eficiencia energética en México" ("the First Step Toward Energy Efficiency in Mexico"), launched a new website dedicated to the subject as well as short videos about the cause (see below).
GP Mexico sees this campaign as the opening wedge to realize the retooling of Mexico's energy matrix and policy along the lines it first proposed several months ago in the Mexico edition of its Energy [R]evolution proposals.
The manifesto argues that in order to realize the Energy [R]evolution and to mitigate climate change it is necessary for Mexico to implement energy efficiency policies that involve all sectors.   This means making each sector more efficient consumers: residential in the first phase, and then the industrial and transport sectors.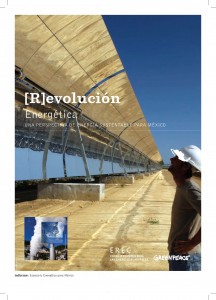 Greenpeace Mexico says that this is possible through the following measures:
Prohibition on the importation, production and sale of incandescent lamps for residential use as of 2012 throughout Mexico;
Mandatory energy conservation in the federal government, setting sanctions for the dependencies and entities that do not fully comply;
Strict efficiency norms for the energy consumption of all appliances, buildings and vehicles;
Incentives for the productive sector for better use of cogeneration;
Use and promotion of insulation systems for homes and buildings;
Substitution of energy-hungry and obsolete appliances, such as refrigerators and washers, through mechanisms and programs affecting the broadest posssible segment of the population.
________________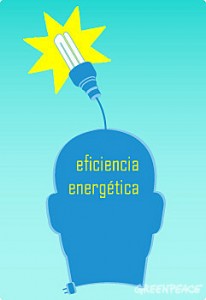 Desde Greenpeace Mexico:
¡No más focos incandescentes y contaminantes!, exige Greenpeace

Urge una ley federal que los prohíba en todo el país a final de 2009; para promover el cambio de focos incandescentes por lámparas ahorradoras de energía, hacer más eficiente el uso de la electricidad y evitar una mayor emisión de dióxido de carbono (CO2) a la atmósfera, principal gas responsable del cambio climático, Greenpeace lanzó la campaña de eficiencia energética y el sitio web www.atiyaseteprendio.org

La organización ambientalista presentó el documento "El primer paso para la eficiencia energética en México", en el que muestra lo ineficiente que es nuestro país en materia de iluminación, qué se ha hecho, cuáles han sido los resultados de estos esfuerzos y una propuesta para aprovechar mejor los recursos energéticos disponibles en nuestro territorio.

"La eficiencia energética es indispensable para mitigar el cambio climático, la peor amenaza que enfrentamos. Dentro de la [R]evolución Energética propuesta por Greenpeace, se contempla la explotación del potencial de eficiencia energética enfocado en mejorar las prácticas actuales y en las tecnologías disponibles para el futuro, asumiendo una continua innovación. El uso inteligente de la energía es una oportunidad para contribuir al desarrollo sustentable de nuestro país. En la medida en que se logre generar energía a través de fuentes renovables y se use de manera adecuada, jugará un papel relevante en la mitigación del cambio climático", explicó María José Cárdenas, coordinadora de la campaña de Clima y Energía de Greenpeace.

México ocupa el décimo tercer lugar dentro de los 25 países considerados como mayores emisores de Gases de Efecto Invernadero (GEI), con una participación del 1.23 por ciento respecto al total mundial. El sector que más contribuye a la emisión de GEI es la generación de energía, seguida del sector transporte, ambos producen más del 40 por ciento de las emisiones totales del país.

"Ahorrar energía es posible con medidas simples como cambiar un foco incandescente por uno ahorrador o desconectar el cargador del teléfono. Sin embargo, para que un esfuerzo nacional de ahorro de energía tenga un impacto significativo y permanente se requiere de millones de acciones que, integradas, tengan grandes efectos que repercutan de manera significativa en los hábitos de consumo de los usuarios, en el consumo de energía eléctrica y en los efectos del cambio climático", dijo Beatriz Olivera, integrante de la campaña de Cambio Climático y Energía.

Las lámparas incandescentes o convencionales son dispositivos muy ineficientes, ya que más del 90 por ciento de la electricidad que utilizan la transforman en calor, mientras que la energía restante es convertida en luz. La principal razón para que los usuarios adquieran este tipo de lámparas es su bajo costo y fácil adquisición. La vida útil de un foco tradicional oscila entre 750 y 1,000 horas, en cambio, la de una lámpara ahorradora es de alrededor de 10,000 horas. Una lámpara ahorradora dura hasta 10 veces más que un foco común, por lo que adquirir este tipo de dispositivos representa una inversión que a mediano plazo se recupera y se ve reflejada en los pagos bimestrales de luz de los usuarios.

"En estos momentos de crisis económica, cambiar los focos incandecentes por los ahorradores no es un gasto, es una inversión. Si cada ciudadano lo hace se podría masificar el uso de focos ahorradores y representaría un ahorro de hasta 80 por ciento por mes en los recibos de luz. Para ello es clave que gobierno federal, los gobiernos locales, legisladores, empresas y ciudadanos trabajemos desde ahora para desarrollar una estrategia que acabe con la producción y comercialización de focos incadescentes, que derrochan energía y abultan nuestras cuentas de luz. Los ciudadanos tenemos derecho a consumir productos que tengan bajo impacto en el medio ambiente y que no deterioren nuestra economía", agregó Cárdenas.

"Es necesario que este año se concrete una ley federal y políticas contundentes en materia de ahorro y eficiencia de energía, que hagan obligatorias estas medidas y den los incentivos de mercado necesarios para la sustitución de los focos incandescentes por lámparas ahorradoras en todo el país, en un periodo máximo de tres años. El objetivo es que antes del año 2012 estos productos dejen de consumirse en México, en concordancia con el compromiso de nuestro país en el ámbito internacional en materia de mitigación del cambio climático. Ésta es también una oportunidad de ahorro en subsidios", continuó Olivera.

Las actrices Patricia Reyes Spíndola y Patricia Llaca se unieron a Greenpeace para urgir al gobierno federal a que prohíba los focos incandescentes y fomentar en los ciudadanos el uso de los focos ahorradores.
Tags: aislamiento térmico, appliances, cambio climático, Climate Change, clothes washers, cogeneración, cogeneration, compact fluorescents, edificios, eficiencia energética, electrodomésticos, energy conservation, Energy Efficiency, Greenpeace, insulation, lámparas incandescentes, lavadoras, light bulbs, Mexico, refrigeradores, refrigerators, viviendas
Subscribe to My Comments Feed
Leave a Reply