« A New Recycled Content Standard for Paper/Board in Brazil | Home | New Facility to Insure Renewable Energy Projects in Developing Countries »
By Keith R | September 24, 2009
Topics: Climate Change, Conservation, Sustainable Agriculture | No Comments »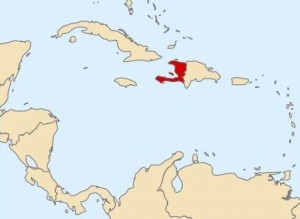 From the Inter-American Development Bank (IDB):
Haiti to combat environmental decay with IDB funds

A $3.44 million grant will support sustainable land and forest management practices, improve preservation of Macaya Park

The Inter-American Development Bank on Sept. 23 approved a $3.44 million grant to help Haiti combat rapid environmental degradation through the integration of sustainable land and forest management practices.

The grant, financed by the IDB/Global Environment Facility (GEF), will support reforestation in key watersheds in the southwestern part of the country as well as implementation of a carbon stock and sequestration monitoring system to help prevent greenhouse gas emissions in the area, which is home to the 7,500-hectare Macaya Park.

Haiti has lost virtually all of its forests, and severe land erosion in this mountainous country intensifies during the hurricane season, undermining efforts to improve living conditions in the Western Hemisphere's poorest nation. The project to be funded by the grant funds will be executed over four years and has four components:

Component 1 will strengthen national watershed administration capacity based on a sustainable land and forest management (SLFM) approach and municipal capacity in land use planning. This will include measures to improve the management of Macaya Park in a joint effort between the Environment Ministry and local communes.
Component 2 will support a program to adopt SLFM technologies to boost planters' and breeders' revenues. These measures are intended to build local capacity to protect soil and sequester carbon while favoring fruit and timber tree plantations and greater livestock productivity in the upper parts of the watersheds.  This component will also help to restore 200 hectares of Macaya Park forests, solve land tenure conflicts, build small dams and water tanks, promote sheep breeding, and co-finance a coffee-washing center.
Component 3 will use help to clarify the complex land tenure situation within and around the park and to proceed with its physical demarcation, a crucial measure for its effective protection and management.
Component 4 will set aside $308,000 to monitor and help prevent GHG emissions and promote carbon sequestration in the area.

The IDB-GEF grant will complement a $30 million grant for Haiti that the IDB approved earlier this month to finance anti-flooding works in three critical watersheds and promote sustainable agriculture development.
_______________
De la Banque Interaméricaine de Développement (BID):
Haïti combat la dégradation de l'environnement grâce aux financements de la BID

Un don de $3,44 millions pour soutenir la gestion durable des terres et des forêts et améliorer la préservation du parc de Macaya

Le 23 septembre, la Banque interaméricaine de développement a approuvé un don de $3,44 millions pour aider Haïti à lutter contre la dégradation rapide de l'environnement en adoptant des pratiques de gestion durable des terres et des forêts.

Le don, conjointement financé par la BID et le Fonds pour l'environnement mondial (FEM), permettra le reboisement des principaux bassins hydrologiques du sud-ouest du pays et la mise en oeuvre d'un système de contrôle et de séquestration du carbone pour prévenir les émissions de gaz à effet de serre dans cette zone abritant le parc de Macaya, dont la superficie totale est de 7500 hectares.

Haïti a perdu la quasi-totalité de ses forêts, et la forte érosion des sols qui sévit dans ce pays montagneux s'intensifie pendant la saison des ouragans, compromettant ainsi les efforts d'amélioration des conditions de vie des populations de la nation la plus pauvre de l'hémisphère occidental. Le projet financé par le don sera exécuté pendant quatre ans et renferme quatre composantes :

La composante 1 porte sur le renforcement des capacités de gestion des bassins hydrologiques grâce à une approche de gestion durable des terres et des forêts et sur le développement des capacités municipales d'aménagement des terres. Elle inclut des mesures visant à améliorer la gestion du parc de Macaya avec l'appui conjoint du ministère de l'Environnement et des communes locales.
La composante 2 soutiendra un programme d'adoption de technologies de gestion durable des terres et des forêts pour accroître les revenus des planteurs et des éleveurs. Le programme consiste à renforcer les capacités locales de protection des sols et de séquestration du carbone tout en encourageant la plantation d'arbres fruitiers et de haute futaie, ainsi que l'accroissement de la productivité de l'élevage dans les sommets des bassins hydrologiques. Cette composante prévoit aussi la restauration de 200 hectares de forêts du parc de Macaya, le règlement des litiges fonciers, la construction de petits barrages et de réservoirs d'eau, le développement de l'élevage de moutons et le cofinancement d'un centre de décorticage de café.
La composante 3 consistera à faire la lumière sur la situation foncière complexe à l'intérieur et autour du parc et à réaliser la démarcation physique des terres qui est indispensable pour la protection et la gestion efficace du parc.
La composante 4 consacrera $308 000 au contrôle et à la prévention des émissions de gaz à effet de serre et au développement de la séquestration du carbone dans la région.

Ce don BID-FEM complète un don de $30 millions que la BID a octroyé à Haïti au début de ce mois pour financer des travaux de prévention des inondations dans trois importants bassins hydrologiques et promouvoir le développement durable de l'agriculture.
Tags: carbon sequestration, coffee, dégradation de l'environnement, don, Environment Ministry, environmental degradation, FEM, gaz à effet de serre, GEF, gestion des bassins hydrologiques, gestion durable des terres, Grant, greenhouse gases, Haiti, IDB, land tenure, land-use planning, livestock farming, Macaya Park, ministère de l'Environnement, parc de Macaya, plantation d'arbres, reforestation, réservoirs d'eau, séquestration du carbone, sheep breeding, soil erosion, Sustainable Agriculture, sustainable forest management, tree plantations, water tanks, watershed management
Subscribe to My Comments Feed
Leave a Reply