« The Case for Greater Power Savings in Electronics | Home | SP Anti-Smoking Law Survives Its First Court Challenge »
By Keith R | May 13, 2009
Topics: Climate Change, Conservation, Sustainable Forest Use | No Comments »
President Jagdeo Addresses
the CSD High-Level Segment –
photo courtesy Earth Negotiations Bulletin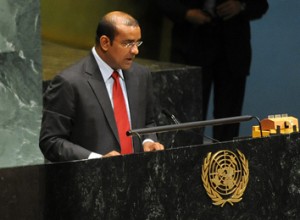 The High-Level Segment of the 17th Session of United Nations Commission on Sustainable Development (CSD-17) opened today with a series of speeches in the UN General Assembly (UNGA) hall.  Despite its moniker, most of those speaking at the High-Level Segment only had ambassadorial status.  Besides the opening greeting by UN Secretary-General Ban Ki-Moon, there were two notable exceptions: Argentine Environment Secretary, Dr. Homero Máximo Bibiloni, and Guyana's President, Bharrat Jagdeo. [The Environment Minister of Namibia also spoke.]
I was particularly struck by what President Jagdeo had to say regarding climate change — not the standard rhetoric about the urgent need to reach a deal at Copenhagen, the obligations of "historic polluters" (read: developed nations), and the need for the agreement to include technology transfer and financing for developing nations, but rather regarding the role of REDD (reduced emissions from deforestation and degradation) in any climate change agreement and how Guyana proposes taking the lead on this:
If the developed world steps up to its responsibilities, those of us who lead developing countries should be willing to be part of the solution.  This becomes particularly evident in rainforest countries like mine — over 80% of Guyana's territory is pristine forest and we want it to stay that way.  But we are acutely conscious that preserving our forest comes at an economic cost to our nation today.  The world values timber and the agricultural products that can be harvested after timber has been cleared.  It does not value forests when they are kept alive.  Yet it is increasingly well-known that deforestation causes 17% of the world's greenhouse gas emissions, that's more than all the world's planes, trains, trucks and automobiles put together.  What is less well-known is that more sustainable use of forest and agricultural land can deliver 37% of the world's greenhouse gas abatement potential between now and 2020.  This is because of the lead times required for many other abatement options — it takes years to build new renewable energy plants and other options such as carbon capture and storage have a long time to go before the technology is proven.

My government supports calls to cut net global deforestation in half by 2020, and to make the global forestry sector carbon neutral by 2030…

Guyana will be willing to provide the world with a model of how this could happen quickly and done sustainably. [emphasis added]  For two years now, Guyana has indicated its willingness to place our entire rainforest under long term protection if the international community finds the right way to include forestry within a broader climate agreement.  We have calculated the value of our forest, and are currently engaged in a national consultation with indigenous peoples and other national stakeholders to determine exactly how compensation for forestry climate services could be invested.

We believe that this can be done in a way which not only protects our forests, but also reorients our economy onto a low-carbon trajectory by for example, taking our entire country's electricity supply from renewable sources instead of fossil fuel dependence; by reducing overall industrial emissions from energy generation by one third without sacrificing healthy growth rates, by opening up unused, non-forested parts of the country to agricultural development, and by unprecedented investment in economic opportunities within our forest communities.
Tags: agriculture, Argentina, Bharrat Jagdeo, Bibiloni, Climate Change, CSD, deforestation, ecosystem services, forestry, greenhouse gases, Guyana, REDD, technology transfer, timber, UNGA
Subscribe to My Comments Feed
Leave a Reply