« An Andean Medicines Policy | Home | IDB and Korea Partner on Green Growth / IDB y Corea apoyarán crecimiento verde »
By Keith R | March 30, 2009
Topics: Climate Change, Energy & the Environment | No Comments »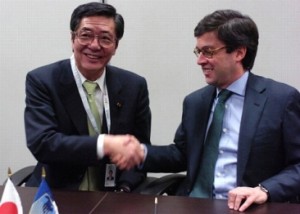 From the Inter-American Development Bank (IDB):
Japan to Contribute $5 Million to IDB's Sustainable Energy and Climate Change Fund

IDB and two Japanese development agencies planning separate agreements

The Japanese government will contribute $5 million to a fund managed by the Inter-American Development Bank (IDB) that promotes investments in economically and environmentally sound energy options.

Japan will make the contribution to the IDB's Sustainable Energy and Climate Change Initiative (SECCI) Multi-Donor Trust Fund. Japan's Vice Minister of Finance Wataru Takeshita and IDB President Luis Alberto Moreno signed the agreement for the grant contribution today.

The core objectives of the initiative are to expand the development and use of renewable energy sources, energy efficiency technologies and practices in the region, as well as to promote and finance climate change adaptation strategies that reduce the regions climate vulnerability.

The IDB and two other Japanese development agencies also plan to sign separate agreements.

The IDB will sign tomorrow an agreement with the Japan Bank for International Corporation (JBIC), to look for opportunities to help Latin America and the Caribbean counteract the impact of the global financial crisis. The accord will seek to build a framework to provide long-term financing for major infrastructure and in critical social and economic investment projects for the region.

The Japan International Cooperation Agency (JICA) and the IDB are to sign an agreement to offer financial support through concessional loans and technical assistance resources, for example, for projects in economic and social infrastructure as well as in relation to environment and climate change. Both institutions have already identified four potential candidate projects to be co-financed in 2009.

The IDB, through its Office of Outreach and Partnerships (ORP) has facilitated these partnerships that will mobilize additional financial and non-financial resources for the Bank to increase the support for its member countries.

The Government of Japan

The Government of Japan, in view of the urgent need to respond to the challenges in the region posed by the global economic and financial crisis, will create a Crisis Response Facility for technical assistance. This facility will support projects which directly benefit the poor and those projects responding to the crisis in the next three years. The $30 million for the Crisis Response Facility will be provided by new donation of the Japanese Government as well as through strengthening and reformulation of Japan Poverty Reduction Program.
____________________
Desde el Banco Interamericano de Desarrollo (BID):
Japón Contribuye con US$5 millones al Fondo de Energía Sostenible y Cambio Climático del BID

BID y otras dos agencias de desarrollo japonesas preparan acuerdos por separado

El gobierno de Japón contribuirá con US$5 millones a un fondo administrado por el Banco de Desarrollo Interamericano (BID) que promueve inversiones en opciones energéticas saludables desde el punto de vista económico y ambiental.

Japón hará la contribución al Fondo Fiduciario Multidonante de la Iniciativa de Energía Sostenible y Cambio Climático (SECCI, según sus siglas en inglés) del BID. El viceministro de Finanzas de Japón, Wataru Takeshita y el presidente del BID, Luis Alberto Moreno, firmaron hoy el acuerdo de subvención.

Los objetivos centrales de la iniciativa consisten en expandir el desarrollo y uso de fuentes renovables de energía, de tecnologías y practicas de eficiencia energética en la región, así como la promoción y financiamiento de estrategias de adaptación al cambio climático que reduzcan la vulnerabilidad de la región al clima.

El BID y otras dos agencias de desarrollo japonesas también están listas para firmar acuerdos por separado.

El BID firmará mañana un acuerdo con el Banco de Cooperación Internacional de Japón (JBIC, según sus siglas en inglés), para trabajar en alternativas para ayudar a América Latina y el Caribe a contrarrestar el impacto de la actual crisis financiera mundial. El acuerdo busca generar un marco para ofrecer financiamiento de largo plazo para grandes proyectos de infraestructura e inversión en la región.

La Agencia de Cooperación Internacional de Japón (JICA, según sus siglas en inglés) y el BID firmarán un acuerdo para ofrecer asistencia financiera a través de préstamos concesionales y recursos de asistencia técnica; destinados, por ejemplo, a proyectos de infraestructura económica y social, así como a proyectos relacionados con el medio ambiente y el cambio climático. Ambas instituciones ya han identificado cuatro potenciales proyectos que son candidatos para ser cofinanciados en 2009.

El BID, a través de su Oficina de Alianzas Estratégicas (ORP, según sus siglas en inglés) ha facilitado estas alianzas que movilizarán recursos adicionales financieros y no financieros para el Banco, para incrementar el apoyo a sus países miembros.

El gobierno de Japón

El gobierno de Japón, en vista de la urgente necesidad de responder a los desafíos en la región por la crisis económica y financiera global, creará una Facilidad de Respuesta ante la Crisis destinado a la cooperación técnica. Este mecanismo apoyará proyectos que beneficien directamente a los pobres y aquellos proyectos que respondan a la crisis en los próximos tres años. Los US$30 millones de recursos para la facilidad serán provistos por una nueva donación del gobierno japonés, como así también mediante el fortalecimiento y reformulación del Programa Japonés de Reducción de la Pobreza.
Tags: adaptación al cambio climático, BID, cambio climático, Climate Change, climate change adaptation, climate vulnerability, eficiencia energética, energía renovable, energía sostenible, Energy Efficiency, IDB, Japan, Japón, JBIC, JICA, renewable energy, SECCI, sustainable energy
Subscribe to My Comments Feed
Leave a Reply