« Una nueva estrategia regional enfocada a la salud y el desarrollo de los adolescentes y jóvenes | Home | The CEC's "Annotated Bibliography" on Environmental Impacts of Biofuels »
By Keith R | October 5, 2008
Topics: Climate Change, Water Issues | No Comments »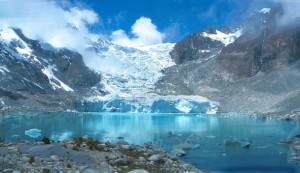 Synopsis in English: The Andean Community (CAN) has formally launched the four-year project to help its member countries confront the the challenge of adapting to the impacts of the accelerated retreat of Andean glaciers (widely attributed to global climate change) on water basins in Bolivia, Ecuador and Peru.  The project is receiving US$10 million through the World Bank, with US$22 million in matching funds from the nations involved.
The project will start with pilot adaptation measures in selected basins and with sectors considered highly vulnerable to the effects of the retreating glaciers, such as the basins associated with the snow-covered Antisana in Ecuador, the La Paz and El Alto basins associated with the Real mountain range in Bolivia, and basins of the Shulcas-Mantaro River, the snow-covered Huaytapallana, and the basin of the Vilcanota-Urubamba River and Nevado Salkantay.
The project also features a glacier monitoring network created thanks to a donation from Japan, which will track changes in glaciers in all four CAN member states (Bolivia, Colombia, Ecuador and Peru).
________________________
Desde la Comunidad Andina (CAN):
Comunidad Andina pone en marcha proyecto para hacer frente a retroceso acelerado de glaciares en los Andes

La Comunidad Andina efectuó anoche el lanzamiento oficial de un proyecto que, permitirá apoyar, durante los próximos cuatro años, con aproximadamente 10 millones de dólares provenientes del Banco Mundial y 22 millones de dólares de contrapartidas nacionales, los primeros esfuerzos de los países andinos para adaptarse al impacto del retroceso acelerado de los glaciares en los Andes y en sus cuencas de Bolivia, Ecuador y Perú.

El lanzamiento fue efectuado anoche, en la sede del organismo andino en Lima, en el marco de la inauguración del Taller Cambio Climático y Recursos Hídricos, que contó con la participación del Ministro de Ambiente del Perú, Antonio Brack Egg; el Secretario General de la Comunidad Andina, Freddy Ehlers; y el representante del Banco Mundial, Walter Vergara, entre otros representantes y autoridades.

Antonio Brack Egg manifestó que el problema es muy grave. "Los ríos de la Amazonía peruana en este momento tienen un déficit hídrico por cuarto año consecutivo…Hemos talado 10 millones de hectáreas de bosques amazónicos, de los cuales ocho millones están abandonadas e improductivas", señaló, entre otras cosas. "Necesitamos esfuerzos conjuntos y aterrizar en acciones concretas, y afortunadamente eso es lo que se está haciendo con este proyecto", subrayó.

Freddy Ehlers reconoció la urgencia de avanzar con los compromisos nacionales y regionales para enfrentar el problema que estamos atravesando que, según el último informe de los científicos de las Naciones Unidas, es peor de lo que se había pensado anteriormente, a pesar de Kyoto y de todos los esfuerzos, y la toma de conciencia cada vez mayor de parte de las autoridades a nivel nacional, continental y mundial. Destacó, por ello, la urgencia para avanzar de forma conjunta en ese sentido.

El Proyecto contempla la implementación de medidas de adaptación piloto en cuencas seleccionadas y sectores altamente vulnerables a los efectos del retroceso glaciar, como las cuencas asociadas al nevado Antisana del Ecuador; las cuencas de La Paz y El Alto asociadas a la Cordillera Real de Bolivia y las cuencas del río Shulcas-Mantaro, nevado Huaytapallana, cuenca del río Vilcanota-Urubamba y Nevado Salkantay. También comprende el monitoreo del retroceso glaciar en la región andina, consistente en la instalación y operación de una red de monitoreo de glaciares que se efectuará con una donación japonesa, y que involucra a los cuatro países de la CAN.
Tags: Andean Community, Andes, Antisana, Banco Mundial, Bolivia, cambio climático, CAN, Climate Change, Comunidad Andina, Cordillera Real, Ecuador, glaciares, glaciers, Huaytapallana, Japan, Japón, mudanças climáticas, Nevado Salkantay, Peru, recursos hídricos, río Shulcas-Mantaro, río Vilcanota-Urubamba, water resources, World Bank
Subscribe to My Comments Feed
Leave a Reply