« Recyclables for Electricity Program Catches On | Home | A Green Report Card for São Paulo's Cities »
By Keith R | November 26, 2008
Topics: Biofuels, Climate Change, Conservation, Sustainable Forestry | No Comments »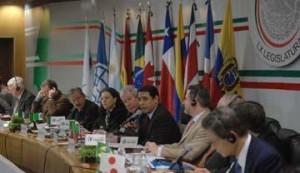 Seventy senior legislators from across the Americas, meeting last week in Mexico City under the aegis of GLOBE International, agreed on a number of key points about climate change that they will take back to their respective legislatures and promote in the context of international negotiations for a post-2012 global climate change regime.
Among other things, they heartily welcomed US President-elect Barrack Obama's commitment to cut US greenhouse gas (GHG) emissions to 1990 levels by 2020, and a further 80% by 2050 with the establishment of a federal cap-and-trade regime.
Other key points from their Declaration (English, Spanish):
Governments formulating economic stimulus policies should emphasize "a coordinated program of public sector investment in low carbon infrastructure, combined with improved urban planning" aimed at both increasing energy security and reducing GHG emissions.  These initiatives should be harmonized at the regional level.
Support for the GLOBE paper on the post-2012 climate change framework;
Support for "the most advanced developing countries" reducing their own GHG emissions between now and 2020, with a view to binding absolute emissions reductions thereafter —

but only

if industrialized countries cut emissions 25-40% by 2020 and 60-80% by 2050 and deliver on commitments regarding technology transfer and finance;
"consistent corporate and social responsibility criteria that avoid double standards";
Support for GLOBE's recommendations on illegal logging, and a call for country Reducing Emissions from Deforestation and Degradation (REDD) commitments to be included in the post-2012 agreement in line with the Bali Action Plan.
Support for biofuel production and use in line with recommendations from a GLOBE paper, and "subject to strict sustainable economic and environmental criteria and protecting land for food production."  Tariff and nontariff barriers to biofuels should be reviewed.
Support for promoting other renewable energy sources;
A call for GLOBE to convene legislators from the Americas, together with ministers responsible for finance, economics, energy, industry, agriculture and environment, in advance of the December 2009 UNFCCC Conference of Parties (COP) in Copenhagen due to consider the post-2012 regime.
________________________
From the World Bank:
Globe Americas Legislators Forum

Legislators from the Americas endorse Obama's vision for green recovery
Call for joint legislators-ministerial forum ahead of crucial climate negotiations

Seventy senior legislators from across the Americas endorsed today the commitment expressed by US President elect, Barack Obama, in linking economic recovery to a long term view of sustainability and fully supported his vision of reducing US greenhouse gas emissions by 80% below 1990 levels by 2050.

Gathered in Mexico City November 21-23 to examine how to overcome the twin challenges of the global financial and climate crises, legislators called for a ministerial forum with finance, energy and environment ministers of the Americas to be organized together with senior legislators with the objective of coordinating actions ahead of crucial climate negotiations to take place in Copenhagen, later next year.

Hosted by the Mexican Congress, this first meeting of the GLOBE Americas Legislators' Forum brought together senior legislators from North, Central, South American and Caribbean countries.

"In the context of the current economic slowdown, the Forum emphasized that the low carbon agenda can act as an engine for economic recovery while at the same time increasing energy and climate security," said Elliot Morley MP, President of GLOBE International. "The final declaration of the Forum, including support for enhanced action by the emerging economies, is a significant advance ahead of the UNFCCC talks in Poland in December, and demonstrates that it is possible for politicians from the developed and developing world to break the current deadlock and agree on a way ahead," added Morley.

In the outcome statement, legislators "urged governments to consider policies to stimulate their economies, while grasping the opportunity to restructure the current economic model to focus on key elements of our future prosperity – economic recovery, improving energy and climate security and making progress towards poverty reduction".

They welcomed industrialised country recognition of the critical role of emerging economies in being part of the solution to the economic crisis as established by the recent G-20 Summit, and called for a similar approach in the global climate debate

"Mexico, as an emerging economy and member of the OECD, is uniquely placed as a bridge between the developed and developing world. Climate Change will be one of the key challenges for all politicians in the coming years and this Forum provides a real opportunity to discuss the kind of regulatory, fiscal and legislative measures that we will need to take to both mitigate and adapt to climate change." said Mexican Congressman Miguel Angel Jimenez, a coordinator of the Forum.

"Industrialized countries should take on binding emissions reductions, including legislation"—the declarations says—" leading to an aggregate reduction of at least 25-40% from 1990 levels by 2020. In return, the most advanced developing countries should aim at reduce the rate of increase of their own emissions by 2020, with a view of taking on binding reductions thereafter, subject to industrialized countries delivering on their commitments in terms of emissions reductions, technology transfer and finance.

The declaration endorsed several initiatives paving the way for a new financial architecture on climate change and highlighted the recently created Climate Investment Funds with $US 6 billion managed by the World Bank and the Mexican proposal of a Green Fund to be set up after 2012 with financial contributions according to country emissions levels and ability to pay.

It also recognized the role of bio-fuels, establishing that " bio-fuels, together with efficiency standards, are one of the few options to reduce emissions from transport in the short and medium term". Legislators supported " the production and use of bio-fuels, subject to strict sustainable economic and environmental standards, while protecting land from food production".

The Forum urged the international community to review "trade tariffs and other barriers for bio-fuels that  meet the sustainability criteria to allow those countries with a comparative advantage in their productions (tropical and sub-tropical) to develop viable industries…"

"We have demonstrated regional leadership in areas such as forestry, bio-fuels and adaptation and are convinced that the current economic circumstances provide a unique opportunity to put in place the investment needed to create the low carbon infrastructure, including properly valuing our natural environment, that is essential to our future prosperity," said senior Brazilian Senator Serys Slhessarenko.
________________________
Desde el Banco Mundial:
Foro De Legisladores Globe De Las Americas

Legisladores de la las Américas endosan visión de Obama sobre recuperación económica ¨verde¨
Urgen foro ministerial y de legisladores previo a negociaciones cruciales sobre cambio climático en 2009

Setenta legisladores de las Américas respaldaron hoy el compromiso expresado por el Presidente electo de E.E.U.U, Barack Obama, que une los planes de recuperación económica a una visión de sustentabilidad de largo plazo, y apoyaron su anuncio de reducir en 80% las emisiones de gases de efecto invernadero en 2050 por debajo de los niveles de 1990.

Reunidos en la Ciudad de México del 21 al 23 de Noviembre, para examinar como enfrentar el doble reto de la crisis financiera y climática global, los legisladores hicieron convocaron a un foro ministerial y de legisladores, que incluya a ministros de finanzas, energía y medioambiente de las Américas, a ser organizado, para coordinar acciones de cara a las negociaciones cruciales sobre cambio climático que se llevarán a cabo en Copenhagen, a finales del próximo año.

Con el Congreso Mexicano como anfitrión, esta primera reunión del Foro GLOBE de legisladores de las Américas reunió a legisladores de norte, sur, y centro América, así como países del Caribe, la mayoría de ellos presidentes de comisiones legislativas de energía y medio ambiente.

"En el contexto de la actual crisis económica, el foro enfatizo que la agenda de un desarrollo de baja intensidad de carbono puede actuar como un motor para la recuperación económica y al mismo tiempo aumentar la energía y la seguridad climática,"dijo Elliot Morley MP, Presidente de GLOBE Internacional. "La declaración final del foro, que incluye una acción fortalecida de las economías emergentes, es un avance significativo previo a las pláticas de Naciones Unidas a llevarse a cabo en Polonia en Diciembre, y demuestran que sí es posible que políticos del mundo desarrollado y en desarrollo puedan acordar pasos hacia adelante," añadió Morley.

En la declaración final, los legisladores " exhortaron a los gobiernos a considerar políticas que estimulen sus economías, mientras aprovechando la oportunidad para reestructurar el actual modelo económico para encaminarlo hacia una prosperidad futura que tome en cuenta la recuperación económica, la seguridad climática y energética y el progreso necesario en la lucha contra la pobreza".

Los legisladores dieron la bienvenida al reconocimiento por parte de los países industrializados al papel clave de las economías emergentes en ser parte de la solución a la crisis económica tal como fue establecido en la reciente Cumbre del G-20, e instaron a un abordaje similar a la hora de debatir el cambio climático. Subrayaron que esta nueva forma de multilateralismo debe basarse en responsabilidades y compromisos equitatativos.

"México, como una economía emergente y miembro de la OCDE, está posicionado de manera única, como un puente entre los países desarrollados y el mundo en desarrollo. El Cambio Climático será uno de los retos claves para todos los políticos en los años que vienen y este foro represento una oportunidad real para discutir el tipo de regulaciones, medidas legislativas y fiscales que se requerirán para mitigar y adaptarse al cambio climático,"dijo el Diputado Mexicano Miguel Ángel Jiménez, uno de los coordinadores del Foro.

"Los países industrializados deberían de asumir compromisos, incluyendo legislación, para reducir sus emisiones, "—establece la declaración—"liderando hacia una reducción agregada en por lo menos 25-40% en 2020 respecto de los niveles de 1990. A cambio, los países en desarrollo más avanzados deben aspirar a reducir la tasa de aumento de sus propias emisiones de gases hasta el año 2020, con la perspectiva de asumir compromisos de reducciones obligatorias tras esa fecha, siempre y cuando los países industrializados cumplan sus compromisos en materia de reducir sus propias reducciones, transferencia tecnológica y financiamiento a las naciones en desarrollo"

La declaración respalda varias iniciativas que pavimentan el camino para una nueva arquitectura financiera en cambio climático y resalta el recientemente creado Fondo de Inversión Climático de $US 6,000 millones administrados por el Banco Mundial así como la propuesta Mexicana de un Fondo Verde a ser establecido después de 2012, con contribuciones financieras a establecerse con arreglo a los niveles de emisiones de cada país y su capacidad de pago.

Asimismo, reconoce el papel de los biocombustibles, y establece que "los biocombustibles, junto con a los estándares de eficiencia energética, son una de las pocas opciones para reducir las emisiones en el transporte en el corto y mediano plazo". Los legisladores respaldaron "la producción y uso de biocombustibles, con estándares económicos y medioambientales sostenibles, y a la protección del uso de tierras para la producción de alimentos".

El Foro urgió a la comunidad internacional a revisar "los aranceles comerciales y otras barreras no arancelarias a los biocombustibles que alcancen criterios de sustentabilidad y que permitan a aquellos países con ventajas comparativas en sus producciones (tropicales y subtropicales) alcanzar industrias viables…"

"Hemos demostrado liderazgo regional en la gestión de bosques, biocombustibles y adaptación; Estamos convencidos que las actuales circunstancias económicas provén una oportunidad única para establecer las inversiones requeridas en infraestructuras de baja intensidad de carbono, incluida una valuación adecuada de nuestros recursos naturales. Esto es esencial para nuestra prosperidad futura," dijo la Senadora de Brasil, Serys Slhessarenko.

Las Américas constituyen una región extremadamente diversa que contiene tanto países desarrollados como economías emergentes y otros de más bajos ingresos. Este Foro represento una oportunidad para que los políticos de este mosaico de países logrararán acuerdos y demostraran liderazgo real en la solución de la crisis económica financiera, el cambio climático y la seguridad alimentaria.
Tags: aranceles, Banco Mundial, biocombustibles, Biofuels, cambio climático, cap-and-trade, Climate Change, climate security, Copenhagen, Corporate Social Responsibility, deforestación, deforestation, desmatamento, energía renovable, energy security, environment, food production, gases de efecto invernadero, GLOBE, greenhouse gases, illegal logging, medio ambiente, Mexico, mudanças climáticas, nontariff barriers, Obama, REDD, renewable energy, seguridad climática, seguridad energética, tariffs, UNFCCC, World Bank
Subscribe to My Comments Feed
Leave a Reply