« A Wind Map for Alagoas | Home | Ceará Intends to Lead Brazil in Wind Power in 2009 »
By Keith R | January 14, 2009
Topics: Climate Change, Energy & the Environment, Motor Vehicles, Sustainable Transport | 1 Comment »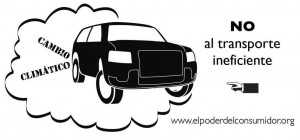 Synopsis in English: A Mexican consumer group, The Power of the Consumer (El Poder del Consumidor – EPC) is calling upon automobile manufacturers to label all new vehicles sold in Mexico regarding their fuel efficiency [kilometers (km) per liter consumed] and greenhouse gas emissions [primarily grams of carbon dioxide (CO2) emitted per km], similar to the way that cars in Europe are labeled.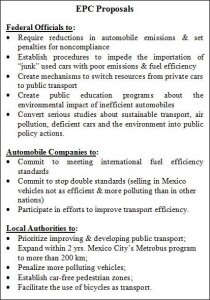 While most of this data is now available on a special Mexican website created jointly by the Environment Secretariat (SEMARNAT), the National Ecology Institute (INE), the Office of the Federal Consumer Prosecutor (Profeco) and the National Energy Savings Commission (CONAE), EPC feels that this is not enough: consumers need to see the information at the point of sale while they are actually shopping for cars.  EPC notes the number of SUVs bought in Mexico (for example, Mexico was second, behind the US, in 2006-08 world sales of Hummers), which consumers might not purchase if they fully realized the annual cost of fueling the vehicle.  The purchase of new large and heavy passenger vehicles, plus the volume of recent purchases of used vehicles with poor fuel efficiency from the US, has lowered the average fuel efficiency of Mexico's car fleet and probably increased CO2 and other vehicle emissions.
EPC would also like a binding Official Mexican Norm (NOM) requiring greater fuel efficiency in new vehicles sold in Mexico.
________________

Desde El Poder del Consumidor (EPC):
Que informen: rendimiento y emisiones contaminantes

El Poder del Consumidor solicitó a las empresas automotrices que coloquen una etiqueta visible en cada vehículo nuevo donde se indique cuál es el rendimiento de ese automóvil (kilómetros por litro de combustible) y su impacto sobre el medio ambiente (gramos de dióxido de carbono, CO2, que emite en cada kilómetro recorrido), tal y como ya lo hacen con los autos que venden en Europa.

"Mantener el estado de desinformación sobre dichos parámetros de rendimiento sólo contribuye a deteriorar el parque vehicular mexicano, a distorsionar las pautas de consumo de los compradores de autos y a degradar el ambiente. Por ejemplo, se estima que desde agosto de 2005 ya son 3.5 millones de mexicanos los que han decidido adquirir autos usados estadounidenses sin valorar la eficiencia, los costos de uso y mantenimiento, ni la vida útil del auto. El resultado es un declive en la eficiencia del parque vehicular mexicano", señaló Alejandro Calvillo, director de El Poder del Consumidor (EPC).

En los últimos años, el rendimiento promedio de los automóviles en México decayó al pasar de un promedio de 12.2 kilómetros por litro de combustible a 10.8 km/l (datos del Instituto Nacional de Ecología). A este fenómeno también contribuyó el descontrolado incremento de vehículos de gran tamaño en México, como las camionetas SUV.

Consumo de gasolina

"El consumidor promedio debería poder encontrar en cada punto de venta los datos que le permitan saber que los vehículos más pesados (camionetas Land Rover, Hummer, Ram Chrysler, por ejemplo) representarán un gasto anual sólo por combustible de alrededor de $36 mil pesos, pues apenas rinden de 4 a 6 kilómetros por litro, mientras por las mismas condiciones de uso gastaría $6,500 pesos con un Honda Civic híbrido, $7,800 con un Chrysler Atos, $8,500 con un Chevy o un Toyota Yaris, $8,800 con un VW Jetta, o 9,100 con un Nissan Micra", explicó Gerardo Moncada, coordinador de Comunicación e Investigación de EPC.

Este tipo de datos es relevante a la vista de la manera como se contrajo en 2008 la compra de gasolinas en las estaciones de servicio, a causa de los 33 incrementos que experimentaron los combustibles en ese año. La Asociación Mexicana de Empresarios Gasolineros (Amegas) informó a finales de noviembre pasado que los automovilistas estaban reduciendo a la mitad o a un tercio su consumo habitual, sobre todo en zonas populares.

Emisiones contaminentes

Por otro lado, el comprador de un automóvil debería poder identificar aquellos vehículos cuyas emisiones a la atmósfera están muy por arriba de los parámetros que han establecido los acuerdos internacionales para combatir el cambio climático. Europa y otros países como Japón se han planteado alcanzar en el 2012 un promedio de 130 gramos de CO2 por kilómetro recorrido, y sancionar a los modelos que no cumplan con esta meta. En contraparte y a causa de la desinformación, en México ha venido creciendo la venta de automóviles altamente contaminantes que, en cada kilómetro recorrido, emiten casi el triple de ese estándar (más de 350 gramos de CO2).

Una muestra son las camionetas Hummer. El 77% de la producción de ese vehículo entre 2006 y 2008 fue vendida en Estados Unidos. El segundo lugar entre los 41 países que venden este vehículo fue México, con 6,700 unidades, el doble de las adquisiciones del tercer sitio, otra nación desarrollada: Canadá (con 3,408 unidades).

Un agravante adicional con este tipo de vehículos es que, según estudios realizados por el INE, las emisiones contaminantes se concentran al interior de los automóviles, de manera que entre más contaminantes sean mayores impactos causarán en la salud de sus tripulantes.

Restricciones en puerta

Los planes regionales y federales de acción para reducir la contaminación del aire llevan inevitablemente a nuevas restricciones para los vehículos menos eficientes. Es el caso de las limitantes de circulación en el DF para los vehículos foráneos no verificados, desde 2008, y las medidas que se aplicarán en Guadalajara a partir de este año (doble verificación para cerca de la mitad del parque vehicular, restricciones en "horas pico", detención de los vehículos ostensiblemente contaminantes).

Este tipo de acciones son el preámbulo de las medidas que deberá tomar México para reducir sus emisiones de gases de efecto invernadero, causantes del cambio climático. La Secretaría de Medio Ambiente y Recursos Naturales estima que 18% de esas emisiones corresponden al uso de transporte y ha señalado que esa es la segunda fuente de contaminación, detrás de la generación de energía.

Para actuar ante ese escenario, será necesaria una norma oficial que establezca condiciones de eficiencia muy cercanos a estándares internacionales: un rendimiento de 16 kilómetros por litro de combustible y un máximo de 130 gramos de CO2 por kilómetro recorrido. Quienes adquieran automóviles que no respeten estos parámetros encontrarán limitaciones de uso o deberán pagar sanciones económicas, o ambas.

El consumidor mexicano tiene derecho y necesidad de conocer la eficiencia de los vehículos que se venden en nuestro país, para no ser sorprendido por elevados gastos en el consumo de combustible o restricciones a la circulación por poseer un vehículo contaminante. Asimismo, las compras más informadas contribuirán a evitar la "carcachización" del parque vehicular mexicano.
Tags: Amegas, cambio climático, camionetas, captura de gases de efeito estufa, carbon dioxide, carcachización, Chevy, Chrysler Atos, Climate Change, CO2, CONAE, Consumer Protection, contaminación atmosférica, defensa del consumidor, dióxido de carbono, El Poder del Consumidor, environment, EPC, estaciones de servicio, etiqueta, Europa, Europe, fuel efficient vehicles, gases de efecto invernadero, gasolina, gasoline, greenhouse gases, Guadalajara, Honda Civic, hora pico, Hummer, hybrid vehicles, INE, labeling, Land Rover, medio ambiente, Mexico, motor vehicles, mudanças climáticas, Nissan Micra, NOM, parque vehicular, petrol, petroleo, Profeco, Ram Chrysler, SEMARNAT, SUVs, Toyota Yaris, vehicle emissions, vehículos, vehículos híbridos, Volkswagen, VW Jetta
One Response to "Mexican Consumer Group Demands Vehicle Efficiency Labeling / Los consumidores mexicanos exigen etiquetado de eficiencia y de las emisiones de los vehículos"
Fuelishness! Fuel Economy Blog Says:
February 4th, 2009 at 7:06

[…] A Mexican consumer group, The Power of the Consumer (El Poder del Consumidor – EPC) is calling upon automobile manufacturers to label all new vehicles sold in Mexico regarding their fuel efficiency [kilometers (km) per liter consumed] and greenhouse gas emissions [primarily grams of carbon dioxide (CO2) emitted per km], similar to the way that cars in Europe are labeled… […]
Leave a Reply