« Brazilian Export of Organic Produce | Home | One of the Biggest Collectors of Spent Batteries in Brazil »
By Keith R | January 11, 2009
Topics: Climate Change, Electronic/Electrical Equipment, Energy & the Environment, Energy Efficiency, Protection of the Ozone Layer | No Comments »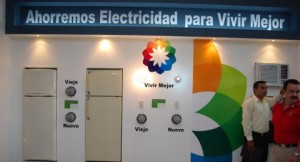 Mexico is joining Brazil and Colombia in launching programs to get citizens to hand in their old appliances for newer, more efficient models.  President Calderón and Mexico's Energy Secretariat (SENER) have announced a 750 million peso expansion of its Ahorra Energía para Vivir Mejor ("Save Energy to Liver Better") pilot program which it has run in 11 cities in Quintana Roo, Sinaloa and Sonora states in recent months.  Under the pilot program, 60,000 persons benefited from the substitution of 4,000 air conditioners, 20,000 refrigerators and 130,000 energy-efficient lighting.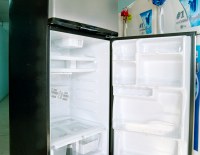 The national program will aim at helping 300,000 households exchange 260,769 refrigerators and 39,231 air conditioners.  The government will pay half the cost of the new appliance, while the consumer can finance the other half with the savings on their electric bill.  The old appliances have to be at least 10 years old.  Applicants for the program must present their electric bill.  The bill must be for domestic (vs. commercial or industrial) rates, and not rated high consumption (higher income households), and be current on payments.
The old equipment must be turned in.  It will be delivered to a collection center, which will in turn send it to be properly dismantled [including draining off any chlorofluorocarbons (CFCs) that can deplete the Earth's ozone layer].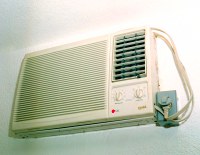 The government considers this program a win-win for everyone.  Consumers will save on their electric bills.  The government will reduce its electricity subsidies by 2.867 billion pesos, and 2.422 billion pesos in energy costs.  The energy saved will be 2.19 GWh, meaning 5.01million barrels of oil not used and 1.87 million metric tons of carbon dioxide not emitted, reducing Mexico's carbon footprint.
____________________
Desde la Secretaría de Energía (SENER):
La Secretaría de Energía apoyará la economía familiar con la sustitución de refrigeradores y aires acondicionados viejos

Como parte del Acuerdo Nacional en Apoyo a la Economía Familiar y el Empleo, que consta de 25 acciones concretas, la Secretaría de Energía otorgará apoyos para que usuarios de escasos recursos del sistema eléctrico nacional sustituyan sus aparatos electrodomésticos viejos, con más de diez años de antigüedad, por artículos nuevos y más eficientes en su consumo de energía.

El Presidente Felipe Calderón anunció la semana pasada que se destinarán 750 millones de pesos en apoyos directos o de financiamiento para la sustitución de electrodomésticos. Los apoyos directos serán de hasta un 50 por ciento del costo de adquisición de estos bienes, en función del ingreso de las familias; el resto se podrá financiar con el ahorro en el pago de energía.

Con ello adquiere una dimensión nacional el Programa Ahorra Energía para Vivir Mejor, que el año pasado se aplicó – bajo un esquema piloto – en 11 municipios de Quintana Roo, Sinaloa y Sonora, beneficiando a 60 mil personas con la sustitución de cuatro mil aires acondicionados, 20 mil refrigeradores y 130 mil focos ahorradores.

Con los recursos destinados al programa se podrán realizar aproximadamente 300 mil acciones para promover el ahorro de energía, con la sustitución de 260 mil 769 refrigeradores y 39 mil 231 equipos de aire acondicionado.

Para acceder a los beneficios de este programa:

Se debe presentar el recibo de luz,
Pertenecer a la tarifa doméstica; excluyendo a quiénes se encuentren ubicados por su consumo en la tarifa DAC (Doméstica de Alto Consumo),
No tener adeudos; en relación con pagos por energía eléctrica y con programas de ahorro de energía; y
Apegarse a los criterios técnicos establecidos.

También deberán comprometerse a entregar el equipo que será reemplazado, para que sea conducido a un centro de acopio, en donde será destruido de acuerdo a las normas ambientales y con ello garantizar que no continuarán en servicio.

Ganan todos

Los usuarios obtendrán ahorros en el pago del recibo de luz dependiendo de su patrón de consumo, así como el tipo de equipo que sustituyan, mientras que al Gobierno Federal le representará un ahorro de 2 mil 867 millones de pesos en subsidios a la luz evitados; y 2 mil 422 millones de pesos por el costo evitado de energía.

Asimismo, la energía no consumida por familias será de 2,190 GWh, con lo que se reducirá el gasto de 5.01 millones de barriles de petróleo equivalentes evitados y se dejarán de emitir 1.87 millones de toneladas de bióxido de carbono a la atmósfera, ya que cada vez que ahorramos un kilowatt hora de energía contribuimos a disminuir la quema de combustibles y la emisión de gases de efecto invernadero.
Tags: ahorro de energía, air conditioners, aire acondicionado, appliances, bióxido de carbono, cambio climático, carbon dioxide, Climate Change, CO2e, electrodomésticos, focos ahorradores, gases de efecto invernadero, greenhouse gases, Mexico, neveras, ozone depleting substances, Quintana Roo, refrigeradores, refrigerators, SENER, Sinaloa, Sonora, sustancias de agotamiento de ozono
Subscribe to My Comments Feed
Leave a Reply