« Loan to Improve Brazil's Universal Health Care System / Empréstimo para Melhorar o Sistema Universal de Cuidados de Saúde | Home | Belize's Tourism Plan – Sustainable? »
By Keith R | January 29, 2009
Topics: Climate Change, Energy & the Environment, Sustainable Agriculture, Waste & Recycling | No Comments »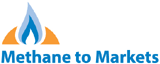 During the just-concluded 2009 meeting of the international partners of the US' "Methane to Markets" Partnership Program (MSM) in Monterrey, Nuevo León, Mexico's Environment Minister, Juan Rafael Elvira Quesada, declared that his country has identified 42 methane mitigation projects that should reduce Mexico's CH4 emissions by 12 million metric tons (mT) carbon dioxide equivalent (CO2e) per year.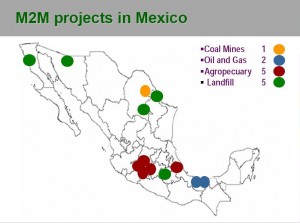 Eight of the projects — involving landfills (including one in Monterrey that generates electricity from landfill gas), agricultural waste (primarily manure treatment using biodigestors) and coal mining — are already underway, eliminating almost 2 million mT CO2e per year.
85 potential landfill sites have been identified for possible biogas recovery, including those in Aguacalientes, Chihuahua, Ciudad Juarez, Cuernavaca, Guadalajara, Mexico City, Nuevo Laredo, Puerto Vallarta, Querétaro and Tijuana.
Six projects involving cutting methane emissions in PEMEX's oil and gas production — replacing "wet seals" in gas compressors and reducing fugitive emissions — will eliminate about 7.5 million mT CO2e per year.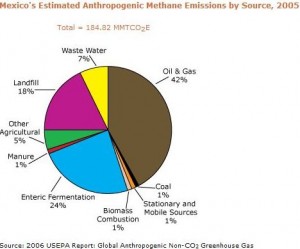 The M2M Partnership
The M2M Partnership is an international initiative started by the US Environmental Protection Agency (EPA) in 2004 that advances cost-effective, near-term methane recovery and use as a clean energy source. The stated goal of the Partnership is to "reduce global methane emissions in order to enhance economic growth, strengthen energy security, improve air quality, improve industrial safety, and reduce emissions of greenhouse gases." The Partnership brings together interested parties from governments and the private sector to facilitate methane project development and implementation around the world.  Currently the Partnership includes collaboration in Latin America and the Caribbean from Argentina, Brazil, Colombia, Ecuador and Mexico [Temas Note: I'll cover the participation of other LAC nations in M2M in a future post].
According to a study done by EPA in 2005*, Mexico's estimated anthropogenic methane emissions rank 6th in the world. Approximately 62% of its anthropogenic methane emissions — 114.3 million mT CO2e — come from agriculture (manure management), coal mines, landfills, and natural gas and oil systems.
________
* EPA. Global Mitigation of Non-CO2 Greenhouse Gases. June 2006.
___________________
Desde la Secretario de Medio Ambiente y Recursos Naturales (SEMARNAT):
Cuenta México con un potencial de reducción de emisiones de metano de 12 millones de toneladas al año

El titular de la Semarnat participó en la Reunión Internacional 2009 de la Iniciativa Mercados de Metano (M2M).
Se tienen identificados 42 proyectos de mitigación y varios de ellos ya están en marcha: Elvira Quesada.

Como parte de sus políticas de reducción de Gases de Efecto Invernadero a la atmósfera, el Gobierno Federal lleva a cabo acciones que favorecen el desarrollo de un mercado global de bonos de carbono en México, así como el uso intensivo de mecanismos de mercado para impulsar en forma sostenida las actividades de mitigación y reducir a nivel global los costos de su cumplimiento.

Luego de señalar lo anterior, el Secretario de Medio Ambiente y Recursos Naturales, Ing. Juan Rafael Elvira Quesada, informó que hasta el momento, en nuestro país se tienen identificados 42 proyectos con un potencial de reducción de emisiones de 12 millones de toneladas de bióxido de carbono equivalente por año, lo que nos permite avanzar en el logro de nuestras metas climáticas internas.

Durante su participación en la Reunión Internacional 2009 de la Iniciativa Mercados de Metano (M2M), indicó que ocho de estos proyectos, que ya están caminando, van dirigidos a rellenos sanitarios, residuos agropecuarios y minas de carbón, y en su conjunto ayudarán a reducir el equivalente a casi dos millones de toneladas de bióxido de carbono (CO2) por año.

Asimismo, agregó, otros dos desarrollados en petróleo y gas evitarán, en Ciudad Pemex, la emisión de 34 mil 930 toneladas de CO2, en el mismo periodo; mientras que, aunado a esto, se cuenta con cuatro proyectos identificados en la paraestatal, cuya reducción esperada será el equivalente a 7.5 millones de toneladas de CO2 anuales.

El titular de la Semarnat reconoció que para México la captura de metano es una actividad energética de gran valor y con su aprovechamiento se logra una reducción considerable de nuestras emisiones de este gas, el cual tiene un potencial de calentamiento global 21 veces mayor que el bióxido de carbono.

"Por ello nuestro país ha participado activamente desde 2005 en la Iniciativa Mercados de Metano, que busca utilizar sustentablemente este gas como una fuente de energía alterna", apuntó.

En cuanto a la reducción de costos para cumplir con esta meta, Elvira Quesada recordó que México propuso la creación de un Fondo Verde, mecanismo que busca contribuir al sustento económico del régimen futuro del Cambio Climático, mismo que ya es conocido por casi todos los países y ha despertado interés en muchos de éstos.

Ésta, precisó, fue una propuesta del Presidente Felipe Calderón, quien está consciente de que la respuesta de nuestro país a este enorme desafío tiene que ser inmediata.

En el evento, el funcionario estuvo acompañado por el gobernador de Nuevo León, José Natividad González Parás; la Directora de la Oficina de Cambio Climático de la Agencia de Protección Ambiental de los Estados Unidos, Dina Kruger; y la Subsecretaria de Fomento y Normatividad Ambiental de Semarnat, Sandra Herrera Flores.
Tags: agricultural wastes, Aguacalientes, Argentina, biodigestors, biogas, bonos de carbono, Brazil, calentamiento global, cambio climático, CH4, Chihuahua, Ciudad Juarez, Climate Change, coal mining, Colombia, Cuernavaca, Ecuador, environment, EPA, fugitive emissions, gas natural, gases de efecto invernadero, greenhouse gases, Guadalajara, Juan Rafael Elvira Quesada, landfill gas, M2M, manure, medio ambiente, metano, methane, Methane to Markets, Mexico, Mexico City, minas de carbón, Nuevo Laredo, PEMEX, petroleo, Puerto Vallarta, Querétaro, rellenos sanitarios, residuos agropecuarios, SEMARNAT, Tijuana
Subscribe to My Comments Feed
Leave a Reply