« Santa Catarina Industry Concerned About the Environment | Home | Peru Launches Anti-tobacco Program »
By Keith R | August 10, 2007
Topics: Climate Change, Energy & the Environment | No Comments »

Researchers at Brazil's National Space Research Institute (Instituto Nacional de Pesquisas Espacias – INPE) based in São José dos Campos, São Paulo (SP), have created a system to capture the accumulated methane in the reservoirs of hydroelectric plants and utilize it to generate more electrical power. The system would not only cut greenhouse gas emissions from dams, but also increase Brazil's electrical generating capacity at a time when it is urgently seeking new power sources. It might, suggests INPE researchers, reduce the pressure to build new dams in Amazonia.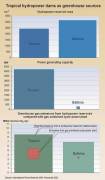 It's estimated that the world's hydroelectric dams generate 18-24 metric tons of methane (CH4) per year, accounting for as much as 7% of global methane emissions. Much of that comes from dams in human tropical zones, where dense vegetation in areas flooded to form dam reservoirs releases methane during underwater decomposition. [Some methane may also be deposited by rivers feeding the reservoir in the form of pollution transported by the rivers.]
The methane stays dissolved in the water, usually in the deeper layers of the reservoir, until it pass through the dam's spillways and hydropower plant's turbines. Methane is a potent greenhouse gas, with greater greenhouse potential than CO2.
Brazil's Tucuruí Dam alone is estimated to release 700,000-1.2 million metric tons of CH4 annually. Other known large methane-emitting tropical hydropower project reservoirs are Brazil's Balbina and Samuel, and French Guiana's Petit Saut. It's suspected, but not yet measured and proven, that the huge Itaipu Dam shared by Brazil and Paraguay might also be a significant source. [The INPE researchers urge all countries to sample/measure/estimate the CH4 releases of their dam reservoirs.]
The INPE concept is to trap methane-rich water in the deeper layers of the reservoirs through the use of a giant membrane (one for Balbina, for example would be about 850 meters across) anchored to the bottom and positioned below the intakes for the power turbines. In this manner the intakes would draw water mostly from upper layers containing less methane.
The membrane can be made, they say, from material similar to that presently used to cover loose loads in large trucks. It can be repositioned, vertically and horizontally, as needed by control buoys on the reservoir surface.
Meanwhile the methane-rich bottom layers would be pumped through tubing to special platforms on the surface that would extract the methane through a vaporization process in an enclosed environment. The treated water would then be pumped back to the depths of the reservoir, The captured methane could be used to power turbines at the dam (and therefore utilize the existing power grid connection). The methane-powered turbines would release CO2, of course, but INPE scientists argue that this would not be additional, since it represents no more than the CO2 already sequestered in the submerged vegetation that was eventually going to be released into the atmosphere anyway (is there a scientist among my readers that can confirm this claim?).
INPE is currently seeking funding to build a prototype to use on a reservoir in Brazil. The prototype could be built in a year.
INPE estimates that it would cost about US$100 million to set up a full-scale system that captures one million metric tons of CH4 a year and would require about four years to install. The one million metric tons of CH4, however, would enable power generation of around 1,780 megawatts (MW) per year — about 45% of the current installed capacity of Tucuruí.
— Keith R
Tags: Balbina, Brasil, Brazil, centrales hidroeléctricas, CH4, dam reservoirs, dams, French Guiana, INPE, Itaipu Dam, metano, methane, Petit Saut, power turbines, Tucuruí Dam
Subscribe to My Comments Feed
Leave a Reply