« OPS prevé aumento de 150% en casos de diabetes en las Américas / Diabetes cases may increase 150% in the Americas | Home | FAO Calls for Review of the Risks & Opportunities of Biofuels / La FAO pide nueva revista de los riesgos y oportunidades de los biocombustibles »
By Keith R | October 7, 2008
Topics: Climate Change | No Comments »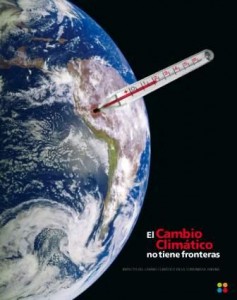 The World Bank's Vice President for Latin America and the Caribbean (LAC), Pamela Cox, had some interesting things to say yesterday about LAC and global climate change at the European Union (EU) – Latin American Forum organized by France.* She said that LAC is
producing about 6 percent of global greenhouse gas emissions and just over 10 percent if we include deforestation. However, it already is suffering huge economic losses due to climate change.

Countries in the region and its citizens– and particularly the extreme poor– are the most vulnerable to the effects of climate change. It is cruel and ironic that those people who are the least responsible for causing the problem are also the most vulnerable and the ones with least resources to adapt.

A more leveled playing field in the international climate change debate is needed in order to ensure that there is synergy, not antagonism, between the twin goals of economic growth and environmental responsibility in the economies of the region. It is our experience that, when presented in this context, Latin American countries are keen to do their part by engaging and leading.
She also sketched out what the Bank is doing to help LAC cope with climate change, namely:
A US$501 million Development Policy Loan to support the government of Mexico's climate change policy agenda, the first of its kind for the Bank.
A program to address the impact of tropical glacier retreat in Bolivia, Peru, and Ecuador.
Climate change adaptation programs in the West Indies, including the strengthening of critical coastal infrastructure in St. Lucia, and a water desalinization project using wind energy in St. Vincent and the Grenadines.
Up-to-the-minute-data and expertise derived from the Advanced Land Observation Satellite (ALOS) developed and operated by the Japan Aerospace Exploration Agency (JAXA) to help formulate better measures to adapt to climate change threats in the region.
A new study to explore the possibility and implications of a massive die-back and "savannization" of the Amazon rainforest, a potentially disastrous impact of climate change, with effects on weather patterns not only in the region, but as far away as North America.
Two upcoming studies for Mexico and Brazil to provide customized assessments of pathways to low-carbon growth.
The planned November launch of a flagship report from the Bank Chief Economist's office on the economic impact of climate change in Latin America.
________________________
Ayer durante el Foro Unión Europea (UE) – América Latina organizado por el gobierno de Francia**, la Vicepresidenta para América Latina y el Caribe del Banco Mundial, Pamela Cox, dijo algunas cosas interesantes sobre el tema de América Latina y el Caribe (ALC) y el cambio climático.  Dijo que
La región sólo produce alrededor del 6% de las emisiones mundiales de gases de efecto invernadero y un poco más del 10% si incluimos la deforestación. No obstante, ya sufre enormes pérdidas económicas debido al fenómeno

Los países y ciudadanos de la región, en particular los más pobres, son los más vulnerables a los efectos del cambio climático.  Es cruel e irónico que quienes son los menos responsables   en generar el problema sean al mismo tiempo los más vulnerables y los que menos recursos tienen para adaptarse.

Se requiere un terreno de juego más parejo en el debate internacional sobre cambio climático a fin de garantizar sinergias y no antagonismos entre los objetivos  de lograr crecimiento económico y responsabilidad ambiental en las economías de la región. De acuerdo con nuestra experiencia, cuando los países de América Latina enfrentan una coyuntura como ésta, demuestran gran interés en participar y asumir el liderazgo.
También describió lo que el Banco está haciendo para ayudar ALC en manejar el desafio del cambio climático:
Préstamo de políticas de desarrollo por US$501 millones en apoyo de la agenda de políticas sobre cambio climático de México, el primero en su tipo en el Banco.
Programa para abordar el impacto del repliegue de los glaciares tropicales en Bolivia, Perú y Ecuador.
Programas de adaptación al cambio climático en las Indias Occidentales, que incluyen el fortalecimiento de infraestructura costera crítica en Santa Lucía y un proyecto de desalinización del agua con energía eólica en San Vicente y las Granadinas.
Datos al día y experiencia derivada del satélite de observación terrestre avanzada (ALOS, por su sigla en inglés) desarrollado y operado por el Organismo Espacial japonés (JAXA) con el fin de ayudar a mejorar la formulación de medidas para adaptarse a las amenazas del cambio climático en la región.
Un nuevo estudio para explorar la posibilidad y las consecuencias de una muerte masiva y de la `sabanización´ de la selva tropical amazónica, un impacto potencialmente desastroso del cambio climático que tendrá efectos en los patrones climáticos no sólo de la región sino incluso de lugares tan alejados como América del Norte.
Dos estudios relacionados sobre México y Brasil para entregar evaluaciones ad hoc de nuevas rutas hacia un crecimiento con bajas emisiones de carbono.
El lanzamiento en noviembre de un informe realizado por la oficina del Economista en Jefe del Banco Mundial sobre el impacto económico del cambio climático en América Latina y el Caribe.
________________________
* France chairs the EU's Council of Ministers until the end of 2008.
** Hasta el fin del año Francia ocupa la Presidencia del Consejo de Ministros de la Unión Europea.
Tags: ALOS, Amazon, América Latina, Banco Mundial, Bolivia, Brasil, Brazil, cambio climático, Climate Change, climate change adaptation, deforestación, desalinización del agua, Ecuador, energía eólica, glacier retreat, Indias Occidentales, JAXA, Latin America, Mexico, mudanças climáticas, Peru, rainforest, San Vicente y las Granadinas, Santa Lucía, selva tropical, St. Lucia, St. Vincent and the Grenadines, water desalinization, West Indies, wind energy, World Bank
Subscribe to My Comments Feed
Leave a Reply