« IDB Funds Coal-Fired Power Plants in Brazil / O BID vai financiar usinas termelétricas a carvão no Brasil | Home | The Waste Picker Dilemma »
By Keith R | March 20, 2009
Topics: Climate Change, Energy & the Environment | No Comments »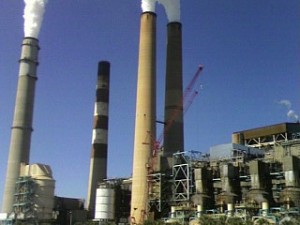 Brazilian Environment Minister Carlos Minc says he will sign in April an administrative rule (portaria) that will require all thermo-electric power plants (burning petroleum or coal) seeking environmental licenses from the national environment agency, IBAMA, to provide for compensation (abatement) measures for their carbon emissions before they will be granted a license.
The portaria will define the types of compensation measures the power plants can undertake, such as planting trees, investing in alternative energy sources such as solar or wind, or carbon capture measures.  This measure, Minc declares, will force these types of power plants to internalize the costs of the their environmental impact.
Minc says that at the April 15th meeting of the National Environment Council (CONAMA) he will introduce a draft (binding) resolution that, if passed, would require municipal and state environmental licensing authorities to impose similar requirements of power plants seeking licenses from them.
________________
Desde o Ministerio do Meio Ambiente (MMA):
Termelétricas terão que compensar emissões de CO2

O ministro Carlos Minc, do Meio Ambiente, disse que assinará no mês de abril portaria conjunta com o Ibama para alterar os procedimentos de licenciamento de termelétricas. Com a medida, esses empreendimentos serão obrigados a compensar as emissões de CO2.

"O Ibama só vai conceder licença de instalação das térmicas de óleo e carvão se o empreendedor fizer abatimento das emissões", disse Minc durante a solenidade de lançamento do Macrodiagnóstico da Zona Costeira e Marinha Brasileira, na Universidade Federal do Rio de Janeiro.

Segundo o ministro, a portaria vai definir as formas de compensação a serem adotadas que poderão se dar, por exemplo, a partir do plantio de árvores, de investimentos em energias alternativas como a eólica e a solar, sistemas de captura de carbono na atmosfera, entre outras. "Com a portaria os empreendedores terão que internalizar em seus custos os danos ambientais que provocam", defendeu Minc.

Para ele, hoje o país está muito atrasado em relação ao uso de energias eólica e solar. Ele defende que sejam adotadas medidas para aumentar a competitividade de energia limpa, como encarecer o custo das fontes de energia poluentes, para "torná-las mais acessíveis, mais baratas".

No dia 15 de abril o ministro pretende apresentar na reunião plenária do Conselho Nacional de Meio Ambiente (Conama) uma proposta de resolução sobre o tema. Com ela, o conselho poderá estender a estados e municípios a obrigatoriedade de compensação do gás carbônico emitido pelas térmicas.
Tags: alternative energy, captura de carbono, CO2, CONAMA, energía alternativa, energía eólica, energía solar, environmental licensing, gás carbônico, gases de efeito estufa, greenhouse gases, licenciamento ambiental, MMA, plantio de árvores, portaria, solar energy, termelétricas, térmica de carvão, térmica de óleo, wind power
Subscribe to My Comments Feed
Leave a Reply