« FAO Slide Show on Climate Change | Home | World No-Tobacco Day in LAC: Colombia Joins Smoke-Free Ranks »
By Keith R | June 9, 2008
Topics: Climate Change, Energy Efficiency, Protection of the Ozone Layer | 1 Comment »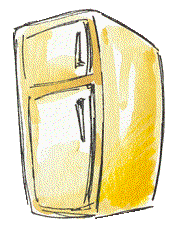 Synopsis in English: One of the downsides of being so long away from regular blogging is the tremendous backlog of things I wish to cover. This is one — the good news that at the end of April, Colombia launched the pilot phase in Bogotá of a program to encourage consumers to voluntarily turn in their old refrigerators for newer, more energy-efficient ones that utilize more "ozone-friendly" coolants.
The campaign, entitled "Exchange your refrigerator, you save and your planet gains", is a bit different than the one launched in several Brazilian states (where electricity generators offered to replace gratis older refrigerators of low-income families). Under the Bogotá program, up until 31 July consumers with a pre-1999 model refrigerator can go to the nearest of 13 stores of the Éxito hypermarket chain in the Bogotá area and present the information on the make, model and year of their current refrigerator and receive a sticker worth $80-100,000 Colombian pesos (about US$60 at current exchange rates) toward the purchase of a Haceb or Mabe brand refrigerator. Both these brands feature good energy efficient ratings (which, proponents, argue, will help combat global climate change by lowering energy demand) and utilize coolant that upon release will not contribute to the depletion of the ozone layer.
The National Employers Association (Asociación Nacional de Empresarios – ANDI) estimates that there are some 3 million refrigerators in Colombia that use refrigerants banned under the Montreal Protocol. The campaign participants hope to retire at least 100,000 of these with this campaign.
For its part, the Environment Ministry (MAVDT), hopes that by endorsing and publicizing the campaign, it can nudge other retailers and the major refrigerator manufacturers to offer similar programs that cover not only Bogotá, but also the rest of the country.  [I second that motion!]

________________________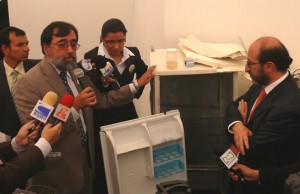 Desde el Ministerio de Ambiente, Vivienda y Desarrollo Territorial (MAVDT):
Minambiente lanza proyecto piloto de "chatarrización" de neveras viejas en Bogotá

Gracias a esta iniciativa, los colombianos contribuirán VOLUNTARIAMENTE desde su casa con el cuidado de la capa de ozono y la disminución del calentamiento global, además de economizar dinero al consumir menos electricidad.

A través de la campaña "Cambia tu nevera, ahorras tú y gana el planeta" se fomentará el cambio de las neveras producidas antes del año 1999, dado que este tipo de electrodomésticos contienen sustancias que agotan la capa de ozono y contribuyen al calentamiento global.

De acuerdo con las cifras de la ANDI, se calcula que en Colombia existen cerca de tres millones de refrigeradores domésticos que agotan la capa de ozono. Sin embargo, durante la primera fase de la campaña "Cambia tu nevera, ahorras tu y gana el planeta", que durará tres meses, se busca sustituir 10.000 refrigeradores que se encuentran en Bogotá.

"Con este sistema, lo que se logra es que de manera voluntaria los interesados puedan acceder a neveras nuevas con unos descuentos, con un crédito fácil, mejorar el medio ambiente, ahorrar energía y tener una mejor calidad de vida en el hogar", explicó el ministro Juan Lozano Ramírez.

Al proyecto se unió almacenes Éxito, (que dispuso 13 puntos de venta en Bogotá para llevar a cabo esta campaña) y las marcas Haceb y Mabe. Estas ofrecen a los interesados neveras ambientalmente amigables.

"Esperamos que a esta iniciativa se unan los otros importadores, productores y fabricantes", así lo manifestó el Titular de la Cartera Ambiental durante el lanzamiento de la campaña.

Mecánica

Durante tres meses, los almacenes ÉXITO ofrecen de manera exclusiva a sus clientes la facilidad para cambiar sus neveras viejas por nuevos equipos MABE y HACEB. Estas neveras no solo cumplen con la normatividad ambiental vigente, sino que también gastan menos energía, ofreciendo una buena alternativa de ahorro.

Es así como del 30 de abril al 31 de julio los colombianos podrán acercarse al almacén EXITO más cercano en Bogotá — y presentado la marca, el modelo y el año de su nevera actual, tendrán la posibilidad de elegir una nueva nevera HACEB o MABE marcadas con el sticker de la campaña "Cambia tu Nevera", y recibir un bono por $80,000 o $100,000 para ser redimido inmediatamente como parte de pago. Adicionalmente, recibirán un 10% adicional al pagar con la Tarjeta ÉXITO.
Tags: ANDI, appliances, Bogotá, calentamiento global, camada de ozônio, capa de ozono, Colombia, electrodomésticos, Éxito, Haceb, hipermercados, hypermarkets, Mabe, MAVDT, Montreal Protocol, neveras, ozone depleting substances, ozone layer, Protocolo de Montreal, refrigeradores, refrigerators
One Response to "Time to Turn in Your Old Refrigerators, Bogotá"
Imaginamos Says:
May 6th, 2009 at 10:27

Es muy bueno que cada persona aporte, para evitar el calentamiento global.
Leave a Reply