« The Cost of Child Malnutrition / El Costo de Desnutrición Infantil | Home | A New System to Deal with International Public Health Threats / Un nuevo sistema para responder a las amenazas a la salud pública mundial »
By Keith R | June 12, 2007
Topics: Climate Change, Economics & the Environment, Energy Efficiency, Renewable Sources, Sanitation | No Comments »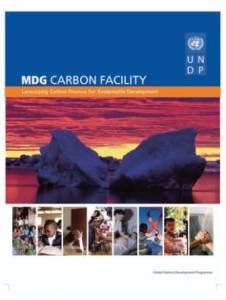 The United Nations Development Programme (UNDP) has jumped into the growing carbon finance market with its own offering — carbon credits with a human development twist, as it were.
UNDP says that the trouble with the current carbon market is that it tends to fund projects in only a handful of countries and with little variety in project types and design. It wants its new Facility to help more nations to tap the market for a wider variety of projects, in part by providing nations a "one-stop shop" for applying for and winning carbon financing. And in the process, it wants the projects that it helps get financing also to be designed as to help developing nations meet their Millennium Development Goals (MDGs) in areas such as water supply, sanitation, education, etc.
UNDP figures that it is best placed for fulfilling this role because
It already has long experience in helping developing countries prepare joint implementation/ clean development mechanism (CDM) projects for approval — one of the first CDM projects in the world registered (in Bangladesh) was prepared with UNDP help;
As one of the three Global Environment Facility (GEF) Implementing Agencies, UNDP is the largest source of technical assistance for global environmental management in the world. In recognition of this unique capacity, developing countries are increasingly asking UNDP for assistance to tap into the development benefits that can be reaped through carbon finance;
By managing official development assistance (ODA), GEF, regular multilateral lending, carbon finance and adaptation funds all under one roof, UNDP can help program countries sequence/combine these different sources of funds to address the existing policy, capacity and financing gaps to implement the Multilateral Environment Agreements (MEAs – such as the Montreal Protocol, the Biodiversity Convention, etc.) and to meet their MDG targets.
UNDP has picked as its partner in the Facility the finance giant Fortis. In a nutshell, UNDP will help countries prepare projects; Fortis will buy and resell them.
From the UN Development Programme (UNDP):
MDG Carbon Facility launch

The United Nations Development Programme (UNDP) and banking and insurance giant Fortis announced an agreement today naming Fortis the financial services provider for UNDP's MDG Carbon Facility. This announcement also marks the operational launch of the Facility, an innovative means of harnessing the vast resources of the carbon market to bring long-term sustainable development to a more diverse share of developing countries.

Under the terms of the partnership, announced in Berlin just prior to the G8 summit, UNDP will help developing countries conceive projects intended to reduce emissions of greenhouse gases, and will ensure that these projects meet the Kyoto Protocol's agreed standards and deliver real, sustainable benefits to the environment and broader human development. Fortis will then purchase, and sell-on, the emissions-reduction credits generated by these projects. The proceeds from Fortis' purchases will provide developing countries and communities with a new flow of resources to finance much needed investment and to promote development.

'MDG' is short for 'Millennium Development Goals,' the specific targets, agreed by United Nations member states, for diminishing global poverty and achieving major advances in health, education, environment and equality by 2015.

A recent Poverty-Environment Partnership report estimates that US $60-90 billion per year will be needed to address the environmental issues that contribute to poverty in developing nations; the market in emission reduction credits carries enormous potential for bringing essential new investment to tackle these issues. The MDG Carbon Facility will operate within the framework of the Clean Development Mechanism and Joint Implementation, the market-based mechanisms under the Kyoto Protocol that allow developed countries to meet their compliance targets by financing projects in developing countries that contribute to reducing greenhouse-gas emissions.

The Clean Development Mechanism, or CDM, has been at the center of a rapidly expanding, billion-dollar international market for carbon credits. However, early signs indicate that the CDM is unlikely to deliver the broad-based benefits that many hoped it would, at least in the near to medium term. CDM projects have so far been limited in geographic reach, restricted mainly to Asia and Latin America, and have focused primarily on 'end of pipe' technologies that generate limited benefit for long-term sustainable development.

The MDG Carbon Facility aims to address these limitations by capitalizing on Fortis' resources and substantial carbon experience, together with UNDP's specialized expertise and global reach. By expanding the CDM's presence into countries and regions previously considered inaccessible to carbon finance, MDG Carbon will help people in these areas acquire the resources and knowledge to take greater control over their future environment and development paths. Once a developing country gains proficiency in carbon finance, attracting private-sector investment and developing project technologies that deliver longer-term development benefits, the MDG Carbon Facility will exit that market, having accomplished its market transformation objectives and no longer needing to play its role as a bridge between developing countries and the global carbon market.

"Harnessing the power of the marketplace is essential in the fight against harmful global climate change: The MDG Carbon Facility is a creative market-based strategy that promises to produce double dividends–carbon reductions and economic progress in the world's less-developed countries," said former Sen. Timothy Wirth, President of the United Nations Foundation, which provided a large portion of the startup funding for the Facility.

The partnership between UNDP and Fortis covers an initial pipeline of projects which will generate 15 million credits during the Kyoto Protocol's first commitment period (2008-2012). UNDP and Fortis will begin evaluating potential projects for the Facility immediately.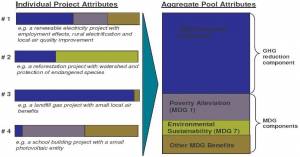 Desde el Programa de las Naciones Unidas para el Desarrollo (PNUD):
Se lanza Iniciativa ODM para la reducción de carbono

El Programa de las Naciones Unidas para el Desarrollo (PNUD) y el gigante de los sectores bancario y de los seguros Fortis anunciaron hoy un acuerdo en virtud del cual se designa a Fortis proveedor de servicios financieros de la iniciativa ODM Carbono del PNUD. El anuncio marca también el comienzo de las actividades operacionales de la iniciativa, un medio innovador de encauzar los enormes recursos del mercado del carbono para llevar el desarrollo sostenible de largo plazo a una mayor proporción de países en desarrollo.

De conformidad con las condiciones de la asociación, anunciada en Berlín poco antes de la cumbre del Grupo de los Ocho, el PNUD prestará ayuda a países en desarrollo para el diseño de proyectos destinados a reducir las emisiones de gases de efecto invernadero y velará por que estos proyectos cumplan las normas acordadas en el Protocolo de Kyoto y brinden beneficios concretos y sostenibles para el medio ambiente y el desarrollo humano más amplio. Fortis comprará y luego venderá los certificados por reducción de emisiones que generen estos proyectos. Lo recaudado mediante las adquisiciones de Fortis brindará a los países y las comunidades en desarrollo una nueva corriente de recursos para financiar inversiones sumamente necesarias y fomentar el desarrollo.

"ODM" es la sigla de los "Objetivos de Desarrollo del Milenio", las metas concretas acordadas por los Estados Miembros de las Naciones Unidas destinadas a reducir la pobreza mundial y lograr adelantos importantes en materia de salud, educación, medio ambiente e igualdad para 2015.

En un informe reciente de la Alianza sobre la Pobreza y el Medio Ambiente se estima que se necesitarán entre 60.000 y 90.000 millones de dólares de los EE.UU por año para abordar los problemas ambientales que acentúan la pobreza en los países en desarrollo; el mercado de certificados de reducción de emisiones tiene un potencial enorme para generar nuevas inversiones fundamentales que permitirán superar estos problemas. La iniciativa ODM Carbono funcionará en el marco del mecanismo para un desarrollo limpio y de la aplicación conjunta, los mecanismos basados en el mercado del Protocolo de Kyoto que permiten a los países desarrollados cumplir sus metas en materia de emisiones mediante la financiación de proyectos en países en desarrollo que contribuyan a reducir las emisiones de gases de efecto invernadero.

El mecanismo para un desarrollo limpio (MDL) se ha constituido en el eje de un mercado internacional de crecimiento rápido de miles de millones de dólares de certificados de reducción de emisiones de carbono. No obstante, ya hay indicios de que el MDL probablemente no brinde los beneficios amplios que muchos esperaban, por lo menos en el corto o mediano plazo. Hasta ahora los proyectos del MDL han tenido un alcance geográfico restringido a Asia y América Latina y se han centrado mayormente en tecnologías de etapa final que generan beneficios limitados para el desarrollo sostenible de largo plazo.

La iniciativa ODM Carbono tiene por objeto superar estas limitaciones aprovechando los recursos y la considerable experiencia en el mercado del carbono de Fortis, en combinación con los conocimientos especializados y el alcance mundial del PNUD. Al llevar la presencia del MDL a países y regiones que antes se consideraban inaccesibles a la financiación para reducir el carbono, la iniciativa contribuirá a que los habitantes de esas zonas adquieran los recursos y conocimientos necesarios para asumir mayor control sobre su medio ambiente y las sendas del desarrollo futuros. Una vez que un país en desarrollo adquiere competencia en este tipo de financiación y atrae inversiones del sector privado y desarrolla tecnologías para proyectos que brindan beneficios del desarrollo de más largo plazo, la iniciativa ODM Carbono abandona ese mercado, pues habrá alcanzado sus objetivos de transformación del mercado y ya no necesita cumplir la función de intermediario entre los países en desarrollo y el mercado mundial del carbono.

"Aprovechar el poder del mercado es fundamental en la lucha contra el pernicioso cambio climático mundial. La iniciativa ODM Carbono es una estrategia creativa basada en el mercado que promete suministrar dividendos dobles: reducciones de las emisiones de carbono y progreso económico en los países menos adelantados", observó el ex Senador Timothy Wirth, Presidente de la Fundación pro Naciones Unidas, que aportó gran parte de la financiación inicial de la iniciativa.

La asociación entre el PNUD y Fortis abarca una serie inicial de proyectos en reserva que generarán 15 millones de créditos durante el primer período de compromiso del Protocolo de Kyoto (2008-2012). El PNUD y Fortis comenzarán a evaluar posibles proyectos para la iniciativa inmediatamente.
Tags: cambio climático, carbon financing, carbon market, clean development mechanism, Climate Change, Fortis, gases de efecto invernadero, GEF, greenhouse gases, Kyoto Protocol, MDGs, MEAs, mecanismo de desarrollo limpio, Millennium Development Goals, ODA, PNUD, Protocolo de Kyoto, saneamiento, Sanitation, UNDP, United Nations Foundation, water supply
Subscribe to My Comments Feed
Leave a Reply