« Sam's Club in Brazil Introduces Reusable Bags for Wines / Sam's Club lança sacolas retornáveis para vinhos | Home | Brazil Creates Cancer Research Network / Brasil lança rede de pesquisas sobre o câncer »
By Keith R | March 5, 2009
Topics: Climate Change, Conservation, Energy & the Environment | No Comments »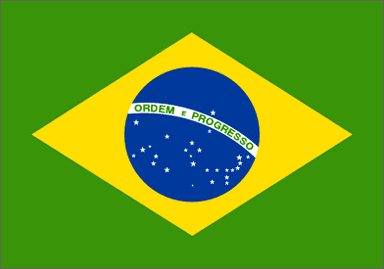 From the World Bank:
World Bank Approves US$1.3 Billion to Support Brazil's Environmental and Climate Change Agenda

Brazil's achievements in integrating development and conservation recognized

The World Bank Board of Directors approved today a US$1.3 billion loan to Brazil for the First Programmatic Development Policy Loan for Sustainable Environmental Management, supporting Brazil's ongoing efforts to improve its environmental management system and integrate sustainability concerns in the development agenda of key sectors such as forest management, water and renewable energy. The initiative will also integrate Brazil's climate change agenda across sectors.

"The Brazilian government has been working strongly towards the development and implementation of public policies that address sustainable development so that economic growth occurs without loss to our rich biodiversity," said Guido Mantega, Minister of Finance. "This requires a commitment from all levels of government, whether federal, state or municipal, paying special attention to social programs, many of which include programs for sustainable growth," he added. "In this context, the set of institutional reforms and policies laid down in the Multiyear Plan (PPA) and the Growth Acceleration Plan (PAC) is essential to ensure that Brazil achieve economic growth, preserve the environment and become a socially just nation."

In few countries is the ecosystem as crucial to development and people's welfare as in Brazil. The country has one-third of the world's tropical rain forests, the largest reservoir of fresh water (20 percent), one of the longest coastlines (more than 8,500 km), and savanna with the greatest biodiversity in the world. A significant part of Brazil's economy relies on the use of natural resources for production inputs. Due to the importance of its natural resource base, Brazil faces major challenges to strengthen the sustainable use of its natural resources.

Key environmental issues in Brazil to be addressed by the program include:

Deforestation from unsustainable use of natural resources in the Amazon rainforest;
Conservation of the remaining Atlantic Forest, water quality and availability; and
Increased energy demand, straining Brazil's clean energy matrix.

"The social and economic cost of environmental destruction is high. Smooth coordination of policies and procedures within the Brazilian environmental management system, combined with an increased commitment from the financial sector to long-term sustainability, is key to guaranteeing that specific actions and investments in the area can achieve the best possible results, ensuring growth that is environmentally sustainable and socially inclusive," said Makhtar Diop, World Bank Country Director for Brazil.

The program supports Brazil's commitment to better environmental and poverty outcomes while implementing a model of accelerated competitiveness and growth.  This will be done by emphasizing incentives, such as efforts to increase the value of standing forests, and economic instruments, such as increasing the environmental profile of development finance facilities as integral parts of the Government's environmental management strategy. This will promote the sustainable management of agricultural lands, forests and water resources; reduce deforestation in the Amazon; reduce the environmental degradation of land, water and other resources which are key determinants of the well-being of the poor; and promote renewable energy.

Amazon Deforestation: Policies Matter

The Amazon Forest has lost 19,000 km2 per year over the past 30 years. This is due to a combination of economic forces, poor agricultural practices, weak property rights, and poor enforcement of regulations. Deforestation affects the climate, soil erosion, and biodiversity. Seventy percent of Brazil's CO2 emissions come from deforestation and change of land use.

Improved policies, when backed by enforcement and economic incentives, are an effective way to control the complex social and economic forces behind deforestation. For example, requiring banks to follow environmental law and integrating environmental and social considerations into investment plans provides a potent incentive for compliance.

The policies and reforms supported by this operation are expected to have very positive social impacts. Specifically, the Public Forest Management law and other reforms supported by this operation give local communities preferential treatment regarding forest concessions, and should reduce unsustainable agricultural and logging practices and land grabbing. The program's support for the National Water Quality Evaluation Program is expected to significantly increase water resources for the poor, as they are disproportionately affected by water pollution. Other reforms will increase access to water and sanitation services and boost the social and sustainable investment policies of BNDES, Brazil's national development bank.

"The new program builds on the good work previously achieved by Brazil, which also includes financial and analytical support from the Bank and other partners. This was a complex multi-partner effort in the Government and all involved Ministries must be congratulated for it," said Mark Lundell, World Bank Project Manager. "The program will also be a fundamental complement to the work being done under the Bank's new Amazon Framework, which seeks to support Brazil's efforts to reconcile development and conservation in the Amazon."

This Programmatic Sustainable Environmental Management Development Policy Loan (SEM DPL) is the first operation in a series of two loans which span the period 2008-2010. This first loan would be disbursed in two tranches: the first upon effectiveness in a total amount of US$800 million, and the second, totaling US$500 million, upon fulfillment of the projects goals, stipulated by the Government of Brazil. The second loan is expected to be negotiated in the fourth quarter of 2009. The program includes a web-based monitoring system, open to the public, ensuring transparency and enabling social participation.
______________
Desde o Banco Mundial:
Banco Mundial aprova crédito de US$1,3 bilhão para apoiar a agenda ambiental e de mudanças climáticas do Brasil

Maior empréstimo já feito pelo Banco Mundial ao Brasil reconhece esforços para conciliar desenvolvimento e conservação

O Banco Mundial aprovou hoje um empréstimo no valor de US$1,3 bilhão para o Brasil, destinado ao Primeiro Empréstimo Programático para Desenvolvimento de Políticas de Gestão Ambiental Sustentável, que apóia os esforços do País para ampliar a eficácia de seu sistema de manejo ambiental e integrar as questões de sustentabilidade na agenda do desenvolvimento de setores importantes como manejo florestal, água e energia renovável. O projeto também contribuirá para a agenda brasileira de adaptação às mudanças climáticas em diversos setores.

"O Governo brasileiro vem atuando fortemente na elaboração e implementação de políticas públicas que contemplem o desenvolvimento sustentável do País, de modo que o crescimento econômico ocorra sem prejuízo da nossa rica biodiversidade", disse Guido Mantega, Ministro da Fazenda. "Para tanto, é preciso haver comprometimento de todas as esferas do poder, seja no âmbito federal, estadual ou municipal, incluindo a atenção aos programas sociais, muitos dos quais envolvem programas de crescimento sustentável", acrescentou. "Neste contexto, o conjunto de reformas institucionais e de políticas previstas no Plano Plurianual (PPA) e no Plano de Aceleração do Crescimento (PAC) é fundamental para assegurar ao Brasil atingir o desafio de crescer, preservar o meio ambiente e se tornar uma nação socialmente justa."

Em poucos países os ecossistemas são tão essenciais para o desenvolvimento e a qualidade de vida da população quanto no Brasil. O País possui um terço de todas as florestas tropicais existentes, o maior reservatório de água doce (20%), uma das mais extensas faixas litorâneas com mais de 8.500 km e o cerrado com a maior biodiversidade do mundo. Uma parte significativa de sua economia depende do uso de recursos naturais para criar insumos de produção. Devido à importância dessa base de recursos naturais, o Brasil enfrenta grandes desafios para fortalecer o seu uso sustentável.

As principais questões ambientais abordadas pelo programa incluem:

O uso não sustentável dos recursos naturais na Floresta Amazônica, o que provoca desmatamento,
A falta de proteção dos remanescentes da Mata Atlântica; a qualidade e disponibilidade de água, e
A crescente demanda energética, que está pressionando a matriz de energia limpa do Brasil.

"O custo social e econômico da destruição ambiental é alto. Uma melhor coordenação das políticas e procedimentos no sistema de gestão ambiental brasileiro, combinadas a um maior compromisso do setor financeiro com a sustentabilidade a longo prazo, são essenciais para garantir que ações e investimentos específicos nessa área possam alcançar os melhores resultados possíveis, assegurando um crescimento que promova a sustentabilidade ambiental e a inclusão social", afirmou Makhtar Diop, Diretor do Banco Mundial para o Brasil.

O programa apóia o compromisso do Brasil de ampliar os resultados ambientais e a redução da pobreza ao mesmo tempo em que implementa um modelo de competitividade e crescimento acelerados. Essas metas serão alcançadas priorizando incentivos, tais como ações para aumentar o valor econômico da floresta em pé, e instrumentos econômicos, como o aumento do perfil ambiental das fontes de financiamento, como partes integrais da estratégia de gestão ambiental do governo. Desta forma, o programa promoverá o manejo sustentável de terras agrícolas, florestas e recursos hídricos; a redução do desmatamento na Amazônia; a diminuição da degradação ambiental da terra, da água e de outros recursos que são determinantes essenciais do bem-estar da população de baixa renda; assim como a energia renovável.

Desmatamento na Amazônia: as políticas fazem diferença

A Floresta Amazônica perdeu 19.000 km2 por ano nos últimos 30 anos. Isso ocorreu devido a uma combinação de forças econômicas, práticas agrícolas incorretas, direitos de propriedade inadequados e uma aplicação ineficaz da regulamentação. Esse desmatamento causa impactos sobre o clima, a erosão do solo e a perda de biodiversidade. Setenta por cento das emissões de CO2 do Brasil são produzidas por desmatamento e mudanças no uso do solo.

Políticas mais adequadas, quando apoiadas por vigilância e incentivos econômicos, constituem um modo mais eficaz de controlar as complexas forças sociais e econômicas causadoras do desmatamento. Por exemplo, a exigência por parte dos bancos de que os seus mutuários sigam a legislação ambiental, e a integração de questões ambientais e sociais nos planos de investimento proporciona um forte incentivo ao seu cumprimento.

Espera-se que as políticas e reformas apoiadas por esta operação financeira produzam impactos sociais muito positivos. Especificamente, a lei de Gestão das Florestas Públicas e outras reformas apoiadas por esta operação deverão dispensar um tratamento preferencial às comunidades locais na área da concessão de florestas e reduzir a freqüência de práticas agrícolas não sustentáveis, de extração de madeira e grilagem de terras. No setor de administração dos recursos hídricos, o apoio do programa para a implementação do Programa Nacional de Avaliação da Qualidade da Água deverá promover grandes benefícios para os pobres, porque eles são afetados de modo desproporcional pela poluição da água. Outras reformas expandirão o acessoaos serviços de água e saneamento, e impulsionarão as políticas de investimento social e em atividades sustentáveis do Banco Nacional de Desenvolvimento Econômico e Social (BNDES).

"O novo programa se baseia no bom trabalho já realizado pelo Brasil, que também abrange apoio financeiro e analítico do Banco e de outros parceiros. Este foi um esforço complexo, envolvendo numerosos interlocutores e parceiros no governo, e todos os ministérios envolvidos devem ser parabenizados por isso", salientou Mark Lundell, gerente do projeto pelo Banco Mundial e coordenador para a área ambiental no Brasil. "O programa também será um elemento fundamental para o trabalho que está sendo implementado no âmbito do novo Arcabouço da instituição para a Amazônia, que tem como objetivo apoiar as iniciativas do Brasil para conciliar desenvolvimento e conservação na região."

Este Empréstimo Programático de Políticas de Desenvolvimento em Gestão Ambiental Sustentável (SEM DPL) representa a primeira operação de uma série de dois empréstimos que compreendem o período 2008-2010. O primeiro empréstimo será desembolsado em duas parcelas: uma inicial, no valor de US$ 800 milhões, após a assinatura do acordo, e a segunda, totalizando US$ 500 milhões, uma vez que as metas dos projetos determinadas pelo Governo brasileiro forem cumpridas. O segundo crédito deverá ser negociado no quarto trimestre de 2009. O programa abrange um sistema de monitoramento virtual, aberto ao público, para garantir a transparência e possibilitar a participação da sociedade.
Tags: agriculture, Atlantic Forest, Banco Mundial, biodiversidade, Biodiversity, BNDES, cambio climático, Climate Change, deforestation, desmatamento, energia renovável, energy matrix, environmental management, forestry management, logging, manejo florestal, Mata Atlântica, mudanças climáticas, PAC, qualidade da agua, recursos hídricos, renewable energy, saneamento, water quality, World Bank
Subscribe to My Comments Feed
Leave a Reply