« São Paulo Study Shows Passive Smokers with Elevated CO Levels | Home | Finally, a Chance for a Global Mercury Accord / Por fin, un chance para un acuerdo global sobre el mercurio »
By Keith R | February 20, 2009
Topics: Biofuels, Climate Change | No Comments »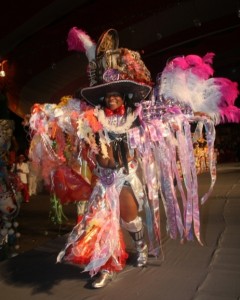 …when a prominent Rio samba school arranges for carbon offsets so that it can declare itself Brazil's first "carbon neutral" entrant in the Carnaval competition!
All kidding aside, the Niterói-based Unidos do Viradouro samba school has announced that when it competes in Rio's famed Sambódromo, all greenhouse gases emissions associated with its performance will be offset by tree planting.
The amount of CO2 equivalent (CO2e) to be offset was calculated by São Paulo-based Key Associados, which figured about 51 metric tons for the electrical energy used in creating the floats, the illumination of the floats, the fuel used in transport, etc.  As a result, the samba school paid the SOS Atlantic Forest Foundation (Fundação SOS Mata Atlântica) to plant 166 trees of species native to the Atlantic Forest in and around the City of Rio de Janeiro.
The theme of the samba school's presentation this year?  The role of biofuels (primarily sugarcane-based ethanol) in defeating fossil fuels and helping combat global climate change.
_________________

Desde a Escola de Samba Unidos do Viradouro:
Viradouro vai neutralizar emissão de gases do efeito estufa

Escola será a primeira na história do Carnaval a compensar, com plantio de árvores, o gás carbônico e os poluentes gastos na preparação e apresentação do espetáculo no Sambódromo

Numa iniciativa inédita no desfile das escolas de samba do Rio de Janeiro, a Unidos do Viradouro vai entrar na Marquês de Sapucaí, na madrugada de Terça-Feira de Carnaval, com todas as emissões de gás carbônico (CO2) e equivalentes (os gases causadores do Efeito Estufa) calculadas e devidamente neutralizadas através do plantio de árvores. O cálculo inclui todas as emissões ligadas ao trabalho de desenvolvimento e preparação do desfile, como uso de energia pela equipe da escola e seus fornecedores, assim como emissões ligadas ao desfile em si, como, por exemplo, o uso de motores e geradores para movimentar e iluminar carros alegóricos.

A iniciativa faz parte de uma parceria entre a Viradouro e a União da Indústria de Cana-de-Açúcar (UNICA), principal entidade representativa da indústria brasileira de cana-de-açúcar, que reúne 116 usinas produtoras de açúcar, álcool combustível – o etanol, e bioeletricidade.

O relatório de gases causadores do efeito estufa (GEFs) gerados pela Viradouro foi elaborado pela Key Associados, empresa especializada sediada em São Paulo que utiliza critérios e padrões seguidos por órgãos internacionais como o IPCC, o Painel Intergovernamental sobre Mudança Climática da ONU. Foram consideradas no cálculo todas as emissões entendidas como relevantes, como: transporte terrestre de promotores e organizadores, energia elétrica utilizada ao longo da criação do desfile, utilização de GLP (gás liquefeito de petróleo), geração de resíduos sólidos e deslocamentos aéreos e terrestres de integrantes da escola.

O total geral de emissões superou 51 toneladas de CO2 e equivalentes, o que exigirá o plantio de 166 árvores, considerando que cada árvore retém, ao longo de aproximadamente 20 anos, pouco mais de 312 quilos de CO2 e equivalentes. O plantio das árvores será executado pela Fundação SOS Mata Atlântica, dentro de seu Programa Florestas do Futuro. A SOS Mata Atlântica é uma entidade não-governamental que atua em defesa da Mata Atlântica desde 1986. As árvores serão plantadas em um programa de restauração florestal, utilizando espécies nativas da Mata Atlântica, na área de abrangência de seu bioma que cobre dezessete estados brasileiros. O plantio das árvores para neutralização do desfile da Viradouro ocorrerá prioritariamente no entorno da cidade do Rio de Janeiro.

Segundo o presidente da UNICA, Marcos Jank, o enredo "Vira-Bahia, pura energia!", que será apresentado na Avenida pela vervelho-e-branco, é um tema altamente relevante.

– Trata-se de uma retratação emocionante da experiência brasileira de produção e uso de biocombustíveis, particularmente o etanol de cana, peça principal do carro abre-alas da Viradouro. A escola está de parabéns por abordar um tema altamente relevante, que é a busca por soluções para as mudanças climáticas, assunto em que o Brasil é exemplo a ser seguido, graças em grande parte a seu projeto, reconhecido mundialmente, de produção e uso de etanol de cana – comentou o dirigente.

Além do abre-alas, o biocombustível vai ser abordado no desfile da escola de Niterói na comissão de frente, que vai simular uma batalha simbólica em que combustíveis renováveis derrotam os combustíveis fósseis, e num carro alegórico representando uma usina.
Tags: biofuel, Brasil, Brazil, carbon neutral, Carnaval, Climate Change, CO2, environment, escola de samba, etanol, ethanol, gases de efeito estufa, greenhouse gases, Key Associados, meio ambiente, mudanças climáticas, Niteroi, Rio de Janeiro, samba school, SOS Mata Atlântica, UNICA, Unidos do Viradouro
Subscribe to My Comments Feed
Leave a Reply