« Amapá Adopts a Recycling Policy | Home | Mexico's Eco-Partnership with California »
By Keith R | August 3, 2008
Topics: Climate Change, Environmental Protection, Motor Vehicles, Sustainable Transport | No Comments »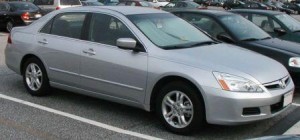 Chile may become the first Latin American or Caribbean (LAC) nation to require cars to bear labels about their greenhouse gas (GHG) emissions. Several European nations already require such labeling, and a regulatory agency recently proposed a unique GHG emission label for cars sold in California.
The lower house of Chile's legislature, the Chamber of Deputies, recently approved a bill that would require all new passenger motor vehicles with a gross weight under 2,700 kg (about 5,952 lbs) bear a label indicating its carbon dioxide (CO2) emissions and its fuel efficiency rating. The bill now goes to the upper chamber, the Senate, for consideration.
Although the bill uses an amendment to Chile's Consumer Law as its legislative vehicle, the actual implementing regulations would be emitted by the Ministry of Transport and Telecommunications (MTT). MTT would set the conditions for the label's layout, its informational content, where it must be displayed on the vehicle, and how it can be obtained. Originally the bill also specified how the label could be referred to in vehicle advertising, but this provision was struck by a floor amendment.
New vehicle dealers found not complying with the rules would be subject to the sanctions provided for under the Consumer Law.

Loading ...
Tags: California, cambio climático, carbon dioxide, carros, cars, Chile, Climate Change, CO2, consumer law, Consumer Protection, environment, fuel efficiency, labeling, medio ambiente, MTT, passenger vehicles
Subscribe to My Comments Feed
Leave a Reply