« Un proyecto colombiano sobre los residuos de aparatos eléctricos y electrónicos (RAEE) | Home | Greening the IDB / A Verdecer el BID »
By Keith R | April 20, 2007
Topics: Electronic/Electrical Equipment, Environmental Protection, Waste & Recycling | 2 Comments »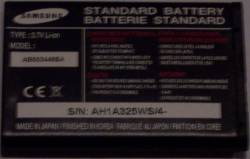 According to a Colombia daily, El Tiempo, the Ministry of Environment, Housing and Territorial Development (MAVDT) has signed an agreement ("convenio") with the cellular telephone industry to collect and export spent cell phone batteries. The agreement was signed by the major providers of cell phone service in the country, including Avantel, the industry associations for the cellular (Asociación Celular – Asocel) and IT sectors (Cámara Colombiana de Informática y Telecomunicaciones – CCIT), and the manufacturer Nokia. Under the agreement, the industry commits to (1) elaborate and implement a plan for the collection of used cell phone batteries from consumers; (2) export the collected batteries for safe "final disposition" elsewhere.
Environment Minister Juan Lozano declared that "For the first time, an entire sector of the technology industry is assuming its post-consumption obligations in Colombia."
MAVDT hopes that this is only the first of other post-consumer responsibility agreements on e-waste for the tech industry in Colombia. MAVDT has been in talks for some time with the "toner" cartridge, battery/pile and electronics (primarily computer) industries, and Minister Lozano indicated that he is losing his patience. "We recognize the effort in the toners area, but the battery and computer sectors have been less committed. In any case, if by mid-year we have not secured agreements that define the responsibilities of the companies, the Government will unilaterally impose resolutions that oblige them to recover their wastes."
Lozano's statement seems at odds with the recently announced e-waste initiative MAVDT has launched with the Cleaner Production Center (CNPML) with help from the Swiss Government and Switzerland's EMPA. The initiative envisioned a longer timeline and the use of a concertation system — a roundtable of sorts — to bring together all the stakeholders to discuss a rational WEEE system that would work properly in Colombia.
I also have more than a few questions about this agreement, and so far, no clarifications forthcoming from either MAVDT or Asocel. So I'll just voice them here. Perhaps someone from MAVDT, Asocel, Avantel, CCIT, Nokia, CNPML or some other participant can post a clarification and/or email me the details.
For example, does this agreement apply to all battery chemistries, or just certain ones?
Is collection to be at point of sale, perhaps the consumer turning in his old one for a new one? If so, will all vendors/cell service stores accept all brands and types of batteries, or only those that they sell?
Or will collection be at designated collection points? If so, will these collection points be properly spread around the country, or be largely limited to Bogotá, or perhaps a few in Cali and Medellin too?
Who will be responsible for collecting from the collection points, and ensuring that the batteries are transported, packed and stored properly until export?
Are there any concrete recovery goals, with an agreed, stated formula for calculating performance vis-a-vis those goals?
Where will these batteries be exported, and to what end — recycling? treatment? disposal (under what conditions)? Who's going to be checking that they are not all simply exported to an open-air dump or illegal, dangerous "recycling" facility in China?
And come to think of it, why export them rather than recycle? Is there no competent enterprise in Colombia that can handle lithium or nickel metal hydride (NiMH) batteries? Or do the older nickel-cadmium (Ni-Cd) batteries still predominant in Colombian cell phones?

Any requirement that cell phone batteries sold in Colombia be marked warning against disposal in common trash (usually the crossed out wheelie bin symbol) and urging them to take it to a collection point?
Who commits to educating the consumer about his/her role and how this education take place? Will there be any incentive to the consumer, other than simply being good to the environment?
— Keith R
Tags: Asocel, Avantel, batteries, cartuchos, CCIT, cell phones, cellular telephones, celulares, CNPML, Colombia, computadoras, computers, e-lixo, electronics, extended producer responsibility, Juan Lozano, lithium, litio, lixo tecnologico, MAVDT, Ni-Cd, nickel metal hydride, nickel-cadmium, NiMH, Nokia, pilas, pilhas, post-consumer responsibility, RAEE, residuos tecnologicos, responsabilidad post consumo, teléfonos celulares, toner cartridges, WEEE
2 Responses to "Colombia Gets Cell Phone Battery Agreement"
Leila Says:
April 24th, 2007 at 8:33

Hmm, interesting new policy. Has anyone gotten back to you on your questions?

Leila

Keith R Says:
April 24th, 2007 at 10:15

Hi Leila. No, not yet. But I'm a persistent guy, so I'll try every avenue until someone talks! LOL

I think it is indeed interesting that Minister Lozano has decided to champion post-consumer producer responsibility as his keystone waste policy, and that his boss (the President) and fellow Ministers are not dissuading him from doing so. A definite sea change! Colombia has expressed interest in the concept for at least 10 years that I know of (since a waste policy statement in 1998, if I recall), but they never before really followed through, so I think industry was lulled into thinking it would never happen. Think of what might have been accomplished if they instead had chosen pro-actively!

Lozano just issued a new regulation imposing post-consumer responsibility for collecting pesticide containers, whether agricultural, industrial or household (I'm composing a post on it even as I pen this). As he did so, he promised similar regulations soon on expired medicines and lead-acid batteries. And as I mentioned in this post, he has warned the computer industry that they may be facing the same by mid-year. So he's on a roll! Stay tuned!
Warm Regards,
Keith
Leave a Reply