« Dell Offers Recycling Throughout LAC? Not Yet! | Home | A Sustainable Biofuels Policy for Chile? »
By Keith R | March 19, 2007
Topics: Climate Change, Energy Efficiency, Environmental Protection, Marine/Coastal Issues | No Comments »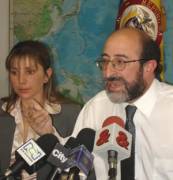 Just before the release of the IPPC report, the Minister for Environment, Housing and Territorial Development (MAVDT) held a press conference to assure everyone that global climate change is a priority issue for the Uribe Administration. The fact that Minister Juan Lozano Ramírez felt the need to do so says something.
Lozano Ramírez outlined the steps the Colombian Government is taking or planning to take to address climate change:
incorporation of the "climate change theme" into the National Development Plan with "concrete objectives and specific targets."
a US$14 million pilot project (funded in part by the Global Environment Facility – GEF) to reduce the impact of global climate change on the country's Caribbean insular zones (efficient water collection and use, protection and monitoring of coral reefs, tracking of sea level rise) and high mountains (efficient water collection and use, protection and monitoring of the desert, inclusion of climate change in zoning and farming practices).
A "uncertainty reduction project" that will elaborate climate change scenarios for 24 regions of its regions.
Increased participation in clean development mechanism (CDM) projects. The Minister said that Colombia currently has a portfolio of 66 projects which are expected to generate US$700 million in revenues and 100 metric tons of CO2 (see tables — click to enlarge).
Exemption from the value-added tax (impuesto al valor agregado – IVA) for all CDM projects certified by MAVDT as reducing greenhouse gases (GHG) have their equipment and technologies for meeting such reduction.
Launch early this year of an environmental education and participation campaign, with a particular focus on school kids, promoting daily habits — such as efficient use of energy and water — that help reduce the effects of global warming.
Participation in international discussions on the issue, including the IPCC. In particular, Colombia will promote the idea of "international recognition" (read: economic support) of existing forest conservation efforts (as "avoided deforestation").
Carbon Financing Agreement with the World Bank
Two weeks later MAVDT signed its first agreement with the World Bank to sell certified emission reductions (CERs) for GHG. The 10-year project was presented by the Colombian National Agricultural Research Organization (Corporación Colombiana de Investigación Agropecuaria – CORPOICA) and the International Center for Tropical Agriculture (Centro Internacional de Agricultura Tropical – CIAT), with the help of one of Colombia's "autonomous regional corporations" (CARs, which serve as implementing agencies for environmental policy outside Colombia's major metropoles), the Corporación de los Valles del Sinú y del San Jorge (CVS).
The agreement calls for the World Bank's BioCarbon Fund to purchase US$1 million in CERs (at about US$4 per CER) resulting from a 2,200-hectare reforestation scheme in degraded lands in Córdoba. The project is expected to projected to sequester the equivalent of 250,000 metric tons of carbon dioxide (CO2e). For more details, see the copy of the press release (in Spanish) at the end of this post.
At the signing, MAVDT's Director of Special Projects for Forestry and Climate Change, Andrea García Guerrero, said Colombia has about a dozen such projects available for carbon financing.
Finally Getting to the Second Kyoto Protocol Communication
At about the same time Minister Lozano, together with the Director of a MAVDT subsidiary agency, the Institute of Hydrology, Meteorology and Environmental Studies (IDEAM), announced the formal launching of the work program to formulate Colombia's Second National Communication under the Kyoto Protocol. The periodic communications are intended to report on how a Protocol contracting state is implementing the agreement. Because of the cost involved in preparing them, the developing countries not listed in Annex I (Annex I contains obligations for mostly OECD nations) have to turn in reports less frequently; of the LAC nations, only Mexico and Uruguay have already submitted their Second. Half of the expected US$810,000 cost of preparing Colombia's Second Communication will be paid for by the GEF.
Lozano said that preparation of Colombia's Second Communication will be used as the vehicle for
performing a full diagnostic of the probable impacts of global climate change on various sectors (mining, manufacturing, transport, energy, agriculture, etc.) of the economy and the country's various regions;
calculating just how much carbon is being sequestered by Colombia's current forest conservation efforts (critical for bolstering Colombia's case for some sort of credit or compensation scheme under a revised Kyoto Protocol);
formulating adaptation plans;
conducting environmental education efforts to get the general public sensitized and active regarding climate change;
determining how best to incorporate climate change into the National Development Plan.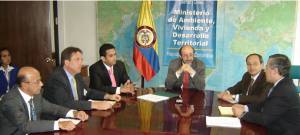 Desde el Ministerio de Ambiente, Vivienda y Desarrollo Territorial (MAVDT):
COLOMBIA VENDE US$1 MILLÓN POR CAPTURA DE CO2 EN PROYECTO FORESTAL

El proyecto reducirá 250.000 toneladas de CO2, aproximadamente, a través de la reforestación de 2.200 hectáreas de tierras degradadas en Córdoba

Un contrato de compraventa de certificados de emisiones reducidas de gases efecto invernadero firmó hoy el Gobierno colombiano con el Banco Mundial, por US$1 millón. Así lo manifestó el ministro de Ambiente, Vivienda y Desarrollo Territorial, Juan Lozano Ramírez.

"Esto es histórico, es la primera vez que Colombia firma un contrato de esta naturaleza. El Banco Mundial compra US$1 millón de certificados de captura de CO2 en un proyecto forestal en nuestro país. Esto abre un camino inmenso para las posibilidades de reforestación y para estar a la vanguardia en control del cambio climático en el mundo",

El titular de la cartera ambiental explicó que el acuerdo permitirá que se reforesten 2.200 hectáreas de tierras degradadas en Córdoba, de las cuales 500 están ubicadas en territorio de los indígenas Zenu.

El proyecto reducirá 250.000 toneladas de CO2, aproximadamente, mediante las plantaciones de 2.200 hectáreas de árboles, que al crecer capturarán gases efecto invernadero, aseguró.

El proyecto busca recuperar plantaciones silvopastoriles y de especies productivas como caucho, degradadas.

Lozano Ramírez destacó que el impacto social es de gran importancia, pues la región es ganadera por tradición, pero las tierras están siendo muy poco productivas por la degradación. Este proyecto generará mucho más empleo que la actividad tradicional y diversificación económica.

El Ministro señaló que para el territorio de la comunidad indígena Zenu, uno de los más degradados, este proyecto significa una nueva oportunidad para la comunidad: generación de ingresos, mejoramiento en la producción ganadera y recuperación de la cobertura vegetal.

Por su parte, Andrea García Guerrero, directora de Proyectos Especiales Forestales en Cambio Climático, destacó que estos proyectos son una opción para el país en diversificación económica, mitigación del cambio climático, protección de suelos, protección de cuencas y protección a la biodiversidad. Resaltó que tienen un componente social muy importante para las poblaciones beneficiadas.

Colombia va a la vanguardia en los temas técnicos y cuenta con un apoyo institucional y una infraestructura apta para que este tipo de proyectos empiece a despegar en el país.

En este momento, Colombia tiene 13 proyectos forestales en el portafolio nacional del Ministerio.

Este proyecto forma parte del Mecanismo de Desarrollo Limpio (MDL), que es un programa del Protocolo de Kyoto que busca ayudar a los países desarrollados a cumplir con sus cuotas de reducción de emisiones de Gases Efecto Invernadero (GEI) y a la vez, aportar al desarrollo sostenible de países en desarrollo como Colombia.
Tags: agriculture, Banco Mundial, BioCarbon Fund, cambio climático, carbon finance, carbon sequestration, Caribbean, Caribe, CIAT, clean development mechanism, Climate Change, Colombia, comunidad indígena, conservación, Conservation, coral reefs, Córdoba, CORPOICA, CVS, deforestation, educación ambiental, energy, Environmental Education, farming practices, gases de efecto invernadero, gases de efeito estufa, GEF, greenhouse gases, IDEAM, IPPC, IVA, Juan Lozano, Kyoto Protocol, manufacturing, MAVDT, mecanismo de desarrollo limpio, mecanismo de desenvolvimento limpo, Mexico, minería, mining, mudanças climáticas, protección de suelos, Protocolo de Kyoto, rational water use, reforestación, sea level rise, transport, Uruguai, Uruguay, value-added tax, World Bank, Zenu, zoning
Subscribe to My Comments Feed
Leave a Reply