« One of the Biggest Collectors of Spent Batteries in Brazil | Home | Shell Chemical to Clean Up Its Plant in Puerto Rico »
By Keith R | January 12, 2009
Topics: Cleaning Products, Environmental Protection | No Comments »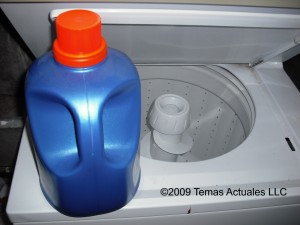 Colombia's Environment Ministry (MAVDT) has released for public comment two draft resolutions that, once adopted, would become binding rules on the detergent sector.  The scope for both is the same: washing and cleaning products in any form (liquid, powder, paste, bar, cake, molded forms, etc.) and whether marketed for household, institutional, industrial or service uses.  This explicitly includes bleach, fabric softeners, general household cleansers or surface cleansers used to clean machinery, appliances, vehicles, tools, equipment, etc.
One resolution would regulate the phosphorus content of detergents, requiring it to be capped at 8% (=20% phosphorus pentoxide (P2O5)] within two years of the resolution's publication, and cut to 2.2% phosphorus (=5% PsO5) within five years.  The latter level has been required by Canada since 1971, and last year Canada announced it would further cut phosphorus content to 0.5%.
The draft resolution also would require all manufacturers and importers of detergents to indicate the phosphorous content on their product labels.
The other draft resolution would regulate maximum permissible levels of surfactants expressed as methylene blue active substances (MBAS, or SAAM in Spanish) that can be found in any water discharged into a waterway or into the sewer network.  "Surfactant" is defined so as to explicitly include the anionic surfactants alkyl benzene sulfonates (ABS) / linear alkyl benzene sulfonates (LAS). The limit would be set at 10 mg/l.
MAVDT justifies the proposals by saying:
Los efectos negativos de los tensoactivos en los cuerpos de agua se deben a que son perjudiciales para las comunidades biológicas que los habitan, toda vez que alteran la transferencia y la disolución del oxígeno, impiden el desarrollo de algas nitrificantes, facilitan la penetración de microorganismos en las aguas subterráneas, y diluyen la grasa del plumaje de las aves. También pueden ser nocivos para el ser humano si se encuentran en el agua tratada que se utiliza para riego de hortalizas o frutas.

Por su parte, el principal riesgo del uso de fosfatos en detergentes es que puede dar lugar a un exceso de nutrientes en el medio ambiente acuático, lo que produce problemas de eutroficación, entendida ésta como el aumento de nutrientes en el agua, especialmente de los compuestos de nitrógeno y/o fósforo, que promueven un crecimiento acelerado de algas y especies vegetales superiores, con el resultado de trastornos no deseados en el equilibrio entre organismos presentes en el ecosistema acuático y la calidad del cuerpo de agua.
which, roughly translated, reads like this:
The negative effects of surfactants in water bodies is harmful to the biological communities that inhabit them, as it alters the transfer and the dissolution of oxygen, hampers the development of nutrifying algae, facilitates the penetration of microorganisms in groundwater, and thins the plumage of birds. They can also be harmful to humans if they are in the treated water used for irrigation of vegetables or fruits.

For its part, the main risk of the use of phosphates in detergents is that it can lead to an excess of nutrients in the aquatic environment, leading to problems of eutrophication, defined as the increase of nutrients in the water, especially nitrogen and/or phosphorus compounds, which promote accelerated growth of algae and higher plant species, resulting in unwanted disruptions in the balance between organisms in the aquatic ecosystem and the quality of the water body.
MAVDT says that the Bogotá, Cuaca and Magdalena Rivers all show have phosphate levels, and the Suesca, Fúquene and Tota lagoons show signs of euthropication.
Comments will be accepted on the two proposals until 01 February via the emails jarodriguez@minambiente.gov.co and rsuarez@minambiente.gov.co
Tags: ABS, águas subterrâneas, algae, Alkyl benzene sulfonates, anionic surfactants, azul de metileno, blanqueadores, bleach, Bogotá River, Canada, Colombia, Cuaca River, detergentes, detergents, euthrophication, eutroficación, fabric softeners, fósforo, Fúquene Lagoon, labeling, LAS, limpiadores domésticos, limpieza de superficies, linear alkyl benzene sulfonates, Magdalena River, MAVDT, maximum permissible levels, MBAS, methylene blue, niveles máximos permisibles, P2O5, pentóxido de fósforo, phosphorus, phosphorus pentoxide, red de alcantarillado, río Bogotá, rio Cuaca, rio Magdalena, SAAM, sewer network, suavizantes, Suesca Lagoon, surface cleansers, surfactants, tensoactivos, Tota Lagoon
Subscribe to My Comments Feed
Leave a Reply