« Tire Mountains as a Border Issue | Home | Helping Haiti Prevent/Combat Avian Influenza »
By Keith R | July 17, 2008
Topics: Biofuels, Corporate Social Responsibility, Environmental Protection, Food/Beverage Issues, Sustainable Agriculture | No Comments »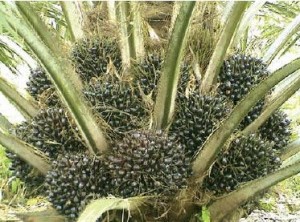 Last week the group representing Colombia's palm oil business, the National Federation of Palm Oil Growers (Federación Nacional de Cultivadores de Palma de Aceite – Fedepalma), announced their adherence to the Principles and Criteria of the Zurich-based Roundtable on Sustainable Palm Oil (RSPO).
The RSPO arose from a concept first proposed by WWF in 2001. After discussions with palm oil trader Aarhus United, the Malaysian Palm Oil Association (MPOA), Sainsbury's and Unilever (two large buyers – Unilever alone buys about 4% of the world's palm oil every year), the RSPO was formed in 2004. Now most major growers, processors, traders and consumers associated with palm oil, plus other interested parties (such as WWF, Oxfam and HSBC), belong to RSPO, including Fedepalma.
RSPO has developed a set of Principles and Criteria for Sustainable Palm Oil Production (RSPO P&C), a certification system and a process for members in the product chain should go through in order to demonstrate compliance. Driving this project are concerns that the European Union (EU) will impose market restrictions on imported palm oil that cannot show certification as sustainably produced.
The Fedepalma announcement was made at the Environment Ministry (MAVDT), where Minister Juan Lozano indicated his Ministry's full support and aid for the project. The Agriculture Ministry also expressed its full support, and WWF Colombia (remember, WWF is a founding member of RSPO), the Colombian Palm Oil Research Center (Centro de Investigación en Palma de Aceite – Cenipalma) and the Alexander von Humboldt Institute for Research on Biological Resources (IAvH) pledged their technical help.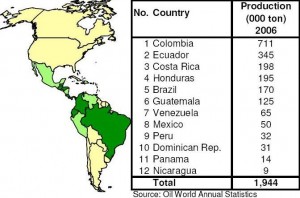 In the next few months Fedepalma and its allies will work to produce a "national interpretation" of the P&C and work out the details of how palm oil will be certified in Colombia. A meeting to consider early outlines is slated for 10 August. The parties hope to have most of the work completed before Fedepalma hosts the First Latin American Regional Meeting of the RSPO, scheduled for 16-17 October in Cartagena.
Colombia is Latin America's largest producer and exporter of palm oil, and the fifth largest palm oil producer in the world. In 2007 Colombia had 326,000 hectares of oil palms planted. Currently most Colombian palm oil production is geared for export as foodstuffs, although Colombia is angling to produce biodiesel utilizing palm oil.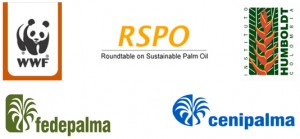 ________________________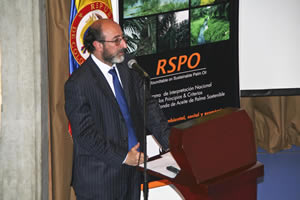 Desde el Ministerio de Ambiente, Vivienda y Desarrollo Territorial (MAVDT):
El Sector Palmero Colombiano asume compromiso internacional en lo ambiental, social y económico


Hoy 7 de julio, el sector palmero, con el apoyo de entidades públicas y privadas, ratifica su compromiso con el manejo ambiental, social y económico sostenible, mediante la implementación de los Principios y Criterios (P&C) definidos internacionalmente por la Mesa Redonda de Aceite de Palma Sostenible, RSPO por su sigla en inglés.
Las empresas que no apliquen los P&C tendrán serias limitaciones en la comercialización de sus materias primas y productos, ya que existen directrices de consumidores en la Unión Europea que entran en vigencia a partir del 1 de enero de 2010 sobre la compra exclusiva de aceite de palma certificado por la RSPO, como es el caso de Unilever.
Transparencia, legalidad, desarrollo amigable con el medio ambiente, cuidado de la biodiversidad, mejores prácticas agronómicas, empleo digno, contribución al bienestar social y de las comunidades palmeras, viabilidad económica y competitividad, son los pilares en los cuales descansa la sostenibilidad del sector palmero y de los demás actores de la cadena.

El sector palmero colombiano, dentro de las políticas de sostenibilidad y competitividad en las que viene trabajando desde hace más de una década, asume un compromiso internacional en lo ambiental, social y económico para consolidar su gestión y desempeño en aras de que sus materias primas y productos demuestren su carácter amigable con el medio ambiente y puedan así acceder a mercados cada vez más exigentes en estos aspectos.

En este marco, Fedepalma y Cenipalma con el respaldo del Ministerio de Ambiente, Vivienda y Desarrollo Territorial (MAVDT) el Fondo Mundial para la Naturaleza (WWF) y el Instituto de Investigación de Recursos Biológicos Alexander von Humboldt (IAvH), se han comprometido con la implementación de un conjunto de Principios y Criterios (P&C) formulados por la Mesa Redonda de Aceite de Palma Sostenible, RSPO por su sigla en inglés.

La RSPO es una Iniciativa mundial que se estableció formalmente bajo el artículo 60 del Código Civil Suizo, en abril de 2004. Esta organización, sin ánimo de lucro, tiene representantes de los más importantes participantes en la cadena del suministro de aceite de palma: cultivadores, procesadores, comercializadores, fabricantes de productos de consumo, distribuidores, bancos, inversionistas y organizaciones no gubernamentales defensoras del medio ambiente, conservación de la naturaleza y desarrollo social.

Para desarrollar la gestión de todos los actores de la cadena de valor se aprobaron los P&C, los cuales deben ser sometidos en los países productores de aceite de palma a un proceso de interpretación nacional, que consiste en proveer una guía específica para el cumplimiento de los mismos, de acuerdo con las necesidades y realidades de cada nación.

Los Principios y Criterios son:

Compromiso de transparencia
Conformidad con regulaciones y leyes de aplicables
Compromiso para una viabilidad económica y financiera a largo plazo
Uso de las prácticas óptimas apropiadas por parte de los cultivadores y molineros
Responsabilidad por el medio ambiente y la conservación de los recursos naturales y la biodiversidad
Consideración responsable de los empleados y de los individuos y las comunidades afectadas por los cultivadores y los molinos
Desarrollo responsable de nuevas plantaciones
Compromiso con una mejora continua en las áreas claves de la actividad

Éstos serán aplicados por medio de una metodología establecida que incluye trabajo con expertos y socialización con las comunidades, para obtener los resultados de la interpretación nacional de los P&C para Colombia, los cuales serán presentados en el mes de octubre en Cartagena en la Primera Reunión Latinoamericana de la RSPO.
Tags: Aarhus United, aceite de palma, aceites vegetales, biodiesel, biodiversidad, Biodiversity, Cartagena, Cenipalma, certification, Colombia, dendê, eco-certificación, eco-certification, empleo digno, European Union, Fedepalma, foodstuffs, Humboldt Institute, IAvH, Instituto Alexander von Humboldt, Juan Lozano, MAVDT, mejores prácticas agronómicas, MPOA, oil palm plantations, Oxfam, palm oil, RSPO, Sainsbury's, Unilever, Unión Europea, WWF, Zurich
Subscribe to My Comments Feed
Leave a Reply