« Improving the Environment and Health of Manaus | Home | Tire Mountains as a Border Issue »
By Keith R | July 13, 2008
Topics: Corporate Social Responsibility, Energy Efficiency, Environmental Protection, Hazardous Substances, Sustainable Tourism, Waste & Recycling, Water Issues | No Comments »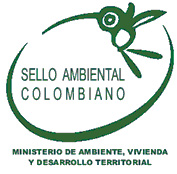 Synopsis in English: Colombia's Environment Ministry (MAVDT) has officially delivered to Hotel Puerta del Sol in Barranquilla the first Environmental Seal ever awarded to a hotel. The Environmental Seal is Colombia's official ecolabel, created by decree in 2005. So far award criteria have been concluded for only two categories: lodging and cleaning products.
For a hotel to be awarded the Seal, it must demonstrate that it complies with all existing environmental regulations relevant to its sector and has in place an environment management system that includes: (1) an official environmental management policy; (2) environmental management programs applied to all its activities, products and services; (3) training of employees in proper environmental management practices and procedures; (4) an active monitoring and follow-up procedure; (5) a green purchasing policy; (5) efficient water use; (6) efficient energy use; (7) proper waste management practices; (8) rational use of chemical products (primarily cleaning products).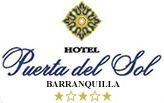 Sounds quite a bit like the Green Globe criteria for hotels, doesn't it? [Note to self: do a side-by-side analysis for a possible future blog entry on the relative pluses and minuses of each.]

MAVDT hopes that the Puerta del Sol is just the first of many to be certified, and that the program will not improve environmental management in the sector, but make it more competitive with their LAC counterparts.
_______________________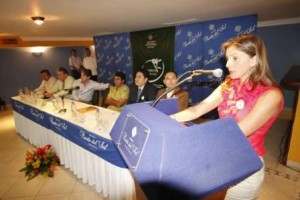 Desde el Ministerio de Ambiente, Vivienda y Desarrollo Territorial (MAVDT):
Ministerio hace entrega oficial del primer Sello Ambiental otorgado al Hotel Puerta del Sol en Barranquilla.

Colombia ya puede ofrecerle al mundo el primer hotel "verde", que cumple con los estándares ambientales internacionales

"Nos sentimos muy complacidos y orgullosos de certificar nuestro primer hotel 'verde' del país. Es un reconocimiento a todos los que hacen parte de esta empresa, ofreciendo bienes y servicios ambientalmente responsables", señaló el ministro Juan Lozano Ramírez.

El Sello Ambiental es una herramienta de certificación voluntaria a un producto o servicio, cuyo objetivo es incentivar a todos los sectores productivos del país para que establezcan lineamientos ambientales dentro de sus políticas internas como un valor agregado a su esquema de producción. Esto genera competitividad frente a los estándares internacionales.

"Colombia está con el acelerador puesto para dar un salto cualitativo y cuantitativo en la oferta y producción de bienes y servicios ambientales", destacó el Jefe de la Cartera Ambiental.

El Sello Ambiental es uno de los temas que hace parte de "Responsabilidad Empresarial", programa que viene desarrollando el Ministerio de Ambiente con todos los sectores productivos del país, para que de manera integral se incluya la dimensión ambiental y social en su gestión productiva. Según la viceministra Claudia Mora Pineda, "con esto queremos generar bienestar social y al mismo tiempo conciencia en la protección del medio ambiente".

Gracias a este certificado, el Hotel Puerta del Sol está preparado ambientalmente para competir con hoteles de talla internacional. "Invertir en el medio ambiente sí paga", destacó el ministro Lozano.

Beneficios del Sello Ambiental

Facilitar la identificación, gestión y cumplimiento de los requisitos legales.
Reducir la responsabilidad ambiental y social, debido a una disminución de los impactos ambientales negativos.
Mejorar las relaciones con los entes reguladores y Autoridades Ambientales.
Evitar multas y sanciones.
Anticipación a requisitos de la legislación futura.
Optimizar las inversiones.
Reducción de riesgos laborales asociados a cuestiones ambientales.
Sensibilización de los problemas ambientales.
Mejora la imagen interna y externa de las empresas.
Favorece la credibilidad entre las partes interesadas.

Requisitos para aplicar al Sello Ambiental en el Sector Hotelero

Cumplimiento de la legislación ambiental
Sistema de gestión ambiental que incluye:
o Política ambiental
o Programas de gestión ambiental para todas las actividades productos y servicios
o Preparación y respuesta ante emergencias
o Monitoreo y seguimiento
o Compras
o Autoridad y responsabilidad
o Entrenamiento
o Mejora continua
o Uso eficiente de agua
o Uso eficiente de energía
o Manejo de residuos sólidos
o Uso racional de productos químicos

El Turismo en Colombia

En el 2007 Colombia recibió 1.195.440 viajeros, cifra que representó un 13.5% más con respecto a 2006 cuando llegaron 1.053.348 viajeros.
Crecimiento del 48.1% en el número de turistas extranjeros (2005-2006) 1.978.593 en el 2006- 1.335.946 del 2005.
La ocupación hotelera de el año 2006 fue del 56.4 %, y la del año 2007 fue de 57.5%, notándose un incremento del 2.0% entre estos dos periodos.
Ingresaron al país US$ 1.455 millones por turismo (enero a septiembre) lo cual equivale a US$ 337 millones más que el año 2005, con un crecimiento del 30.1% con respecto al 2005.
Tags: alojamiento, Barranquilla, cleaning products, Colombia, eco-certificación, eco-certification, eco-etiquetado, ecolabeling, eficiencia energética, Energy Efficiency, environmental management, estándares internacionales, gestión ambiental, hospedaje, Hotel Puerta del Sol, hotels, Juan Lozano, lodging, MAVDT, productos de limpieza, produtos químicos, residuos sólidos, responsabilidad ambiental, responsabilidad empresarial, sector hotelero, sello ambiental, tourism, turismo, uso eficiente del agua, waste
Subscribe to My Comments Feed
Leave a Reply