« Fighting the Growing Menace of Counterfeit Drugs | Home | Setting the Eco-Benchmark for Cattle Raising / Meat Processing in the Amazon »
By Keith R | March 14, 2007
Topics: Environmental Protection, Sustainable Agriculture, Sustainable Forestry | 4 Comments »
In my "confession and foreword" to the series on deforestation in LAC, I promised to begin with a look at the current state of knowledge about the rate and magnitude of deforestation in in the region. Here is my stab at this topic, building on an entry I originally sketched out last November regarding the PNAS article (see below). All feedback from those more steeped and involved in the issue welcomed!
As I said in my inaugural "Basics" piece, it's difficult to make good policy without a good diagnosis of the problem to be addressed. The trouble is, for deforestation in Latin America and the Caribbean (LAC), like so many areas of environmental management there, the data still needs substantial improvements.
Everybody's Standard Reference: The FAO Assessment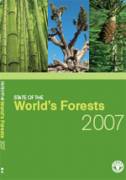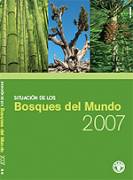 With the notable exception of Brazil (which increasingly is using realtime satellite imaging and other state-of-the-art techniques — see discussion below), most data on LAC forest cover are based on estimates utilizing FAO guidelines on measurement and sampling, supplemented by some double-checking by FAO using independent remote-sensing surveys.
It is this data that is reflected in the UN Food and Agriculture Organization's (FAO) Global Forest Resources Assessment released in 2006, and the just released State of the World's Forests 2007 (Spanish version at this link). The Assessment report has been praised as far more comprehensive, consistent and reliable than past compilations, and thus has become the baseline everyone refers to. The just released "State of" report uses the same baseline (at least for LAC and North America it does — I have not checked other regions), just crunches and presents the data a bit differently.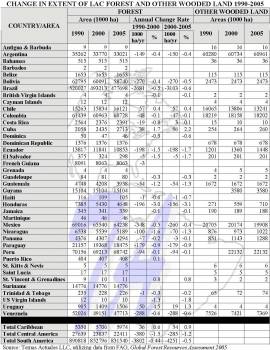 See the chart at right (click to view a larger version) for a summary of the Assessment's relevant data for LAC nations.
While the FAO's Assessment may be better than past forestry data collections, and the confidence level of experts may be high for the data on some or many of the LAC nations, I still have my reservations about LAC entries. For example, just how credible is it that forest cover has not changed even 1,000 hectares over 15 years in Antigua, the Bahamas, Barbados, Belize, the Caymans, the Dominican Republic, Grenada, Guyana, Martinique, Saint Lucia or Suriname? Or that Haiti has only lost 11,000 hectares over that same period (have you seen a satellite image of Haiti lately?).
That said, what does the FAO data set for LAC suggest?
Let's first look at the subregional breakdown — Caribbean v. Central America v. South America. In absolute area terms, South America showed the largest deforestation by far, 8.053 million hectares lost, 72% of that from Brazil alone.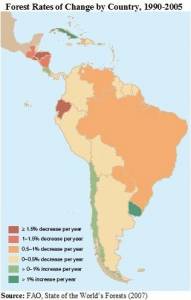 But in percentage terms, the biggest loss was in Central America: percentage loss there in the 1990s was 1.5% per year compared to 0.44% for all of South America, and in the 2000-2005 period, the difference was 1.2% to 0.5%, respectively. This is because the forest cover in South America was so vast to begin with that areas as large as whole American states can disappear and still represent just a percentage point or two.
Looking at the country data (click on map graphic to enlarge), the FAO Assessment finds large losses in total area terms in Brazil, Ecuador, Honduras, Mexico, Paraguay and Venezuela, and in percentage terms in Ecuador, El Salvador, Guatemala, Honduras, Nicaragua, Paraguay and the US Virgin Islands.
Conversely, it shows reforestation or reversal of deforestation underway in Chile, Cuba, Costa Rica, St. Vincent and Uruguay.
Some more factoids from the just-released State of report:
In the 1990-2005 period LAC forest area lost 64 million hectares and slipped from 51% of total land area to 47%.
During the same period other wooded land was stable, accounting for 6% of total land area
The leading cause of LAC deforestation during that period was conversion of forest land to agriculture
Primary forests account for 70% of the region's forest area and 56% of the world's primary forests.
LAC forest area designated for conservation of biological diversity (click on table to enlarge) increased dramatically over the last 15 years, including a 2% per year increase during 2000-2005
While LAC enjoys extremely rich forest biodiversity (over 10 countries with at least 1,000 tree species), it leads the world in the number of tree species considered endangered or vulnerable to extinction. Example: the big leaf mahogany (Swietenia macrophylla), which originates in LAC, became the first tree species listed under Appendix II of CITES requiring special trade documentation.
1999-2003 South American countries reported an average of 26,000 wildland fires per year, burning an average of 5.5 million hectares annually.
Proposal for a New Way of Measuring: "Forest Identity"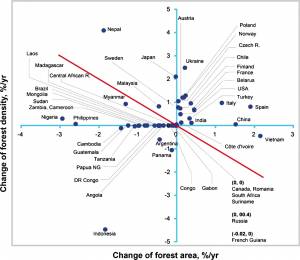 Last November the peer-reviewed journal Proceedings of National Academy of Sciences (PNAS) published a paper by six distinguished international experts in forestry science and economics* that suggested a new way to look at deforestation. Their concept, "forest identity," considers both area and density (trees per hectare) to arrive at a "growing stock" figure. They also calculated biomass and atmospheric carbon stored in forests. It should be noted that their starting point for all these calculations were the data sets in FAO's Assessment report discussed above. The authors hope that their approach will become the norm for the next comprehensive FAO Assessment, slated for 2010.
The results of this "forest identity" analysis for the 50 countries in the world with the most forest — including the LAC nations of Argentina, Brazil, Chile, French Guiana, Guatemala, Panama and Suriname — are reflected in the chart at right sourced from the article (click to enlarge). Nations to the right of the vertical axis expanded their forest area. Nations above the horizontal axis raised tree density. Nations above the diagonal line increased their "growing stock." As you can see, only Chile is above the diagonal.
In absolute terms, Brazil was one of the two (Indonesia the other) that lost the most forest area and growing stock (click on chart to enlarge). In fact, the authors point out that Brazil and Indonesia both lost far more growing stock than did the US or China without harvesting as much timber as the latter two did. Mull that over for a second. It means that much of what Brazil and Indonesia cut down was not even used for timber production.
The article mentions that tree cover actually grew in several LAC nations not covered in the chart above, including Costa Rica and the Dominican Republic.
The article also makes a couple of interesting observations that I'll discuss again later in this series:
Countries with a per capita gross domestic product (GDP) of US$4,600 or more (of which, only Chile qualifies among the 50 charted above), forest resources were stable or increasing. However, it should be noted that there are countries, such as China and India, that do not meet the per capita GDP criterion but have improved growing stock through policy measures even so.
The growth in growing stock in 22 of the "big 50" may mean atmospheric CO2 might not rise as fast as current models suggest.
industrial wood production probably will grow from an estimated one-third of forest plantations now to one-half by 2025 and three-fourths by 2050.
The Pursuit of Better Data
Most LAC nations recognize — as do their aid donors and international agencies that work with them such as FAO and the International Tropical Timber Organization (ITTO) — that if they are to ever get a grip on the deforestation problem, they need better information on its dimensions and causes. This is no small task: FAO estimates that the cost of carrying out a one-time national forest assessment (such as that now underway in Ecuador), based on relatively low-intensity, systematic field sampling, varies from US$500,000- 1 million. FAO has helped prepare detailed national forest assessments for the LAC nations of Costa Rica, Cuba, Guatemala and Honduras.
Meanwhile the World Resources Institute (WRI) reportedly is working with some countries to develop a forest mapping tool utilizing satellite imagery to help track illegal logging operations and guide enforcement officials.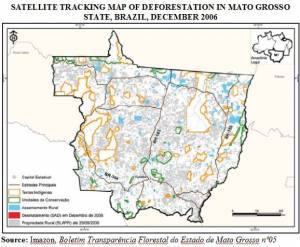 Currently Brazil is the only LAC nation aggressively using "realtime" high-resolution satellite imaging and its analysis to track deforestation and target its enforcement efforts.
However, even though the cost of such satellite use is dropping, few other LAC nations could afford it without financial help from bilateral and multilateral donors. Such investments must be constant and long-term if they are to be effective, and are not really the type of "high profile" projects many donors seek out (although NGOs and the Brazilian Environment Ministry lately have been very effective at using satellite images to dramatize the deforestation problem in the Amazon!).
— Keith R
* The lead author was Pekka E. Kauppi of the University of Helsinki, Finland. The co-authors are Jesse H. Ausubel, Rockefeller University, USA; Jingyun Fang, Peking University, Beijing, China; Alexander Mather, University of Aberdeen, Scotland; Roger A. Sedjo, Resources for the Future, USA; and Paul E. Waggoner, The Connecticut Agricultural Experiment Station, USA.
Tags: Amazon, América del Sur, Antigua, Argentina, Bahamas, Barbados, Belize, big leaf mahogany, biodiversidad, biodiversidade, Biodiversity, Brasil, Brazil, Cayman Islands, Chile, China, CITES, conservación, Conservation, Costa Rica, Cuba, deforestation, desmatamento, Dominican Republic, Ecuador, El Salvador, FAO, Finland, forest cover, French Guiana, GDP, Grenada, growing stock, Guatemala, Guyana, Haiti, Honduras, illegal logging, imágenes satelitales, India, ITTO, logging, Martinique, Mexico, Nicaragua, Panama, Paraguay, Peking University, PNAS.forest identity, primary forests, reforestation, remote sensing, Resources for the Future, Rockefeller University, Saint Lucia, satellite imagery, South America, St. Vincent and the Grenadines, Suriname, Swietenia macrophylla, timber, tree species, University of Aberdeen, University of Helsinki, Uruguay, US Virgin Islands, Venezuela, WRI
4 Responses to "Combatting Deforestation I: How Bad Is It in LAC?"
Leave a Reply