« World Breastfeeding Week in the Americas / Semana Mundial de la Lactancia en las Américas | Home | What the Other Guy Blogs About: Amazon Film Festival; Arguments for Breastfeeding »
By Keith R | August 1, 2007
Topics: Biodiversity, Conservation, Economics & the Environment, Environmental Protection, Sustainable Agriculture, Sustainable Forestry | 1 Comment »
When I launched my series on deforestation in Latin America and the Caribbean (LAC) many months ago, I said I'd try to address different facets of the question in separate posts. My first tackled the question of just how serious is deforestation across LAC. Today, a look at the interface between agriculture, poverty and deforestation.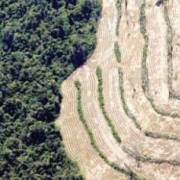 Agriculture, Poverty and Tropical Forests
You've heard or read it many times before — or at least I have. Deforestation in LAC is caused by land-greedy agricultural producers (both small and large) utilizing non-sustainable practices to clear off land for some cash crop. When I was in graduate school long ago, everybody pointed to cattle raising and threatened boycotts of McDonalds. In the last ten years, many people pointed to soya, particularly in Brazil, and threatened boycotts of McDonalds. Lately it is biofuel — _____ (insert your current "fear of choice" in the blank space, whether sugarcane, oil palms, or again soya) — that has people worriedly predicting massive, unstoppable deforestation in LAC.
The other common bogeyman, poor people living in or near forests, are also often widely blamed. For example, if you were to believe many Dominicans, most deforestation in the DR is caused by poor Haitians chopping wood and clearing brush for home fuel — as if Dominicans themselves did not practice slash-and-burn agriculture.
As I said in the introduction to this series, I've always wondered how much these two factors — agriculture and poverty — really play in deforestation (versus people's perceptions of the role that they play), particularly in the LAC context. For example, is promotion of agricultural production inevitably at odds with protecting forests?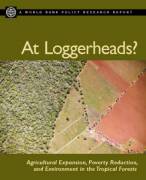 At Loggerheads?
Last September the World Bank came out with a study* that tries to tackle some of these issues. I think that it offers some important insights, and I have added it to the Temas Recommended Reading List. English, Spanish and Portuguese executive summaries are available for download.
The report specifically tries to improve diagnosis of, and facilitate dicussions and development of policy solutions to, two issues related to environmental management and regional development policies:
Some people benefit, and some people are harmed, when forest is degraded or converted to agriculture. How should society intermediate between these groups?
How pervasive is poverty among forest dwellers? What approaches are needed to address it? And how do policies for reducing forest poverty relate to those for mitigating deforestation?
Myths, Theories, Data Gaps and The Three Types of Forests in LAC
Frankly, the report provides too much food for thought to cover it all adequately in a single blog post. One key perspective is just how little we know yet about the root causes, linkages and interactions behind deforestation, and what needs to be done to rectify those knowledge gaps (more on how to address this below). As the report argues, monitoring, information and analysis is crucial because "without this information, policy makers are flying blind, and interest groups lack a solid basis for dialogue." For example:
despite all the expressions of concern about deforestation, among LAC nations only Brazil reports forest cover on a regular basis.
despite the billions spent on setting up conservation areas, "there has been little analysis of their conservation and development impacts and how these are related to their funding, management strategies and context."
there are few studies and tools for quantifying the benefits of forest conservation based on "local environmental services", and relating them to specific interventions in specific places.
there is only sparse information and study on forest poverty;
information on global distribution of biodiversity is inadequate, and systematic sampling of biodiversity is lacking.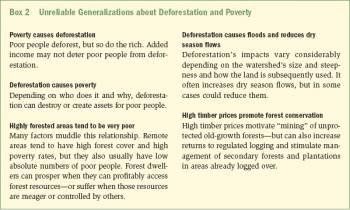 A second key perspective involves all the unreliable generalizations people tend to make about linkages between poverty and deforestation (see box – click to enlarge). "It is said that people destroy forests because they are poor, and that deforestation causes poverty — but generalizations are a poor foundation for policy," Kenneth Chomitz, the report's lead author, has declared. "We find that deforestation is caused by both rich and poor people — and it can either destroy or create assets for people."
The third key perspective offered is that effective diagnosis of some of the problems and possible policy responses thereto all may depend on the type of tropical forest involved. What might work in one — such as an environmental services payment not to deforest — may fail in another, usually (but not exclusively) for economic reasons. For the purposes of this report, such forests are divided into three types (shown in image to the right – click to enlarge):
Forest-agriculture mosaics (e.g. the Mesoamerican Biodiversity Corridor, the South American Atlantic forest)
Frontier and disputed areas
Areas beyond the agricultural frontier (e.g. the heart of the Amazon basin)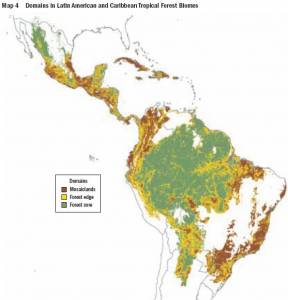 Mosaiclands
Mosaiclands are where forests and agricultural production coexist. They tend to be more densely populated than the other two types, and forests in these zones are fragmented — which often means the local unique species are under stress, if not threat of extinction. In Latin America about 20% of these lands were degraded during the 1990s.
To combat deforestation in these zones, the report recommends carbon finance and biodiversity finance. "Environmental service" programs might also be justified, but the report counsels caution in selecting projects for these zones. It points out, for example, that too many such projects were funded based on the myth that forests generate water, when in fact the best payoffs tend to come from watershed management projects in small steep basins and erodible river margins.
The type of environmental service programs that the report suggest instead include:
programs like those in Costa Rica and Mexico that pay landholders to sustainably maintain natural forests;
Frontier and Disputed Areas
In these zones sustainable forestry projects often cannot compete economically with commercial crop cultivation, such as soy in Mato Grosso, Brazil. Conversion of forest to pasture in such zones yields few economic and employment benefits but large CO2 emissions, yet is hard to stop.
Here the report suggests policy interventions (see below), plus payments to preserve existing forest as a carbon store rather than paying to convert pasture back into agroforestry. For example, carbon financing might pay US$1,500-10,000 per hectare to prevent frontier forest from being converted to pasture, whereas pasture at the Ecuadorian frontier currently is worth only $150 to $500 a hectare; at the Bolivian frontier, $24 to $500.
As for frontier land already cleared, the report suggests supports for more intensive but environmentally sustainable agriculture on the existing cleared lands.
Areas Beyond the Frontier
The report points out that most of Latin America's forest still remains beyond the frontier, with few inhabitants and most of them poor and not inclined to destroy forests. In these zones now is the time to create new protected areas and install the policy and institutional infrastructure to keep them protected effectively. The report also suggests stress on titling and physical demarcation of indigenous lands in frontier regions as a strategy to maintain forests.
Policy Recommendations to National Governments
The report examines in detail a number of policy tools and options national governments may utilize, but they basically boil down to:
Tenure, zoning, and land-use regulation

revisit the ownership and management of government lands
implement systems to enforce property rights
regulate the exploitation of public and private forests
promote participatory planning for land management.
Making forest management more attractive relative to agriculture

funding or facilitating markets for environmental services
researching, developing, and disseminating environmentally friendly land management practices
removing barriers to sustainable management of forests for timber and other products.
Coordinating regional development interventions (such as road network expansion and agriculture policies) -— to exploit synergies between, or minimize trade-offs between, environmental and livelihood goals.
Monitoring, Transparency and Compliance. The report calls on nations to

create systems for monitoring forest conditions and forest dwellers' welfare;
make land and forest allocations and regulations more transparent;
support civil society organizations that monitor regulatory compliance by government, landholders and forest concessionaires.
make forest and land use regulations more efficient, reformulating them to minimize monitoring, enforcement and compliance costs, perhaps incorporating economic instruments.
Recommendations to the International Community
On the international side, two areas for cooperation stand out: (1) financing forest environmental services; (2) addressing monitoring and information needs.
On the former, the report urges internationally financed incentives for avoiding deforestation and stimulating forest regrowth, namely:
mobilize carbon finance to reduce deforestation and promote sustainable agriculture. The report cautions, though, that any such efforts must be coupled with research, development and diffusion of environmentally friendly agricultural technologies and practices, or else run the risk of creating or exacerbating environmental problems associated with intensive agriculture, such as euthropication, pesticide pollution and emergence of new pathogens related to animal husbandry.
mobilize finance for conservation of globally significant biodiversity.
As for addressing current information gaps, the report suggests that these are not hard or expensive to plug given new remote sensing options and the World Bank-WWF survey tool for protected areas. The report urges:
finance national and global efforts to monitor forests and evaluate the impacts of forest projects and policies — including devolution of forest control;
foster the development of national level research and evaluation organizations through twinning with established foreign partners.
— Keith R
* Chomitz, Kenneth H., et. al. At Loggerheads? Agricultural Expansion, Poverty Reduction and Environment in Tropical Forests. Published by the World Bank. 2006. [ISBN: 0-8213-6853-2]
Tags: agricultura, agricuture, agroforestry, Amazon basin, animal husbandry, Atlantic Forest, Banco Mundial, biodiversidad, biodiversidade, Biodiversity, biodiversity finance, Bolivia, Brasil, Brazil, carbon credits, carbon finance, carbon store, civil society, Colombia, Conservation, Costa Rica, créditos de carbono, deforestation, desmatamento, Ecuador, environmental services, euthropication, forest cover, forest management, frontier areas, GEF, land use, landholders, Mata Atlântica, Mato Grosso, Mesoamerican Biodiversity Corridor, mosiaclands, Nicaragua, pasture, pesticide pollution, pobreza, poverty, remote sensing, soja, soy, soya, Sustainable Agriculture, sustainable forestry, tenure, transparencia, transparency, tropical forests, watershed management, World Bank, WWF, zoning
One Response to "Combatting Deforestation II: Agriculture and Forests"
Miche Says:
August 6th, 2007 at 10:35

Hopefully the new Bagazo endeavor will help with that problem since they use sugar waste – no added demand for a crop, unlike most other biofuels, as you mentioned.
Leave a Reply