« More Construction with PET Bottles | Home | IDB Finances Brazilian Wind Tech Exports to US »
By Keith R | November 21, 2006
Topics: Environmental Protection, Waste & Recycling | 4 Comments »
In Part I I looked at Andreas' work on building housing and other structures out of discarded materials such as PET bottles and tire rims. Here is a guest blog authored by Andreas himself. I asked him to share the challenges he faced in making such projects successful in a poor country such as Honduras, and what lessons he gained from the experience that he could share with others contemplating similar efforts in other Latin American and Caribbean (LAC) nations. My thanks to Andreas for taking the time to contribute his insights.
If you cannot read Spanish, plug the URL of The Temas Blog into the language tools page of Google, select "Spanish to English" and it will translate the entry for you.
If you know of other interesting experiments in recycling wastes in LAC nations that you believe should get greater exposure, don't hesitate to contact me.

—————————————
En Parte I discutí el trabajo de Andreas en construir viviendas y otras estructuras utilizando los materiales desechados tales como botellas de PET y rines. Aquí publico un ensayo invitado ("guest blog") escrito por Andreas mismo. Pedí que él compartiera los desafíos que él enfrentaba en hacer exitosos tales proyectos en un país pobre tal como Honduras, y qué lecciones él ganó de la experiencia que él podría compartir con otras personas que comtemplan esfuerzos similares en otras naciones de América Latina y el Caribe (ALC). Agradezco a Andreas por tomar tiempo para compartir sus perspectivas aqui en The Temas Blog.
Si conozca de otros experimentos interesantes en reciclar los residuos en las naciones de ALC que cree Ud. debe tener mas difusión, contactame.
— Keith R
Durante los 12 años radicado en Honduras y a través del intercambio con otros países de Latinoamérica he podido desarrollar algunas concepciones propias sobre el tema de los residuos sólidos y como trabajar con ellos y la comunidad.
Definitivamente no es fácil asumir esta tarea si se quieren resultados.
La mentalidad de las personas en todo nivel es el gran obstáculo, pues los estigmas alrededor de la basura y el rechazo que estos generan hacia ella son grandes, estigmas que están presentes en todos los niveles de la sociedad y obviamente alcanzan también a la clase política que es de donde deben venir las soluciones.
Este preámbulo me permite introducir el tema para hacerles saber que la tarea no ha sido fácil, antes de darle forma física a mi iniciativa de construir con "basura", leí y vi incontables estudios que hablaban del problema de las basuras y muy pocos planteaban una solución, ante eso me puse en la tarea de echar mano de mi creatividad (arma que considero muy oportuna para impulsar un cambio de vida) y crear estrategias para reducir y reutilizar desechos sólidos.
Es así que puedo enumerar varios desafíos enfrentados al querer implementar mi invención:
Las organizaciones responsables o interesadas en el tema querían estudios sobre la problemática a los que siempre me he negado.
Existe un fuerte rechazo frente el tema de la "basura"
El tratamiento en toda la población es igual, no les interesa donde y que se hacen con la basura, lo importante es no tenerla cerca.
Motivar a personas pobres o ricos para que trabajen con la basura como una forma de sostener su familia es difícil. Lo más que se logra son días de limpieza donde personas que no botaron la basura limpian sitios que otros ensuciaron.
Nadie creía en una casa de botellas, este esquema no existe en la cabeza de las personas.
Casi en todas los países de Latinoamérica se quiere lograr grandes resultados en el manejo de residuos a través de campañas de educación, pero nosotros capacitamos con obras construidas
La gran mayoría creen que solo el cemento y el hierro son materiales de construcción.
Las construcciones hechas con materiales no convencionales son fácilmente estigmatizados, pues las personas de bajos recursos desean vivir como "ricos" y estos viven en casa de cemento.
Mi idea fue mostrar la utilidad de la basura, especialmente de la botella de PET, desperdicios de construcción y desechos orgánicos, generando un beneficio, a través del cual las personas se veían obligadas a clasificar y reutilizar los desechos si querían acceder a una construcción.
Así decidí invertir mi propio dinero en la construcción de la primera casa de botellas, con un diseño bonito y versátil, invité a numerosas personas y organizaciones a conocerla, para así generar un nuevo paradigma "la basura si tiene valor y se puede hacer cosas realmente útiles con ella"
En este proceso de construir con basura que yo llamo investigación empírica pude darle valor agregado a mis invenciones aspectos como:
reducir la dependencia del cemento, puedo construir con muy poco o casi nada de cemento,
mejor aprovechamiento de materiales locales en combinación con las botellas, pude utilizar rines en la elaboración de columnas.
Incluir como mano de obra a todas las personas de la comunidad que deseen participar en la construcción, esto incluye a personas discapacitadas, mujeres y niños.
En este proceso he aprendido que el mayor obstáculo para el desarrollo de propuestas innovadoras es la clase política y las grandes empresas, pues se conforman con los estudios sin pasar a la acción y el miedo de las personas al cambio.
A pesar de ello se logran resultados no tan grandes y a gran escala como quisiéramos pero se dan resultados sorprendentes una vez se da confianza a unos y otros.
El último ejemplo exitoso por ejemplo es que un grupo de campesinos que vivieron en condiciones precarias e inhumanas han aprendido a construir sus propias casas con la técnica de la botella y actualmente están construyendo 8 viviendas más con el apoyo económico de una ONG irlandesa.
Las experiencias con las personas que participaron en nuestros proyectos puedo decir que:
La botella de PET como materia prima, reduce altamente los costos, es muy resistente y no exige tanto cemento.
La gran mayoría de las personas entiende que esta técnica les favorece y la pueden aprender rápidamente.
Una vez terminada una construcción la comunidad ha participado en campañas de clasificación de desechos y ha podido ver, vivir y beneficiarse de ellas.
No se requiere ser albañil poseer un estudio en construcción para aprender la técnica.
Para que los costos compitan con la construcción tradicional, debe hacerse con el sistema de autoconstrucción y construcción comunitaria.
Tienen mas aceptación los colectores de agua que las casas, pues estos no están pueden ser estigmatizados, la gente ve es la facilidad de encontrar agua.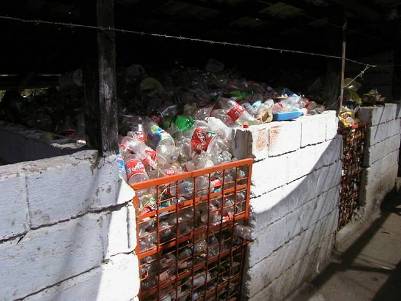 La sugerencia mas importante a tomar en cuenta cuando se inicia un proyecto similar es INICIAR CON ANTERIORIDAD LA CAMPAÑA DE RECOLECCION DE BOTELLAS, aproximada 100 botellas (2 litros) 140 (0.5 litros) — POR METRO CUADRADO, de los contrario su trabajo deberá perder un tiempo valioso en la recolección y la obra se parara.
Se requiere de estrategias cuando se desea desarrollar una invención como estas y definitivamente se ocupa voluntad política para desarrollar este tipo de proyectos a mayor escala y con una visión ambiental social.
Otra gran verdad es que si no hay medios de comunicación interesadas en nuestros inventos tampoco avanzamos, estos nos han ayudado a despertar interés y mayor confianza.
Una oportunidad a aprovechar es que los empresarios más y más tienen que cumplir normas ambientales y buscar ventajas frente a sus competidores y en este espacio podemos ofrecer algo.
Yo espero que hoy o mañana también las organizaciones grandes de desarrollo miren el potencial que ofrece nuestro sistema de construir y manejar problemas sociales en nuestro ambiente.
Al fin tengo fe que tenemos un diseño que da respuesta a varios problemas y esto es que cuenta.
— Andreas Froese
Tags: basura, botellas PET, cemento, creative recycling, desechos orgánicos, desperdicios de construcción, garrafas PET, Honduras, lixo, materiales reciclados, PET bottles, reciclagem, reciclaje, recycling, residuos, rines, tire rims, trash, waste
4 Responses to "Como tener éxito trabajando con "basura" en Latinoamérica"
Leave a Reply