« Trash Photos XVIII: Fluorescent Lamp Collection in Brasilia | Home | Ceará Adopts Lamp and Battery Take-Back Law »
By Keith R | June 19, 2009
Topics: Conservation | No Comments »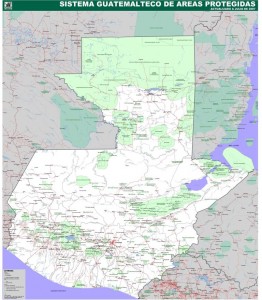 From the Inter-American Development Bank (IDB):
Guatemala strengthens protections for sensitive areas through investments in land registration

A $22 million IDB loan will finance the implementation of a physical cadastral registry for protected areas

Guatemala will bolster its national network of protected areas by improving its land registration system with a $22 million loan from the Inter-American Development Bank.

The loan will enable Guatemala to provide legal and geographical certainty for the nationally managed areas that comprise the Guatemalan System of Protected Areas (SIGAP, for its acronym in Spanish) by establishing a state-of-the-art physical cadastre of these areas.

Guatemala has taken ambitious steps to protect its unique natural, cultural, and historical heritage. Protected areas and national parks under SIGAP cover 31 percent of the national territory. The SIGAP includes 241 protected areas officially established to safeguard biodiversity, scenic beauty and cultural conservation.

But lack of a cadastre and legal certainty concerning land ownership in Guatemala has led to land use disputes and environmental degradation in several protected areas. This is especially true in Guatemala's northern department of Petén, where forestry activity and pressure on natural resources is greater than in the southern part of the country.

The IDB loan will support the creation of a new cadastral database of protected areas, along with activities to strengthen legal certainty in protected areas. These will include technical support, interagency coordination, and use of cadastral and registry information.

The loan will allow Guatemala to provide for territorial assessments, private property registry assessments in the protected areas, information dissemination strategies related to each protected area, the physical demarcation of the limits of the protected areas with monuments and signage and classification and demarcation of internal protection zones.

This program will follow the land regularization work plans formulated by the Cadastral Information Registry of Guatemala (RIC for its acronym in Spanish), which were launched in the 10 protected areas of in the northern region of Petén, followed by 11 protected areas in the southern region.

The IDB loan is made up of a US$17.6 million loan for 30 years, with a six-year grace period, and a US$4.4 million loan for 40 years, with a 40-year grace period.
_________________
Desde el Banco Interamericano de Desarrollo (BID):
Guatemala fortalece sistema de áreas protegidas mediante inversiones en registro de tierras

Un préstamo de US$22 millones del BID financiará la implementación de un registro físico catastral en áreas protegidas

Guatemala fortalecerá su red nacional de áreas protegidas mejorando su sistema de registro de tierras mediante un préstamo de US$22 millones del Banco Interamericano de Desarrollo (BID).

El préstamo le permitirá a Guatemala proveer seguridad legal y geográfica a áreas bajo administración nacional que forman parte del Sistema Guatemalteco de Áreas Protegidas (SIGAP), creando un catastro físico de última generación.

Guatemala ha dado grandes pasos para proteger su singular herencia natural, cultural e histórica. Las áreas protegidas y los parques nacionales en el SIGAP cubren 31 por ciento de su territorio. El SIGAP incluye 241 áreas oficialmente protegidas, creadas para salvaguardar la biodiversidad, la belleza natural y la conservación cultural.

No obstante, la falta de un catastro y seguridad legal vinculados a la propiedad ha desembocado en disputas por el uso de tierras y una degradación ambiental en varias áreas protegidas. Así sucedió en el departamento norteño de Petén, donde la actividad forestal y las presiones sobre los recursos naturales son mayores que en el sur de Guatemala.

El préstamo del BID apoyará la creación de una nueva base de datos catastral de áreas protegidas y fomentará otras actividades para fortalecer la seguridad legal en áreas protegidas. Entre esas acciones figuran el apoyo técnico, la coordinación entre agencias y el uso de información catastral y de registro.

El préstamo le permitirá a Guatemala proveer una valoración territorial, así como una valoración en el registro de propiedad privada en áreas protegidas, además de la formulación de estrategias de diseminación de información vinculadas a cada una de las áreas protegidas, la demarcación física de los límites de áreas protegidas mediante monumentos, señales y demarcación de las zonas internas de protección.

El programa estará en concordancia con los planes de trabajo para la regularización de tierras formulados por el Registro de Información Catastral de Guatemala, que están en marcha en 10 áreas protegidas del norte de Petén, además de 11 áreas protegidas al sur.

El apoyo financiero del BID está compuesto por un préstamo de US$17,6 millones a 30 años, con un período de gracia de seis años, y un préstamo de US$4,4 millones a 40 años, con un período de gracia de 40 años.
Tags: áreas protegidas, BID, biodiversidad, Biodiversity, conservación, Conservation, environment, Guatemala, IDB, land registration, medio ambiente, national parks, parques nacionales, Petén, protected areas, RIC, SIGAP
Subscribe to My Comments Feed
Leave a Reply