« Toward Brazilian Environmental Norms for Electro-Electronics | Home | A Smokeless Rio? »
By Keith R | August 16, 2009
Topics: Conservation | No Comments »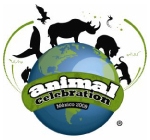 I've been in Mexico City this past week for a UN Development Programme (UNDP) consultation on biodiversity and ecosystem services (more on that in a future post).  Every time I visit Mexico City I like to stroll the Paseo de la Reforma, the City's beautiful answer to Paris' Champs-Élysées.  One of the reasons (besides people watching) is that there is always art on display.
At this particular time there is a series of sculptures intended to educate the average Mexican about endangered species. The displays are arranged by a coalition of entities, including the government of the City of Mexico (GDF), Mexico's Environment Ministry (SEMARNAT), and the Committee for the Preservation of Wild Species (Comité para la Conservación de Especies Silvestres, A.C. – Naturalia).  Each sculpture has a plaque giving a factoid about the particular endangered species (such as the panda being born practically blind) plus its current plight — see the example below of one for the panda (Ailuropoda melanoleuca). Many plaques also bear the logo of whoever helped pay for an individual display — whether an NGO, corporation, government entity, etc.  For more information on the collection, see the site dedicated to it, www.animalcelebration.com.mx
These pictures below (click to see larger versions) are of sculptures interpreting a blue whale's (Balaenoptera musculus) tail. Mexico has a special interest in whales because of the sanctuary in the bay of Baja California, where whale-watching has become very popular (and good eco-biz).
These sculptures below (click to see larger pictures) are interpretations of a golden eagle (Aquila chrysaetos Linnaesus), which the Mexicans call the royal eagle. I like how the artist for the one on the left put the nation's colors under one wing.  This bird is found within Mexico mostly in Zacatecas and Jalisco.
The photos below (click to see larger versions) are of sculptures interpreting the jaguar (panthera onca). These sculptures are designed to draw families and kids, and there were many on this Saturday afternoon taking pictures with the sculptures and reading the plaques. One down side: kids are hands-on, and consequently some of these sculptures are missing chunks — check out the red balls on the one jaguar's back. I actually saw a teenager pull one off while I was waiting to take a picture.
These photos (click to see larger versions) are of sculptures regarding a very rare and very endangered type of porpoise only found in Mexico known as the vaquita marina ("little sea cow") (Phocoena sinus). I heard quite a bit about this particular animal during the biodiversity consultation, since there are special efforts underway to protect it that Mexican officials seem to feel are emblematic.  Why is the one on right decked out this way?  Evidently the animal was described by indigenous groups 400 years ago.
These are variations of rhinos (which, far as I know, are not found in Mexico).  The kids love to play on the one on the right! It's call the Rhino Marimba. And yes, it does make musical sounds.
These photos (click to see larger versions) are of two of the interpretations of the Resplendent Quetzal (Pharomachrus mocinno), a beautiful and colorful bird found in southern Mexico and Central America.
These sculptures are of the gulf sea turtle.
Tags: águila real, Ailuropoda melanoleuca, Animal Celebration, Aquila chrysaetos Linnaesus, Baja California, Balaenoptera musculus, ballenas, Central America, Ciudad de Mexico, endangered species, golden eagle, jaguar, Jalisco, marimba, Mexico, Mexico City, Naturalia, oso panda, panda, Paseo de la Reforma, Pharomachrus mocinno, Phocoena sinus, Resplendent Quetzal, rhino, SEMARNAT, vaquita marina, whale sanctuaries, whale watching, whales, Zacatecas
Subscribe to My Comments Feed
Leave a Reply