« Energy Efficiency Program for Caribbean Hotels Launched | Home | One Million Environment-Friendly Homes »
By Keith R | March 25, 2009
Topics: Conservation | No Comments »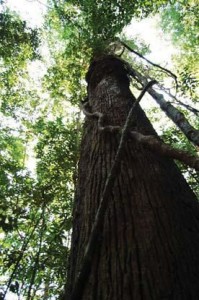 From the Brazilian Development Bank (BNDES):
BNDES receives US$ 110 million from Norway for the Amazon Fund

The President of the BNDES, the Brazilian Development Bank, Luciano Coutinho, signed the first donation agreement with the Norwegian government earmarked for the Amazon Fund. Through this agreement, the Fund managed by the BNDES will receive US$ 110 million (700 million Norwegian crowns) with disbursements to be made in 2009 and 2010. The funds are part of the US$ 1 billion donation to be fully transferred by 2015.

Set up late in 2008, the new fund intends to cover non-reimbursable loans for actions taken towards the prevention and monitoring of, as well as the struggle against, deforestation. The funds will be tapped based on the effective reduction of the effect of greenhouse gases on the atmosphere, resulting from the deforested areas in the Brazilian Amazon.

That strategy has never been applied before, as it was proposed by the Brazilian government during the Conference of the Parties, in Bali, promoted by the United Nations to discuss the climatic conditions of our planet. For the first time, the struggles against deforestation will include several far-reaching efforts to promote sustainable development of the Amazon.

The initiatives that may be supported by this Fund are classified into four main categories:

Support to sustainable activities for the production, marketing and use of natural resources from the Amazon Biome. These must be effective alternatives to substitute projects directly or indirectly involved in deforestation actions;
Conservation and Safeguarding of Protected Areas;
Scientific and Technological Development related to the sustainable use of biodiversity; and
Institutional upgrading and development of entities operating against the deforestation of the Amazon.

Donations may be made by governments, companies and individuals. The BNDES will issue a diploma for each contribution to the Amazon Fund, identifying the donator and the amount donated to help cut down on carbon gas emissions.

Environment – The fund will be managed by the Environmental division, set up in February 2009, in the BNDES, in view of the growing relevance of this issue in the analysis of projects funded by the Bank. Derived from the former Environmental Department, the new division aims to underpin BNDES' environmental policy.

One of its duties is to improve the BNDES' understanding and management in handling environmental issues, contributing to boost the Bank's participation in international environmental forums affecting the sector.

The new division is also in charge of developing financial products focused on the environment. One of the goals is to carry out fixed or variable income financing operations to enable energy-efficiency projects, technological development targeted at the environment, mitigation of climatic changes, forests or other sustainable activities that contribute to the development of carbon markets and projects for the Clean Development Mechanism (CDM) in Brazil.
________________
Desde o Banco Nacional de Desenvolvimento Econômico e Social (BNDES):
BNDES recebe US$ 110 milhões da Noruega para Fundo Amazônia

O presidente do Banco Nacional de Desenvolvimento Econômico e Social (BNDES), Luciano Coutinho, assinou o primeiro contrato de doação com o governo da Noruega destinado ao Fundo Amazônia. O Fundo, administrado pelo BNDES, receberá por este contrato o equivalente a US$ 110 milhões (700 milhões de coroas norueguesas) com desembolsos previstos para 2009 e 2010. Os recursos são parte da doação de US$ 1 bilhão prevista para ser repassada integralmente até 2015.

Criado no fim do ano passado, o novo fundo será destinado a financiamentos não reembolsáveis de ações que contribuam para a prevenção, monitoramento e combate ao desmatamento da floresta. A captação de recursos é baseada na efetiva redução de emissões de gases de efeito estufa para a atmosfera decorrente das áreas desmatadas na Amazônia brasileira.

Trata-se de mecanismo inédito, proposto pelo governo brasileiro, durante a Conferência das Partes, em Bali, promovida pela ONU para debater as condições climáticas do planeta. Pela primeira vez, o combate ao desmatamento incluirá uma série de ações abrangentes de forma a promover o desenvolvimento sustentável da Amazônia.

As iniciativas passíveis de apoio do Fundo estão classificadas em quatro grandes categorias:

Fomento a atividades produtivas sustentáveis de produção, comercialização e uso dos recursos naturais do Bioma Amazônia que se constituam em alternativas aos empreendimentos que hoje direta ou indiretamente concorrem para o desmatamento;
Conservação e proteção de Áreas Protegidas;
Desenvolvimento científico e tecnológico ligado ao uso sustentável da biodiversidade; e
Modernização e desenvolvimento institucional de órgãos atuantes contra o desmatamento na região amazônica.

As doações poderão ser feitas por governos, empresas e pessoas físicas. O BNDES emitirá um diploma para cada contribuição ao Fundo Amazônia, identificando o doador e a parcela de suas contribuições ao esforço de redução das emissões de gás carbônico.

Área de Meio Ambiente – O fundo será administrado pela área de Meio Ambiente, criada em fevereiro de 2009, no BNDES, diante da crescente relevância da questão na análise dos projetos financiados pelo Banco. Originária do antigo Departamento de Meio Ambiente, a nova área terá como principal objetivo reforçar a política ambiental do BNDES.

Uma de suas atribuições será aprimorar o conhecimento e a gestão do BNDES no tratamento das questões ambientais, contribuindo para maior participação do Banco nos fóruns internacionais sobre temas que afetem o setor.

A nova área também será responsável pelo desenvolvimento de produtos financeiros voltados para o meio ambiente. Um dos objetivos é realizar operações de financiamento, de renda fixa ou variável, que viabilizem projetos voltados para eficiência energética, desenvolvimento tecnológico dirigido ao meio ambiente, mitigação de mudanças climáticas, florestas ou outras atividades sustentáveis que contribuam para o desenvolvimento de mercados de carbono e projetos de Mecanismo de Desenvolvimento Limpo (MDL) no Brasil.
Tags: Amazon, Amazon Fund, áreas protegidas, biodiversidade, Biodiversity, BNDES, Brasil, Brazil, carbon markets, CDM, clean development mechanism, deforestation, desmatamento, eficiencia energética, Energy Efficiency, Fundo Amazônia, mecanismo de desenvolvimento limpo, Noruega, Norway, protected areas
Subscribe to My Comments Feed
Leave a Reply