« US$200 mil. for Water & Sanitation in Argentina / US$200 milliones para agua y saneamiento en Argentina | Home | Brazil Will Monitor All Its Biomass by Satellite »
By Keith R | November 20, 2008
Topics: Conservation | No Comments »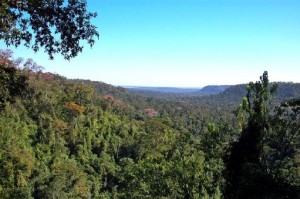 From WWF:
Paraguay moves closer towards zero net deforestation

Paraguay's Congress has today unanimously voted to extend the country's "Zero Deforestation Law" by another five years. The law, which came into force in December 2004 and was effective in slashing deforestation rates massively, was due to expire at end 2008.

Three commissions — Energy and Natural Resources, Agrarian Reform, and the Legislature Commission of the Senate — made strong presentations supporting extension of the law, including the degree of devastation of the Atlantic Forest, the lack of land use planning, the benefits the region is losing through deforestation i.e. biodiversity loss, siltation of water courses, pollution of the Guarani Aquifer, destruction of cultural traditions, and the disappearance of family farms, among others. They also gave emphasis to the importance of maintaining the remaining and highly threatened Atlantic Forest.

Until 2004 Paraguay registered the highest deforestation rate in the Americas and second in the world. Nearly 7 million hectares of Atlantic Forest was lost to slash-and-burn for agricultural and ranching use over nearly four decades. This changed rapidly with the Land Conversion Moratorium for the Atlantic Forest of Paraguay, also called the "Zero Deforestation Law". However, this law was scheduled to expire in December 2008 if Paraguay's Legislature did not extend it. Decades of deforestation and devastation cannot be recovered in just four years of moratorium.

One of the main foci of the senate discussion was also how deforestation and degradation influence climatic changes and how much these changes can affect the agricultural and livestock production of the region. Deforestation over the last four decades has caused Paraguay to lose much of its important timber production, and making the country rapidly into a wood importer.

The Senate also acknowledged the success of reducing deforestation by close to 90% in just four years of the moratorium, and the support of national and international organizations in providing assistance in monitoring implementation of this legislation.

With this extension, the Government of Paraguay has once again honoured its commitment made at the CBD COP9 (in Bonn, Germany) and at the IUCN World Congress (in Barcelona, Spain), to support WWF's call for zero net deforestation by 2020.

Paraguay's Minister of the Environment has expressed his satisfaction with Congress's approval of this important law. He has committed to work towards including other regions of the country, such as the Chaco and Pantanal, in this Land Conversion Moratorium.

There is though much to be done. WWF is working with the Government of Paraguay and local NGOs to implement financial and legal mechanisms such as Payments for Environmental Services (PES) and the Program of Conformance with the Forest Legislation (CFL), to truly achieve zero net deforestation in the country's Atlantic Forest.
___________________
Desde WWF-Paraguay:
Hacia la meta de deforestación cero

Por voto unánime el Congreso de la República del Paraguay, ha extendido la ley de moratoria para el cambio de uso de suelo, conocida como la Ley de Deforestación Cero. La ley que se puso en vigencia por primera vez en nuestro país en el año 2004 y cuya primera prórroga fue bajo la ley número 3.139 en el año 2006.

El 20 de noviembre, en la antesala de la cámara de senadores, los voluntarios Patricia Roche, Viviana Villalba, Liliana Caballero, Nicoletta Paglieri, Fernando Sánchez, Carlos Insfrán, fueron testigos de un momento histórico en la legislatura de nuestro país. Por primera vez desde que estuviera en vigencia la ley de moratoria al cambio de uso de suelo, era aprobada por un periodo de cinco años.

Lágrimas, abrazos y felicitaciones entre voluntarios y representantes de WWF Paraguay, fueron parte de las expresiones, luego de un intenso trabajo de más de un año en la realización de lobby con miembros de ambas cámaras, reuniones con instituciones públicas y ONGs ambientalistas, recolección de firmas de ciudadanos y charlas de concientización por todo el bloque sur del BAAPA.

Tres comisiones, Energía y Recursos Naturales, Reforma Agraria y la Comisión Legislativa de la cámara de senadores, dieron un fuerte apoyo a esta ley, incluyendo el actual escenario de devastación del Bosque Atlántico del Alto Paraná y la planificación del uso de suelo, las virtudes que esa zona está perdiendo a causa de la deforestación (pérdida de biodiversidad, colmatación de los cursos de agua, contaminación del Acuífero Guaraní, destrucción de culturas ancestrales y el empobrecimiento de los pequeños granjeros, entre otros)

Estas comisiones, también dieron una gran importancia a trabajar por lo que queda de ésta eco región, porque el peligro de perder los últimos remanentes boscosos debido a la deforestación está llegando a un punto donde el daño puede ser irreversible.

Antes del año 2004, Paraguay registraba uno de los índices más altos de deforestación en América, y a nivel mundial era el segundo. Durante cuarenta años, cerca de 7 millones de hectáreas del Bosque Atlántico del Alto Paraná fueron perdidas (taladas o quemadas) para utilizar esos suelos con fines agrícolas y ganaderas.

Con la introducción de la moratoria para el cambio de uso de suelo en la Región Oriental, conocida también como Ley de Deforestación Cero, el índice se redujo 85%. Sin embargo esta ley expiraba en Diciembre de 2008 y el documento legislativo no contemplaba más prórrogas. Décadas de deforestación y devastación no pueden ser recuperados en tan solo cuatro años de moratoria.

Un de los principales focos de discusión en el senado, fue también la influencia de la deforestación y la degradación de los bosques en el cambio climático y como ello afecta de manera directa a la producción agrícola de la región. Sobre todo debido a la sostenida deforestación ocurrida durante las últimas décadas, el Paraguay ha perdido un importante volumen en su producción forestal y se ha convertido en un importador de madera.

El senado también reconoció el éxito de la reducción de cerca del 90% de los índices de deforestación en tan solo cuatro años de moratoria, así como el gran apoyo que han dado las organizaciones nacionales e internacionales para proveer asistencia en el monitoreo de la implementación de esta ley.
Tags: Aqüífero Guarani, Atlantic Forest, biodiversidad, Biodiversity, Bosque Atlántico, Chaco, deforestación, deforestation, desmatamento, Guarani Aquifer, IUCN, Mata Atlântica, Pantanal, Paraguay, PES, WWF
Subscribe to My Comments Feed
Leave a Reply