« Changes in the Wind in LAC | Home | Trash Photos VI: Husk Mountains »
By Keith R | October 21, 2006
Topics: Corporate Social Responsibility, Environmental Protection, Marine/Coastal Issues, Sustainable Tourism | No Comments »
At the end of my primer on protection of coral reefs in Latin America and the Caribbean (LAC), "What You Can Do," I urged individuals and businesses alike that interact with LAC environments containing coral reefs to take actions designed to minimize their environmental impact on the reefs, and provided a checklist of tips in that regard.
Since then I've been asked if there are good "official" (i.e., more than just Temas urging) checklists and/or guides I could point to, especially if they come not just in English, but also in Spanish and Portuguese (the main official languages of the region). Why, yes there are, and I am only too happy to point you to them. They are quite good. Their only limitation is that they do not seem to be available online in Portuguese — perhaps friends in Brazil know where I can obtain them (I have a query into Instituto Aqualung).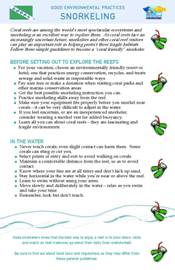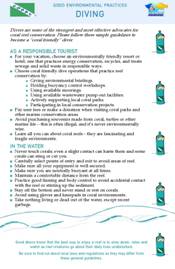 The first is two sets of two-page lists of "best environmental practices," one for diving, the other for snorkeling. For resorts, dive shops and recreation services in areas near coral reefs in the English Caribbean or in areas of Latin America where many of the consumers of marine recreation services do not speak Spanish (such as all-inclusive resorts in places such as Punta Cana and Bayahibe in the Dominican Republic or Cancún in Mexico), these are perfect for printing out and posting in a prominent place and for handing out to every potential user/customer. They also provide a pretty good checklist of issues that instructors should go over with divers and snorklers before issuing equipment or taking them out to reefs.
The lists were prepared by the Professional Association of Diving Instructors' (PADI) Project AWARE Foundation and the Coral Reef Alliance (CORAL).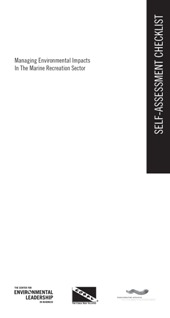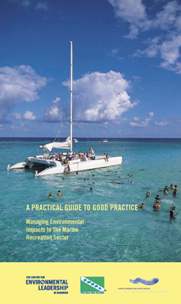 Next are a "practical guide" and associated checklist on good practice in reducing environmental practices in the marine recreation sector. Both are useful whether you are an individual wanting to seek out responsible marine recreation operations, an operator of marine recreation services, a hotel or resort owner/manager/ operator considering which marine recreation operator to ally with, or a government or tourism authority looking for appropriate guidelines by which to benchmark locals marine recreation services.
The Guide and checklist were developed by Conservation International's (CI) Center for Environmental Leadership in Business (CELB), CORAL and The Tour Operators' Initiative (TOI), with help from the International Coral Reef Action Network (ICRAN). I plan to do individual Temasblog entries on the LAC impact of each of these organizations in the near future.
—————————–
En el último articulo de mi serie sobre protección de los arrecifes de coral en América Latina y el Caribe (ALC), "What You Can Do" ("lo que puede hacer usted"), impulsé los individuos y los negocios igualmente que interactúan con los ambientes de ALC que contenían los arrecifes de coral para tomar acciones diseñadas minimizar sus impactos ambientales adversos para estos arrecifes coralinos, y con tal fin provee una lista de sugerencias.
Desde entonces me han preguntado si hay buenas listas y/o guías "mas oficiales" (es decir, más que apenas Temas que impulsa) que podría señalar a, especialmente si vienen no apenas en inglés, pero también en español y portugués (las idiomas oficiales principales de la región). Pues, si hay, y seria un gusto señalarte a ellas. Son muy buenos. Su única limitación es que no se parecen ser accesibles en la internet en portugués – quizás mis amigos brasileños saben dónde puedo obtenerlos (he preguntado al Instituto Aqualung si saben donde procurar una copia, vamos a ver lo que dicen).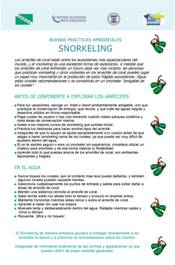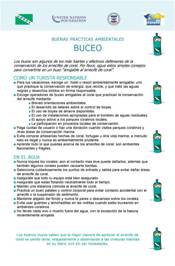 Primero, les ofrezco dos listas (de dos páginas cada una) de buenas practicas ambientales en español, una sobre buceo, la otra sobre snorkeling. Para los resorts, las tiendas de buceo, proveedores de excursiones con snorkel o buceo, y los servicios de la recreación en áreas acercan a los arrecifes de coral en "el Caribe Inglés" o en áreas de América Latina en donde muchos de los consumidores de los servicios de recreación marinas no hablan español (tal como los resorts "todo incluido" en lugares tales como Punta Cana y Bayahibe en la República Dominicana o Cancún en México), estas listas son perfectas para imprimir y fijar en un lugar prominente y para repartir a cada usuario/cliente potencial. También proporcionan una lista de control para auto-evaluación bastante buena de los asuntos que los instructores deben discutir con los buceadores y los snorklers antes de emitir su equipo o de llevarlos hacia los arrecifes.
Las listas fueron elaboradas por la Fundación Project AWARE y la Alianza para los Arrecifes de Coral (CORAL), con el apoyo de la Fundación para las Naciones Unidas y de USAID.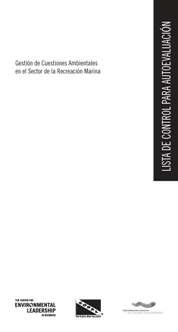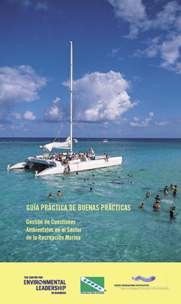 Segundo, les ofrezco una guia y una lista de control para la autoevaluación de cuestiones ambientales en el sector de la recreación marina. Ambos son útiles si uno quiere ser un individuo que desea buscar un servicio responsable de recreación marina, o operador de tal servicio, o dueño/gerente/operador de un hotel o resort considerando una alianza con un operador de recreación marina, o un gobierno o autoridad de turismo buscando una pauta apropiada para evaluar servicios locales de recreación marina.
La Guía y lista de control para auto-evaluación fueron elaboradas por el Centro por Liderazgo Ambiental en el Negocio (CELB) de Conservación Internacional (CI), CORAL, Iniciativa de Operadores de Tur en favor del Desarrollo Sostenible del Turismo.
— Keith R
Tags: arrecifes coralinos, best environmental practice, buceo, Caribbean, Caribe, CELB, checklist, Conservation International, coral, dive shops, diving, guide, ICRAN, PADI, Project AWARE Foundation, reef protection, resorts, TOI
Subscribe to My Comments Feed
Leave a Reply