« Please Tell Me This Will Not Stand! | Home | The Dark Side of Scrap II »
By Keith R | July 6, 2007
Topics: Conservation, Corporate Social Responsibility, Environmental Protection | No Comments »

Last month the State Forestry Institute (IEF) of Rio de Janeiro and the huge Brazilian mining and minerals conglomerate Companhia Vale do Rio Doce (CVRD), with the participation of the Municipality of Angra dos Reis, signed a cooperation agreement for the recovery of degraded areas in the State Park of Big Island (Parque Estadual de Ilha Grande – PEIG).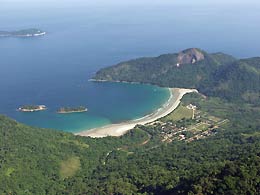 Ilha Grande, A Special Place
If you have not visited Brazil, or have not "played tourist" outside of the city of Rio, you may not be familiar with Ilha Grande. The island lies off the southern coastline of Rio state about 180 kilometers south of the state capital, and is reachable only by ferry. It has little in the way of development on the island, in large part because throughout its history its isolation from main population centers was utilized for other purposes — including a special hospital, and later and until 1994, a prison. After the prison was closed the island was opened to tourism.
Environmentally Ilha Grande is probably been known and prized for its large expanse of Atlantic Forest (Mata Atlântica), its mangroves and some unique flora and fauna. It was for these reasons that during the 1970s and 1980s much of the island was declared protected through the creation of the PEIG, a biological reserve and a marine reserve (click on map to enlarge). The PEIG today comprises 12,000 of the island's 19,000 hectares (about 63%).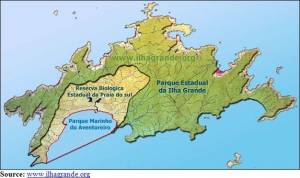 Among tourists Ilha Grande is better known for its secluded beaches, scenic vistas and great hiking trails. If you get a chance to visit it, do so, it's worth at least a day trip (many people do not stay overnight as there are no hotels on the island, only a few of pousadas — some translate this as "inns," but in many ways they are more like bed-and-breakfasts), perhaps several days if you are a hiker or like quiet, secluded beaches.
But A Place Under Pressure
Despite the many official restrictions on activities within the Park grounds — no cutting trees; no picking plants; no capturing or feeding the animals; no conducting agricultural activity, hunting, fishing or mining; no occupying areas for commerce, industry or residence — poor Park management and policing led to what current state environment officials call "predatory tourism" within Park grounds. Also troublesome was the introduction to the island of some predatory plant species not native to the island.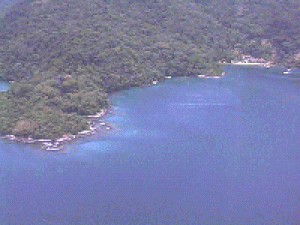 One of Carlos Minc's priorities when accepting the job of State Environment Secretary a few months ago was to fully recover the PEIG and make it a model for other state parks to emulate. Another was to restrict tourism to the island such that tourism can still occur without harming what makes it a paradise in the first place.
The PEIG Project
Among other things, CVRD will be providing R$1.5 million in funds for the first of three planned phases for the Ilha Grande project. In the initial phase three demonstration areas — forest, shoals and mangrove — will be created for reforestation, and an island management plan will be drawn up that will set a maximum daily limit for tourists (the number of campers allowed in the island's only campground is already restricted by the Environment Secretariat) and mechanisms to enforce that limit. The second phase involves the elaboration of a full-scale recovery, protection and management plan for the island.
The entire recovery project is estimated by CVRD to require about R$40 million before it's through. CVRD has committed to providing an undisclosed amount of additional funds, a German bank, KFW, has agreed to invest R$3-4 million in the project, and the State Environment Secretariat (SEA) will use R$3-4 million it has received as environmental compensation from the CSA and CSN steel corporations. SEA is looking for other partnerships to help with the rest of the financing.
Why is CVRD involved and taking a leading role? Well, CVRD is more active in "corporate social responsibility" programs than you might think — we could speculate as to why (its legacy as a former state-owned firm, the need to counterbalance the environmental toil its mining and transport activities takes, etc.), but the fact remains, that they are quite active in supporting education, social and environmental programs, particularly conservation.
Another is that CVRD has its headquarters in Rio. It helps community support for the company to be act in supporting programs in the home state.
The third reason, though, may be more important. CVRD runs a nursery in Linhares, Espírito Santo, designed to save native Atlantic Forest species. Some of the seedlings from this nursery will be used in the reforestation of Ilha Grande. CVRD, IEF and SEA are aiming at eventually having a similar nursery on the island.
_____________________________________
Desde a Fundação Instituto Estadual de Floresta (IEF) do Estado de Rio de Janeiro (RJ):
Parque da Ilha Grande recebe recursos da Vale do Rio Doce para recuperação ambiental

A degradação ambiental e o turismo predatório são ameaças constantes que afetam diretamente o Parque Estadual de Ilha Grande, que abrange 12mil dos 19 mil hectares da ilha. Mas essa devastação está com os dias contados, já que o parque ganhará uma nova concepção e entrará em nova era de proteção e equilíbrio ecológico, com investimento inicial de R$ 1,5 milhão.

A Companhia Vale do Rio Doce e a Fundação Instituto Estadual de Floresta (IEF) assinam nesta sexta-feira (01/06), na sede da empresa, com participação da Prefeitura de Angra dos Reis, um termo de cooperação técnico-operacional visando à recuperação das áreas degradadas do Parque Estadual da Ilha Grande.

Além de supervisionar o projeto, o IEF vai indicar as áreas prioritárias para executar a restauração da cobertura vegetal nos locais onde for constatada degradação.

A solenidade contará com a presença, entre outros, do secretário estadual do Ambiente Carlos Minc, da presidente do IEF, Yara Valverde, e do diretor do Departamento de Gestão Ambiental e Territorial da Vale do Rio Doce, Maurício Reis.

A Secretaria do Ambiente pretende transformar o Parque Estadual de Ilha Grande em um parque modelo, que servirá de exemplo para todos os outros.

– Quando assumimos o governo, constatamos que nossas unidades de conservação estavam muito mal geridas. Queremos mudar essa concepção, e o parque estadual da ilha, que é uma jóia da Mata Atlântica, será o exemplo – disse Carlos Minc.

Projeto de três fases

O projeto se divide em três fases: a primeira, que prevê a criação de três áreas demonstrativas de reflorestamento, terá investimento de R$ 1,5 milhão, e inclui a elaboração de um plano de gerenciamento da Ilha Grande, com o estabelecimento de limites ao número máximo de turistas.

As áreas – floresta, restinga e manguezal – que representam os ecossistemas da ilha poderão estar reflorestadas até o fim deste ano. No início, serão usadas mudas oriundas da Reserva Natural Vale do Rio Doce, em Linhares (ES), o maior viveiro de espécies de Mata Atlântica da América do Sul.

Posteriormente, a idéia é instalar um viveiro na Ilha Grande, com capacidade para produção de até 80 mil mudas por ano. O viveiro vai produzir sementes exclusivamente de espécies existentes na Ilha Grande.

Segundo um estudo preliminar, cerca de 11 mil hectares estão tomados por vegetação de capoeira, formada por arbustos e pequenas árvores que se desenvolvem em áreas de pastagem abandonadas. Em alguns pontos, essas espécies acabam por ameaçar a sobrevivência das plantas nativas. A segunda fase será de elaboração e execução do projeto de recuperação, proteção e manejo das áreas afetadas do parque.

Segundo o diretor do Departamento de Gestão Ambiental e Territorial da Vale do Rio Doce, Maurício Reis, a recuperação das áreas degradadas terá que ser lenta e cuidadosa.

– Em alguns pontos, será preciso somente replantar, enquanto em outros, será necessário retirar espécies invasoras – disse.

O turismo também passará pela análise do Conselho de Desenvolvimento Sustentável da Baía da Ilha Grande. Será determinado um limite de visitantes e que usos serão permitidos. Uma iniciativa pioneira nesse sentido já ocorre na Praia do Aventureiro desde o início do ano, onde o número de campistas foi limitado pela Secretaria do Meio Ambiente de Angra.

A pequena Ilha de Cataguazes, perto do litoral de Angra, também terá o fluxo de visitantes limitado a 360 pessoas por dia, de acordo com a Fundação de Turismo de Angra (Turisangra), em prazo de 90 dias.

Recursos para recuperação

A estimativa da Vale do Rio Doce é de que a recuperação total custe em torno de R$ 40 milhões. O valor viria de parcerias com entidades privadas e órgãos públicos, que financiam, por exemplo, sistemas de saneamento básico e compostagem de lixo.

– A médio prazo, teremos recursos em torno de R$ 15 milhões a 18 milhões. Iremos receber algo em torno de R$ 3 milhões a 4 milhões do KFW – banco alemão que investe na área ambiental e está investindo na Ilha Grande – e colocaremos, de compensações ambientais da CSA e CSN, um valor em torno de R$ 3 milhões a 4 milhões – disse Minc. Segundo ele, será possível alcançar esse valor com a reunião dos recursos do KFW, das compensações ambientais e da Vale do Rio Doce.
Tags: Angra dos Reis, áreas protegidas, Atlantic Forest, biological reserve, Brasil, Brazil, Carlos Minc, conservación, Conservation, Corporate Social Responsibility, CSA, CSN, CVRD, Espírito Santo, IEF, Ilha Grande, inns, KFW, Linhares, manglares, mangroves, marine reserve, Mata Atlântica, nursery, PEIG, pousadas, protected areas, reforestación, reforestation, responsabilidade social, Rio de Janeiro, shoals, tourism, turismo, turismo predatório
Subscribe to My Comments Feed
Leave a Reply